History of Fashion 1980s – 1990s
History of Fashion 1980s – 1990s
"Five foot ten and long-legged like her mother, it is rather as if a charming young giraffe had wondered into the royal enclosure." 
Vogue, May 1981
The Eighties
The eighties saw great social and economic change. 1989 saw the fall of the Berlin wall along with the cold war ending. This was due to the disintegration of the Warsaw Pact leading to the Soviet Union abandoning political hostility to the western world. The collapse of communism in Eastern Europe led to each countries independence and a massive westernization of Eastern Europe. Developing countries across the world faced economic and social strife, most notably Ethiopia witnessed widespread famine resulting on the country relying on other foreign aid to provide food. This led to the famous Live Aid concert set up by Bob Geldof in 1985 to raise money for the country.
Britain saw a royal wedding in 1981 with Lady Dianna and Prince Charles marriage. Watched by 750,000,000 people, Lady Di and her 25meter long train started the meringue dress fashion trend. Most of the developed world saw the early eighties recession. The United States and Japan exited the recession early, however; unemployment was high in the countries affected. Clothing manufacturing began to move offshore to countries with cheaper labour and technological advances continued; personal computers became more readily available and the invention of the World Wide Web happened. With the western worlds introduction of maternity leave, equal pay and more women working, power dressing for women became commonplace.
Arts and Culture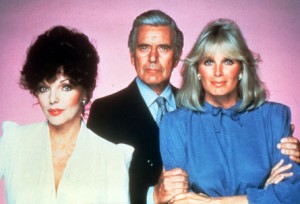 During the eighties TV programmes became hugely popular. Miami Vice, Dynasty and Dallas were watched by millions of people and the classic eighties big hair styles and shoulder pads were copied and idolized. Blockbuster films were starting to be more prevalent with E.T, Back to the Future and Indiana Jones becoming cult classics. Music had a huge influence on fashion. With the rise of solo acts compared to the seventies groups, Prince was introduced with a new style of music and fashion. Michael Jackson left the Jackson 5 and created an iconic style while at the same time Madonna was becoming a huge fashion icon. All of these icons were known for their different fashion styles, as much as they were known for their music. They had begun to influence the younger generation on a global scale.
Shapes and Silhouettes
With the rise in professional women and a British female Prime Minister power dressing came to the fore front. Suits were beginning to be seen as social wear and the sharp padded shoulders were a necessity creating a strong silhouette. Bright colours and neons were seen on dresses made out of taffeta fabrics with oversized bow detailing while bold prints were used on oversized T shirts and dresses. Off the shoulder shirts, ¾ length sleeves, crop tops, rolled up sleeves, matching socks, sweaters tied on the waist were all daily trends seen on women. Tight leather pants, stonewashed jeans, Levi 501's and corduroy pants were also seen as stylish. Another trend for younger women was to have the bra exposed. Seen either though a mesh top or underneath an oversized denim jacket, the look was encouraged by Madonna. The eighties also saw Vivienne Westwood's "The Witches" collection, which was her last collection with McLaren. The oddly shaped, cut and proportion garments were made using the draping technique. Not being cut on a table or board but on the actually body via, pulling, draping and then cutting.
Designer underwear became fashionable during the eighties with women's styles with lace trimmings, camisole with built in bras and an array of pastel colours becoming popular. It was now seen as more important to wear stylish underwear, celebrities and adverts were influencing people, for example "Back To The Future" saw Michael J Fox wearing lilac Calvin Klein briefs.
For teenagers happy pants became a trend, particularly for girls. Originating from Australia were the pants were seen as a basic, the style was of an elasticised pair of shorts, just above the knee made in a bright and bold cotton fabric. In 1986 Dolly magazine released a happy pant pattern for girls to make at home.
New Romanticism and Post 70's Punk
New Romanticism was a London club scene in the early eighties. Coming from the punk scene, the more sartorial dressers were less interested in the punk statement but more in the fashion. They were therefore looking for new ideas to draw attention to themselves. The new romanticism look was flamboyant, with historical periods influencing the dramatic look of frills and luscious fabrics. This pirate look was marketed by Vivienne Westwood. For the new romantics there was a conscious effort to look beautiful, luxuriant and attractive in a narcissistic way.
The 1980s featured a post punk gothic style carried on from the seventies that was popular in Europe and America with the 'LA Scene'. The style featured black clothing made out of unusual materials such as leather, fishnet material and lace. Women wore corsets while both sexes still saw Doc Martens as a staple. Long, back combed hair, pale skin and heavy makeup was worn. The punk style was still being seen in bands including Guns N' Roses which notably saw their jean jackets attached with safety pins, patches, buttons and odd bits of fabric.
Paninaro
The term Paninaro was used to describe the subculture in Milan in the mid eighties. The Paninaro's were a group of Italians who would hang out at fast food, sandwich bars. With their own Italian slang, two magazines called "Il Paninaro" and "El cucador", the Paninaro group were their own culture. Interested in fashion, they were seen wearing shirts and jeans rolled up to the ankle by designers including Versace, Armani and Levis 501 paired with bomber jackets and timberland boots. Ray-Bans were also popular to compliment the style. In 1986 the Pet Shop Boys commemorated the Paninaro culture with their cult song "Paninaro".
Exercise Clothing
With the emphasis on a healthy lifestyle more people were exercising and fitness videos were now available. Jane Fonda had her own videos and promoted casual clothing and gym wear. Leotards, leggings and legwarmers all became very popular and where worn with elastic headbands. The leotards boasted bright colours, stripes and polka dots. Movies helped popularize the trend with Fame and Flashdance showing ripped oversized sweatshirts with one bare shoulder exposed and oversized jumpers.
Accessories
Costume jewellery became popular with the bigger the better! Huge gold or pearl earrings were worn with diamante jewellery almost every day. High heels and flats were worn with Princess Dianna setting the trend for lower heeled footwear. Towards the end of the eighties wedges or gold and metallic shoes were worn during the summer. Doc Martens were still popular from the seventies. However, girls started pairing them with floral dresses to create an edgy look. Clutch bags were hugely popular available in a variety of colours, often with matching shoes. The iconic quilted Chanel bag became widely desirable with millions buying copies of the designer bag. Swatch watches, high-tops, slap bracelets, friendship bracelets, hoop earrings and scrunchies were everyday accessories for the eighties. Coloured hair became a trend as did rainbow colours. Crimped, curled, frizzy styles with bangs, platinum blonde, side ponytails and sticking up fringes all were fashionable hair styles. Vivid makeup with light pink lips, glitter, blue eye shadows and beauty moles often partnered the hair styles.
Menswear
Men were often seen wearing suit jackets with casual T-shirts inspired by the look of the Tubbs and Crocket form the TV programme Miami Vice. Acid washed jeans and leather jackets were worn with Raybans and skinny ties. Some men even copied the MC Hammer style parachute pants. Others who wanted to give an air of chic copied the preppy look which could be seen in khaki pants and polo shirts with the collar turned up, a sweater tied around their shoulders and loafer style shoes.
The Icons
Madonna
After her release of her single Like a Virgin in 1984
Madonna
 was named 'Material Girl' which subsequently led to young women around the world looking to her for fashion guidance.Madge was known for her long layered strings of beads, headbands, lace ribbons, short tight lycra, leather mini skirts, cropped jackets, lace gloves and crucifixes worn in her jewellery. Her look asserted her sexuality and rejected the androgynous styles seen previously.Lady Diana
During the eighties,
Diana
became more confident with her clothing. She started to wear international designers including; Versace, 
Christian Lacroix
 and Chanel.
She embodied some of the iconic eighties style with big hair, shoulder pads and glitzy outfits. She wore sharp shouldered suits that showed of her toned figure and her puff ball meringue dress started out a trend.Michael Jackson
Michael Jackson
had his own iconic style and his music portrayed this. His famous album and song "Thriller" showed a unique style that teenagers loved to copy. They would try to replicate Michael's Thriller style of matching leather trousers and jacket, one glove and sunglasses. Michael Jackson often wore a leather jacket which was also popularized by the film The Lost Boys.
The Designers
Calvin KleinFrom launching his designer jeans in the seventies, by the early eighties 
Calvin Klein
 was leading the industry in offering more affordable designer jeans to the market. During the eighties his name branded underwear also became popular thanks to his use of print ads and billboards showing models almost naked in exotic poses.Ralph LaurenRalph Lauren was considered to design the power suit of the eighties. His look was also popular with the preppy set, with his classic polo shirt being seen as essential. His casual yet aristocratic style created a classic look which was a popular with a wide range of social classes and age groups.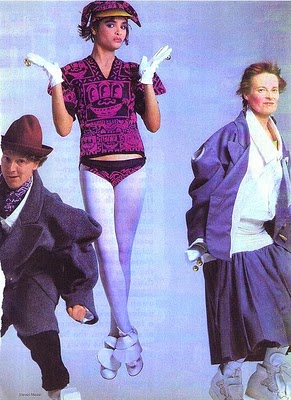 Vivienne WestwoodVivienne Westwood had already made dresses for the punks of the
seventies
and because of this she was one of the main designers to influence the New Romantics style. With her first catwalk show 'Pirate' in 1981, she started the new romantic fashion of flamboyant historical clothing.Jean Paul GaultierAfter sending of his personal designs to
Piere Cardin
, 
Jean Paul Gaultier
 was hired by Cardin as a design assistant. After working with Jacques Esterel and Jean Pator in 1971 he went on to design his own collection which was released in 1976. Known for mixing cultural topics with French elegance he would also gender mix, notably creating the man-skirt in 1985. His collection shown in the eighties; High Tech (1980), Dadism (1983), Barbes (1985), A Wardrobe For Two (1985), Untitled Collection (1987), The Concierge In In The Staircase (1988) featured androgynous styling, cross breeding, culture shocks, corsets and tin can jewels.Thierry Mugler
Thierry Mugler understands the phrase 'sex sells'. Previously a ballet dancer, Mugler decided to turn to fashion instead of Swan Lake. Known for his glamour, sexiness and fetish inspired clothing, Muglerexcelled in the eighties with his exaggeration.
Fendi
Founded by Adele Casagrande in 1918, Fendi is one of the Italian fashion dynasties. Beginning as a leather goods shop, Fendi got its name via marriage of Casagrande to Eduardo Fendi in 1925. In 1965 Fendi took on Karl Lagerfeld as creative director who created the iconic double F symbol. The eighties saw a successful period for Fendi with the company launching into a sunglass and jeans collection, their first female fragrance and a sportswear and accessory collection aimed for a younger market. Following this success they also launched a male fragrance.
Gianfranco Ferre
Originally trained as an architect, Gianfranco Ferre has been famously compared with Frank Lloyd Wright. With his first show in 1974 and first collection in 1978 he followed with a menswear line in 1982. Known for his voluminous organza shirts, Ferre was appointed artistic director at Christian Diorin 1989. Being told he had only nine weeks to complete, his first collection followed in the same year. His first show for Christian Dior included Grace Jones and Princess Micheal of Kent in the front row. The show was described by vogue as 'a matter of Dior discipline and Ferre flourish'. On the final day of shows, he was awarded the Golden Thimble, Paris' highest fashion honour.
Issey Miyake
After working with Hubert de Givenry, Guy Laroche and Geoffrey Beene, Issey Miyake returned to Japan in 1970 after various stints in Paris and New York. With a new style happening in Japan as Kimonos and western clothing had mixed, Miyake saw it as the perfect opportunity to forge a new direction. With his first show shocking audiences' as a girl stripped of her Issey Miyake creation he went on to make his mark during the eighties. Launching his first male collection in 1982, it featured a shirt Miyake had been working on since 1975. In 1988 he collaborated with photographer Irving Penn to produce a book of photographs and during the eighties he staged an exhibition of black silicone models suspended and hidden in darkness.
Gianni Versace
Versace worked as a freelance designer for Genny and Callaghan during the seventies which followed on to him creating his first solo collection for Complice in 1975. In 1978 Versace created the Gianni Versace label in Milan which followed on to Versace creating their first advertising campaign with photographer Richard Avedon (which led to a long running collaboration). In 1982 he produced a collection showing metallic garments that helped trademark the company and during the late eighties he designed elaborate stage costumes for Elton John, helping cement his reputation for the future, Sadly in 1997 Gianni was murdered leaving his sister Donatella to succeed him.
Yohji Yamamoto
After opening his company in 1971, Yohji Yamamoto came to success during the eighties when he showed in Paris in 1981. Known for the way he uses voluminous garments to wrap and drape around the body in unstructured ways. He caused a furore with the press, with Vogue calling his designs 'Oblique Chic'.
Other influential designers of the eighties include Donna Karan, Armani, Moschino and John Galliano.
History of Fashion 1980s – 1990s
---