Crop Top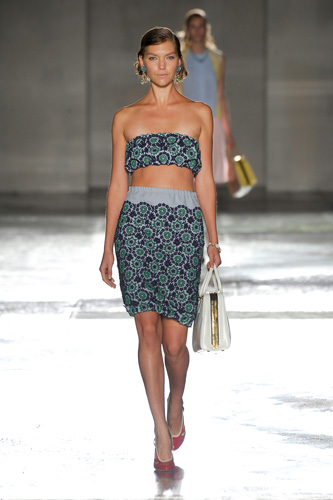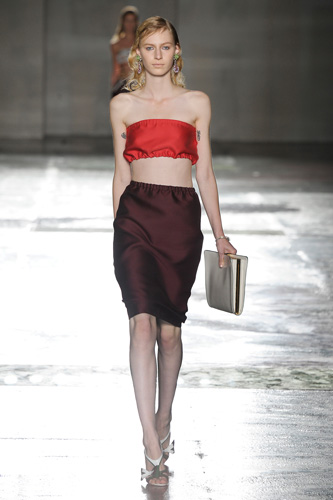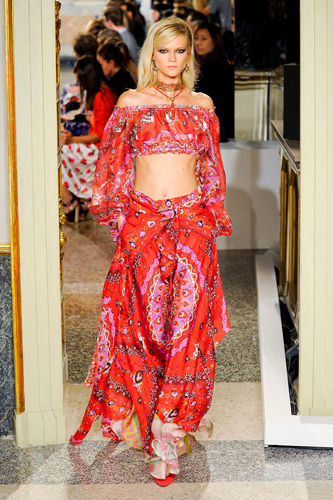 A Crop-Top is an item worn on the top half of the body usually resting under the bust, staying above the waistline and showing the rest of the abdomen. Crop-Tops first came into fashion during the 1980s and were made famous byMadonna. Soon after, Crop-Tops were seen to be worn as an accompaniment in workouts in the formation of a mesh fabric and layered over other garments.
They carried on being in fashion during the 1990s but taking form in a lingerie-style which was usually worn as outer wear, often under a blazer. Later on in the 1990s, celebrities continued to make an impact with them resulting in the crop top being created in a jersey and fashioned in different styles such as a turtle neck, boob tube and a baby doll top which often featured graphics on.
Spring/Summer 2012 saw many takes on the modern crop top, forming in boob tubes with Prada S/S 12 but added loose, over sized sleeves on paisley printed tops for Emilio Pucci S/S 12. Other designers to feature the crop top wereNina Ricci and Proenze Scholeur.
Can you help us improve this page? Send us your contribution on dictionary@catwalkyourself.com, we will update this page and give you proper attribution!
---