Grace Jones
Born: Spanish Town, Jamaica, 1948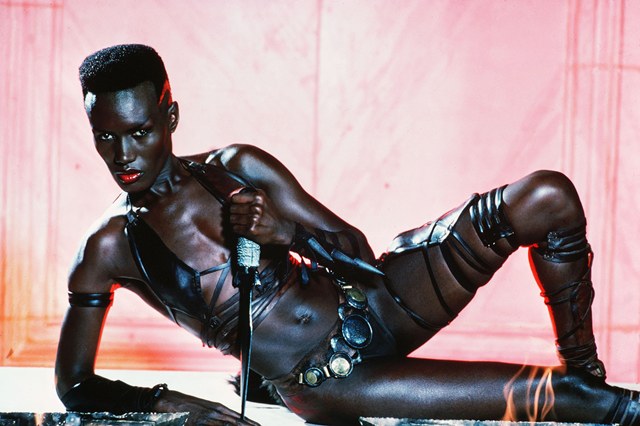 Copyright © AFP / Universal / The Kobal CollectionLadies and gentlemen, Grace Jones.
A true lover of art, Grace Jones has pushed the boundaries of performance, ranging from raw meat to Bengal tigers. Yes, this angular beauty with cheekbones that could kill, had it in the bag long before many others.
A musician and actress, Grace Jones, born on the 19th of May, 1948 in Spanish Town, Jamaica. She rose to prominence with her surprising catchy glam disco sound, raising the roof of gay clubs all around the US and UK. With this sound, Grace spawned three albums, before mixing it up and becoming a commercial success.
As model, she found instant work in New York and Paris where her look and explicit nature faired her well. What makes Grace exceptional is the fact that her devotion and dedication to creation has no boundaries, and because of this, Grace Jones has been at the centre of many great modern arts. The master himself, Andy Warhol, coveted her as a muse, painting her and constructing three of her albums cover art and, had her as his arm candy on many occasions to the infamous club, Studio 54, where Grace flourished.
Her style, a mixture of androgyny and visual performance has ever so slightly changed over the years, wearing mens clothing, then tearing it apart to entice sexuality, began with Jean Paul Goude, the renowned French photographer/artist, and featured heavily in his work during the 80's, creating the statuette, stern and ferocious character the world sees, but to Jean, she became something more. The mother of his son.
Her appearance on stage was always a sight to be seen, working with designers and artists like Keith Haring, who painted her body, and gave her a fitted wire bra to wear. During the New Wave movement, slowly seeping its way onto the radio waves, Jones began work on her next album, 'Warm Leatherette' (1980), a mixture of reggae and new wave, took her fan base to another level and her self change produced the angular flat top, structured Grace Jones. Her next album, Nightclubbing, known to be her most acclaimed amplified this, showing a portrait, done by Goude, featuring Jones in a Armani jacket with her signature flat top.
Her music, a renegade of underground sounds, began with the slight dipping of a toe in the sound of electro, creating funky unknown dance music which appealed to the masses of the gay scene, rising her to gay icon status. Her then switch over, brought her mainstream and lead to hits such as, "Pull up to the bumper" which spent seven consecutive weeks at number two on the US dance chart. Grace also ventured onto the silver screen, it's not surprising considering her studies in theatre at Syracuse University,and starred in the James Bond film, A View to Kill and Conan The Destroyer.
In terms of her style, you only need to look at photographs to truly capture her flamboyant and striking outfits. It is hard to muster the words to describe Grace Jones, who could forget her television appearances where she would either start smacking the interviewer, or walk onstage cradling a mask over her face.
Todays youth may recognise these dramatics, however, they are done by other artists, who can only hope to mirror the true wonderment, created by Jones. It is also worth noting, where today it is celebrated in the mainstream, in the days of Grace Jones, it was still a conservative society, and this only heightens the heroics of Grace, a champion for the weird and wonderful.
In recent years, Jones, now in her 60's, still captures and radiates the ego and electric energy she possessed in the 80's, now however, all she has to do is flash that pearly wide smile, and you know you are on a ride with the one and only, Grace Jones.
Grace Jones Biography
---