Adam Ant
Born: London, England, 1954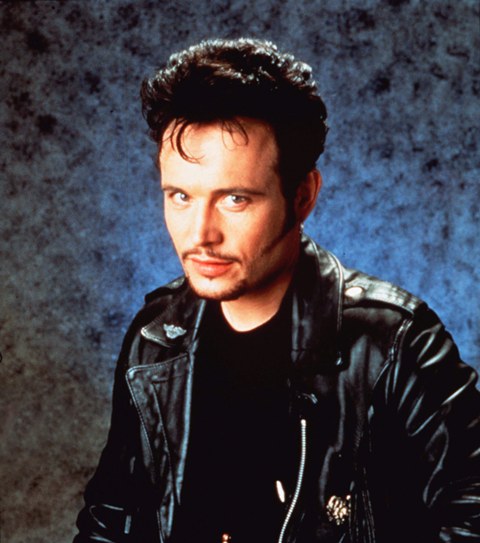 Known for his flamboyance and his lightening feet, Adam Ant rose to become a New Wave-esque Robin Hood.
Born on 3rd of November 1954 in London, Stuart Goddard was born with the punk seed, which, over time and certain school instances grew and flourished. Adam, in school was well liked by other pupils, however that punk attitude could not be contained as an example in school proved where Adam, threw a brick through a teachers window.This future Prince Charming started gigging with the band name, Adam and the Ants in 1977 and after a period of five years, where touring and new members came and went, Adam and the Ants got their first international hit, "Stand and Deliver". The song features the avant-garde performance of Ant, in his usual attire of a structured military jacket with large epaulettes boning across the shoulders and a Casanova style, flowing undershirt.
It's decadence is not shown through fancy homes or flashy cars, simply the dramatics, which followed Ant everywhere created a art piece, that everyone was invited to.
Copyright © AFP / New Line / The Kobal Collection – Adam Ant
During this period, Adam, who was blessed with high cheek bones took advantage of this and extenuated them using makeup, forming angular lines below the cheekbone. His hair was blown out, and his skinny frame glided around the stage in a mix match of colour, and simplicity, which always turned heads.Adam's style became iconic after the video for Goody Two Shoes in 1982. It featured a newly solo Adam Ant, ripping the set with his magnetic foot work. In a time of flamboyance, Adam took full grip of this and exploded his unique, androgynous style on a public facing the Thatcher government. His mixture of glam pop with a punk twist brought about a growing collective of self expression through style, when many aspects of life, financially at least, appeared bleak.
Plagued with mental health issues, Adam spent the majority of the 90's and early 2000's up and down venturing in to many different avenues such as acting. Also during this period, Ant suffered relapses in his bipolar disorder, and even had a mandatory sectioning to a mental health facility. Always eccentric, Adam always overcame his demons, and continued to produce work on a much smaller scale.His impact however during this time was still noted as in the making of, a special feature linked to the film, 'Marie Antoinette' (2006) used Adam Ant's style and rockability for the character of Count von Fersen. The film which was directed by Sophia Coppola, which featured Adam and the Ants in the soundtrack, and was called a daring removal from the period drama standard, winning the Academy Award for costume design.
In 2011 however, he came out of rock retirement and embarked on a two leg tour, taking him to Europe, and his home country. These tour dates, reinvigorated Adam, and much to critics acclaim, showed Adam to still have the fight. His latest ventures include a fashion label, Blueback Hussar, with Pinpernel Clothing. The label is set to feature what Adam described in a interview with GQ: "really couture" and will feature past iconic fashion pieces as inspiration for the new collection set to debut sometime later this year.
Adams style, an entity of raw energy can be seen everywhere. Rock stars of today try to upstage and glamourise their appearance, however no one can out do The Dandy Highwayman who most definitely splashes cash on looking flash.
In the early 2010s, Adam Ant re-emerged with his distinct brand of individuality, showcasing a fusion of tribal-inspired makeup, elaborate headpieces, and a signature military-inspired wardrobe. His stage presence and fashion choices reflected his timeless appeal, effortlessly blending elements of rebellion and sophistication.
As the years progressed, Adam Ant's style evolved while retaining its core essence. His enigmatic persona remained intact, with a penchant for tailored jackets, vibrant colours, and intricate embellishments. Drawing inspiration from diverse cultures and eras, Adam Ant masterfully melded traditional influences with futuristic accents, creating a visually striking aesthetic that defied categorisation.
In recent years, Adam Ant has continued to push boundaries, embracing a more refined and polished approach while staying true to his avant-garde roots. His fashion choices have showcased a balance between classic elegance and daring experimentation, incorporating tailored suits adorned with intricate patterns, statement accessories, and his signature charisma.
Adam Ant's fashion journey over the past decade has epitomised his unwavering commitment to self-expression and fearless exploration. He has remained a true icon, inspiring generations of fashion enthusiasts to embrace their unique style, break societal norms, and celebrate the transformative power of fashion. As we step into the future, we eagerly anticipate the next chapter of Adam Ant's sartorial adventure, eagerly anticipating the visionary looks he will continue to grace us with.
Adam Ant Biography
---