Doc Martens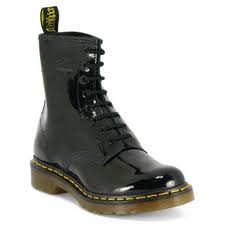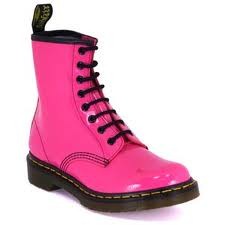 Dr Martens are lace-up ankle boots with a rubber air cushioned sole. The classic styles are black with yellow stitching but the styles have developed so much over the years there are endless patterns, colours and ranges. The Dr Martens were made by the Griggs Family in the heartland of British shoe-making in a village called Wollaston where they have been making boots since 1901. The shoes history began in the late 1950's when Bill Griggs saw an advert in a magazine by a German shoe maker looking for an overseas partner. They became partners and theirs idea of a revolutionary new air cushioned sole was made, the Dr Marten boot.
The boot is also known as Doc's or DM's. The partners didn't want to reinvent anything from the past, they wanted originality. When the pair of Dr. Martens boots rolled off the production line it was on to a British high street where youth groups were still a rarity, not for long though as the next four decades saw the different subcultures explode across the globe wearing the popular boots and that's when the boots were worn by the early skinheads, a group mimicking the dress sense of the working man with an obsessive attention to detail where style was everything. Up until then, Dr. Martens boot had been sold mostly as reliable working men's footwear; therefore it made the perfect choice for the skinhead and other subcultures. Dr. Martens may hold connotations of a rebellious nature which came about from the punks love for the boots.  Although youth culture changed from the 1950's where it began, we still have enjoyed the famous boot all the way through to the new millennium. Youth culture in the 21st century is complex and different to that of the 1950's but it is certain that people that wear these boots today have no lack of invention, rebellion and individuality. Today the boot is worn by everyone but the Dr Marten boot still holds on to that rebellious attitude 50 years on.
Can you help us improve this page? Send us your contribution on dictionary@catwalkyourself.com, we will update this page and give you proper attribution!
---