Fendi
Fendi biograhpy
Founded by Adele Casagrande in 1918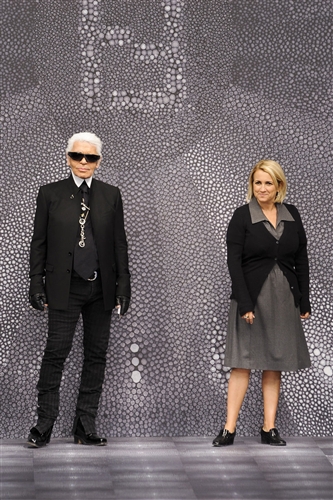 Adele Casagrande was born in 1987, when she opened a leather and fur shop in Via del Plebiscito in central Rome, Fendi was created. When Casagrande married Edoardo Fendi in 1925, this led to the company's name later being changed. Having five daughters together, their business was a success, so a new shop was opened in Via Piave in 1932.In 1946 the eldest daughter Paola went to work for the business at only 15. Her sisters, Carla, Anna, Franca and Alda all followed on to do so. When their father died in 1954, the daughters took over the business and began to expand with their first line, introducing Furs.
In 1965 a marriage between the Fendi's and designer Karl Lagerfeld created success for both sides. With Lagerfeld creating the inverted FF logo the company soured with the five sisters and Lagerfeld sharing the work. The following year Fendi produced their first couture fur collection, designed by Lagerfeld which received success from foreign buyers. Martin Traub, president of Bloomingdales, was impressed and introduced Fendi's leather goods to the United States.
In 1969 Fendi produced its first ready-to-wear fur collection to immediate success. Almost ten years later in 1978 the Fendi founder, Adele Casagrande, died at 81 years old.
In 1990 the label Fendissime, created by the daughters children, employed Gianbattista Valli as designer for a year. The 1990s saw Fendi's customer base grow with their chic accessories. In 1992, Selvi Fendi, the granddaughter of Adele Casagrande was appointed as creative director, replacing Karl Lagerfeld. She was responsible for creating the best selling Baguette bag. In 1999 the company sold a 51% stake to Prada and LVMH in a joint venture. However, in 2001 Prada sold their stake to LVMH. Known as one of the largest and important Italian fashion houses, Fendi in inextricably linked with fur and is known for their fine quality, attention and care in choice of fabrics and mix of materials.
Fendi biograhpy
---