Everything you need to know About Wearing a Wrist Corsage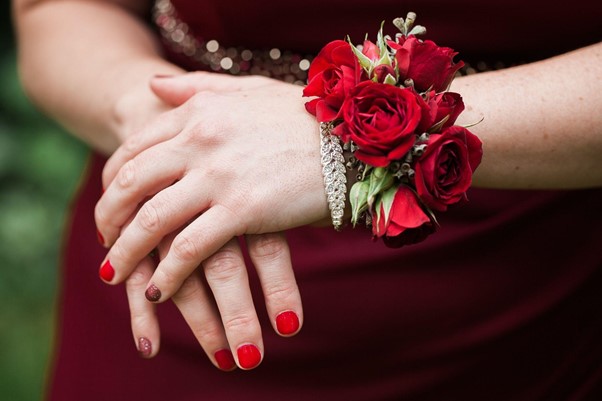 Flowers are an important aspect of any wedding. Apart from selecting stunning flower arrangements for the wedding venue, as a bride, you may also have to think about a floral crown and a wrist corsage or boutonnieres for groomsmen. Wearing a corsage introduces a touch of extra decoration.
But what exactly is a corsage and how do you make sure you're wearing yours the right way?
What is a corsage?
A corsage is a miniature arrangement of flowers you wear around the wrist as an accessory during formal events like wedding, dinners and proms. Traditionally, corsages were a preserve of grandmothers and mothers of the groom and bride. Even then, there are no strict rules about who should wear corsages. Today the bridal party also wears a corsage.
Imagine having a floral accessory that's hands-free, chic and elegant for your bridesmaids. That is, your bridesmaids don't have to stress about carrying around a handheld bouquet that they can sometimes forget when they put them down. So, if you want to leave from the tradition of bouquets, then you'll want to embrace wrist corsages for your big day.
Tradition and etiquette dictate that you wear your corsage on the left wrist. This is because your left hand is non dominant. Even then, how you choose to wear your corsage is ultimately a matter of personal preference. For instance, most left-handed people will refer to wear their wrist corsage on their right wrist.
How to choose a perfect corsage
There are several things you need to keep in mind when choosing your corsage.
1 – Consider your options
First, there are endless options for your choice of wrist corsage. You can either buy a pre-made corsage, ask a florist to make a custom corsage or order an artificial wrist corsage. While there's no right or wrong selection, each of these choices has its own benefits, so all you must do is select what will complete your look. Besides, with artificial corsages, you can always keep them as a souvenir long after the event is over.
Some artificial corsages make for the best statement pieces because of how versatile they are in terms of design. That is, they're not limited to flowers, only bit can also have other embellishments whose details are head turning.
2 – Think about your theme
Perhaps the most important thing to consider when choosing your corsage is your wedding theme. Your choice of corsage for your bridesmaids should not only match but also complement your wedding theme. So, when selecting your corsage, make sure the flower, ribbon or embellishments are complementary to your day's theme. It can be awkward when you have corsages that are totally out of tune with the rest of the event theme.
3 – Choice of flowers.
Different daily blooms convey a different mood. So, you need to select flowers that will help you achieve the look you're envisioning. For instance, if you're going for an artificial wrist corsage, you have even more versatile choices as you don't have to stick to flowers alone and needlepointnook. Instead, you can go for a corsage with other embellishments and still pull off a stunning look.
Benefits of wearing a corsage
There are several benefits to wearing a corsage. They include:
– They are a shift from the bouquet tradition, thus injecting a touch of class to your event.
– Corsages are cheaper when compared to bouquets. It will certainly cost you more to have a bouquet for each of your bridesmaids than it would to buy corsages.
– If you opt for an artificial corsage, you can always use it a second and third time if you take good care of it.
– With corsages, your bridesmaids don't have to worry about where to place their bouquets when need arises because they'll have the corsage safely secured on the wrist.
What you need to know when wearing a corsage
It is important to observe corsage etiquette whenever you choose to wear one for your event. So here are some few things you need to keep in mind to make sure you get it right.
1 – Order your corsage in advance, at least two weeks before your event. This will ensure you look at the corsage, try it on and adjust where necessary. This is particularly important if you plan to do a destination wedding.
2 – Always ensure your corsage flowers match with the rest of your event flower arrangements.
3 – If you're going for a corsage with fresh flowers, resist the temptation of picking large ones as they're likely to twist or droop fast.
4 – Don't throw your corsages after your wedding, instead you can preserve them as a unique keepsake.
Ultimately, your choice of a corsage will largely have to do a connection with your personal style and preference and the amount of money you're willing to spend.
---