Low Waist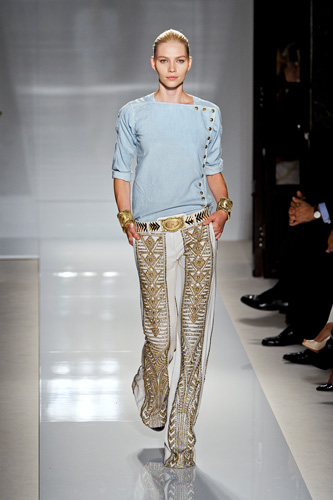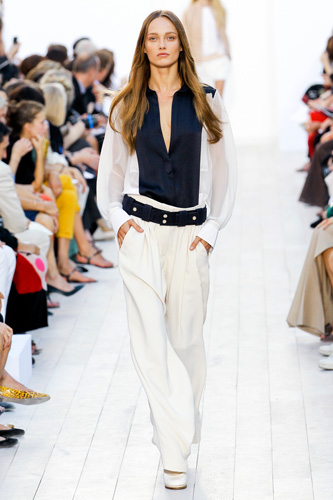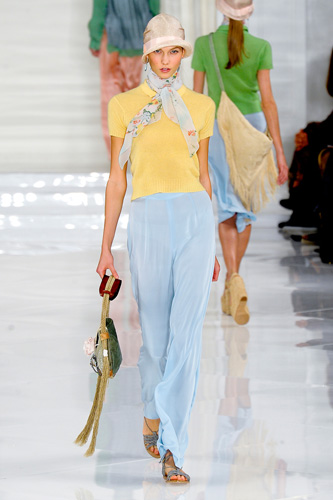 Low-Waist or low rise is a look given to when garments such as trousers, shorts or skirts sit at the top of the hips. This was a style that became infamous in the 1960s through the hippie era with the name donned "hip huggers" at that time. They then transformed into low waist bell bottoms in the 1970s, worn by many rockers reaffirming that they were fashionable.
The 1990s was a popular era for low-waist trousers, Alexander McQueen created a mass want for such trousers from his classic "bumsters" in 1996 but as fashion went into 2000, low waist was seen to be styled in a jean and normally worn with crop tops.
S/S 2012 catwalks wished to see the low waist back featuring on aloof wide leg trousers, and this is just what it got. Both Ralph Lauren and Chloé emphasised width in pale colours, with Ralph Lauren in egg shell blue and Chloé in white, offering up a sleek chic look with the low waist trouser. Balmain utilised the low waist with a relaxed printed wide leg trouser that oozed casualness.
Can you help us improve this page? Send us your contribution on dictionary@catwalkyourself.com, we will update this page and give you proper attribution!
---