Sophia Kokosalaki
Born: Athens, Greece, 197
Died: London, England 2019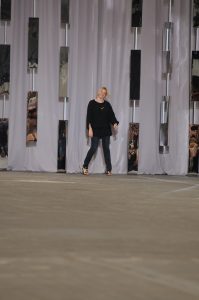 Sophia Kokosalaki moved to London after completing a degree in Greek and English Literature. With the desire to pursue fashion, Kokosalaki enrolled at Central Saint Martins College of Art and Design on a womenswear course.
She graduated in 1998 and her final collection was featured in Pellicano on South Molton Street in London. Her style saw soft flowing dresses in a Grecian goddess style. Kokosalaki mixed the fluidity with handcrafted elements in unexpected fabrics.
In 1999 Kokosalaki debuted her first womenswear collection during London Fashion Week. The following year she started designing for Italian leather house Ruffo Research where she remained for six collections. 2000 also saw her profiled in Vogue for the first time, encouraging her quick success.
In 2002 Kokosalaki was appointed chief designer for the Olympic Games in Athens. The role saw her oversee all costumes for the opening and closing ceremonies as well as the uniforms for the teams and officials.
Kokosalaki's fame continued to grow and in the same year she received the Elle Designer award and the Art Foundation Award for Fashion. In 2003 she was awarded New Generation Designer.
Kokosalaki's label was named in the top ten British Cool Brand Leaders in 2004, cementing her style status. The year also saw her move her spring 2005 show from London to Paris.
She turned her hands to costume design in 2005, creating outfits for the classic play, Antigone. Produced in the Greek amphitheatre at Syracuse, the play was directed by Irene Papas. She also collaborated with Topshop creating a successful capsule collection.
In 2006 Kokosalaki introduced a collaboration with Linda Farrow. This marked the first of several partnerships with the seventies eyewear designer.
In July that year Kokosalaki was appointed creative director of the resurrected French fashion house Vionnet. Kokosalaki's ability to manipulate fabric and love of draping complimented Vionnet's founders signature aesthetic. Her first collection for Vionnet was unveiled in Vogue later that year.
In 2007 Renzo Rosso acquired a controlling stake of Sophia Kokosalaki, entering the brand into the Only the Brave group. The same year Kokosalaki left Vionnet to focus further on her own label.
Kokosalaki was appointed head designer of the Diesel Black Gold Label in 2010. She combined  her own aesthetic with Diesel's urban identity. That year she bought back her label from Only the Brave.
Sophia Kokosalaki takes inspiration from her Greek roots using classic Grecian draping. She always allows the fabric and drape become the centre of attention in her designs. With a sculptural hand to fabric, she's known for her trademark fluid draped dresses that she pairs with a rock 'n' roll  sensibility. A feminine silhouette is often seen while different materials and textures create an unmistakably sexy style.
On 13 October 2019, Sophia Kokosalaki, who was married and had one daughter, passed away after a short battle with cancer.
Sophia Kokosalaki Biography
---