Stefano Citron & Federico Piaggi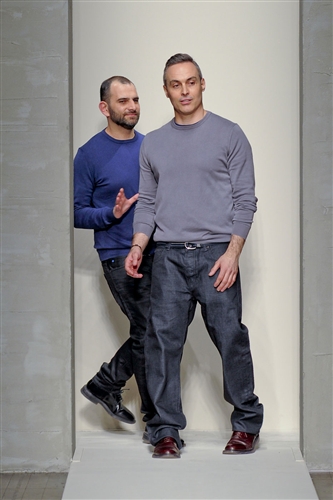 Neither came from a fashion background. Stefano Citron started working in photography before changing career to follow fashion. Federico Piaggi studied architecture before dedicating himself to couture.
The designers worked together at Mila Schon before leaving to work at Byblos with Greg Myler. The trio worked alongside each other as creative directors before their departure in 2006.
After luxury fashion house Gianfranco Ferrè fired its creative director, Citron and Piaggi were hired as part of the design team to help create the spring 2011 collection. Their designs for the collection were well received but, due to the company failing to ship the products on time, most of the orders were cancelled.
After eight months working unofficially as creative directors, Citron and Piaggi were formally appointed in November 2011.
Their first women's collection for Gianfranco Ferrè conveyed the duos overwhelming elegance and use of colour. Inspired by Ferrè's heritage, the collection saw clean and architectural lines with sexy twists.
Stefano Citron & Federico Piaggi Biography
---