Finding Your Homecoming Look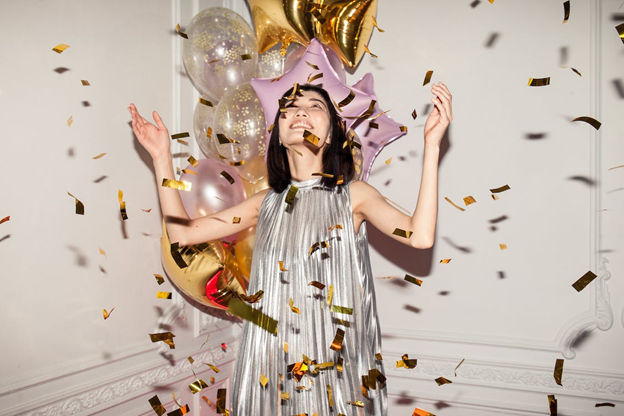 Whether you're headed back to class for a new term or a returning graduate, homecoming is the first major event of the school year, and the perfect opportunity to get dressed up. If you haven't got your outfit figured out just yet, homecoming can also be a chance to rediscover your personal style so that you can wear something you feel truly confident and comfortable in on the night. Here's our guide to finding your perfect homecoming look.
Consider Theme
The great thing about themed homecoming events is that they give you something to work with. Disco themed parties call for sequins and sparkle, and a retro event could be old Hollywood glamor. If you know what the theme is, put your own personal spin on it; the Met Gala is a great resource for  inspiration, as each event also has its own theme.
Find your Muse
When considering your personal style, a great place to start is with your own personal style "muses", whether that's a particular celebrity whose fashion sense you love, or even a fictional character from a movie. It doesn't even have to be a person; just a general aesthetic or even a particular era that you like the look of can be enough to get you feeling inspired.
Rock your Body
Traditional body typing systems used to be all about emulating that elusive hourglass figure, but this body type is in a very small minority of people, and clothing intended for hourglasses doesn't suit everyone. The recent Kibbe revival (another 80s concept) makes it easy to find clothing that harmonizes with your unique physique, instead of trying to fight against it.
Pick a Color
By now you'll probably have heard all about seasonal colors, popularized in the 1980s by Carole Jackson's book Color Me Beautiful, seasonal typing is all about working out which colors look best for your skin tone and hair and eye color. This technique splits colors into the four seasons (winter, spring, summer and fall), with three variations on each season.
Get Creative
Using the information you've gathered on your seasonal color, body type and fashion inspiration and create your own mood board, either a digital one, or if you're feeling crafty, break out the glue sticks and create one using things like magazine cuttings and fabric scraps. You can then use your fashion "vision board" to shop for items that fit the look you have put together.
Forward Thinking
A great option is to get something you know you can wear on repeat to other events. Typically, something like a little black dress is great for this (the more minimal it is, the more ways you can accessorize it), but another alternative is to wear coordinated separates which you can then mix and match with other items in your closet.
Practical Magic
If you love looking glamorous, practicality might be the last thing on your mind, but if you're tripping over a floor-length gown, it's likely to come to the forefront pretty fast. Ideally, you want something that merges fashion with functionality. For example, if you're hitting the dancefloor, my recommendation is to consider a dress with a shorter hem and a little stretch to allow for movement. Most importantly, have fun.
---