Unlocking The Secrets Of Wearing Evening Dresses With Confidence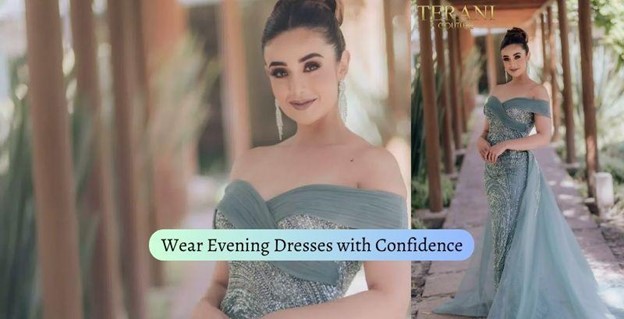 Evening dresses are the most elegant and classic garments that show elegance. From your classic black-tie affairs to glam red carpet, these stunning garments give out attention and show confidence once worn.
However, there are times when the wearer does not show confidence and struggles even to show off the beauty of the evening dresses. Therefore to unlock the secrets of wearing evening dresses with confidence, it is crucial to focus on the fit, personal style preference, and the theme of the event.
Although you get the choice of picking what kind of style and silhouettes will suit you and other things. Taking the time to pamper yourself with proper fitting, grooming, and makeup. So, we have got a bunch of tips that will help you acing that perfect evening wear look. So, let's get started.
Tips to Wear Evening Dresses Successfully 
It is always exciting and intimidating when it comes to dressing up for a special evening event. And with the right tips, you can boost confidence while making a lasting impression on everyone you meet. So below are 10 tips you can take to look absolutely incredible:
Choose the Right Dress: Always start by selecting an evening dress that will complement and fit your body and make you look amazing. A dress that hugs you well will automatically exude confidence and make you feel better throughout the event.
Mind the Dress Code: Be mindful of the event's dress code when you start picking your evening dress. Know what kind of dresses will look if the event is a cocktail party, black-tie affair, or semi-formal event. Adhering to the dress code will lessen your job of rush, and you will find the perfect dress.
Embrace Comfort: Looking and staying confident is the key to making a lasting impression. Opt for an evening dress that is made out of the highest quality material and is breathable, which will allow you to dance throughout the night.
Flatter with Color: It is okay to experiment with colors that will complement your tone and personality. Dark shades like navy, black and deep burgundy give suave vibes, while jewel tones and pastels add a touch of vibrancy to the whole look.
Find the Perfect Fit: Altering your evening dress to fit your figure can make a whole difference, as the fitted dress shows confidence. So take time to get alterations.
Accessorize Wisely: Accessories elevate the whole outfit. So keep this that less is more, and then find accessories that can work wonders with your fit and then style accordingly. Select statement pieces like elegant earrings, a shimmery clutch, or a chic necklace that will add a touch of glam to your fit.
Consider the Venue: Also, make sure to know about the venue so that you buy dresses as per the venue. A flowing gown will look amazing in a ballroom, while a chic cocktail dress will suit the rooftop.
Play with Silhouettes: When it comes to selecting a dress, different dress silhouettes can have different impacts. Experiment with A-line, mermaid, sheath, or even ballgown style to find one that fits you.
Read the event rules carefully: Be thorough with the event's rules and then dress up accordingly.  Be prepared with an evening dress of different styles and show up with confidence.
Heels or no heels?: When it comes to wearing a stunning outfit and feeling absolutely comfortable. You have to keep in mind the type of footwear that you will purchase, and that will be appropriate for the event!
Exploring the Diversity of Evening Dress Styles
Evening dresses personify elegance and are the go-to choices for formal events and even for your special occasions. Understanding the diversity of evening dresses gives you the style window of styling per your quotient and personality. Below are some of the evening dress styles, so let's get started.
A-line Evening Dresses: This timeless classic A-line silhouette is a flattering choice for different body types. This classic seek style features a fitted bodice that flares out at the bottom, which resonates with the letter "A". a-A-line evening dresses are pretty versatile and can be dolled up well with various add-on embellishments, like lace, sequins, or lace.
Mermaid Evening Dresses: Celebrate your curves with a mesmerizing mermaid evening dress. This style snugs your body from the chest to the knees and flares out dramatically to the floor. Mermaid dresses give out the red-carpet vibes and make them the perfect pick for formal galas.
Empire Waist Evening Dresses: The empire waist style showcases a high waistline that sits just below the bust and creates an elongated, slender look. This dress style is particular for flattering petite or pear-shaped individuals, as it will draw attention to the upper body and graces the lower body.
Sheath Evening Dresses:  If you prefer a sleek and slender look, then the sheath evening dress can be an excellent choice for you. This silhouette follows the body's natural curves and is perfect for cocktail parties.
Ball Gown Evening Dresses: Channel your inner princess with these stunning ball gown evening dresses. This fairy-tale-inspired style features a fitted bodice and has a floor-length voluminous skirt. Ideal for a formal wedding, charity gala.
High-Low Evening Dresses: Those who want to showcase their legs while staying true to the theme can enjoy the full-length gown's elegance. These dresses flaunt a shorter front hemline and a longer train at the back.
Finding the Right Evening Dress to Suit the Occasion
A black-tie event or formal gala
Select a stylish floor-length evening gown with a classic A-line or fitted mermaid form for the occasion. Select opulent materials like silk or chiffon, and search for a dress with few decorations.
Cocktail Hour or Semi-Formal Gathering
For this event, a stylish cocktail dress that ends just above or below the knee is ideal. Stylish accents like a halter neckline or a fitted sheath silhouette are important to look for. Play with bright colors, or go for an LBD for a chicer, more timeless appearance!
Attending a wedding
To strike a balance between formal and stylish, choose a dress. For a spring or summer wedding, a midi-length dress with a flowery motif would be a better option.  A long-sleeved gown in a jewel tone might be more appropriate for autumn and winter.
A red carpet or VIP occasion
Make a lasting impression by wearing a confident, show-stopping gown. Choose a dress with eye-catching features like a plunging neckline or a thigh-high slit.
Gala or fundraising event
Choose an outfit from a renowned fashion designer that expresses your sense of taste and dedication to the cause by being smart and elegant. That gorgeous effect can be achieved with a floor-length gown that features an empire waist or a chiffon overlay.
Birthday or Special Anniversary Celebration
You can always try making daring decisions that reflect your personality. For a more informal, joyful atmosphere, think about wearing a bodycon dress with sequins or a high-low dress. Pick a look that gives you a sense of security and ease.
Conclusion
When it comes to rocking an evening dress and making sure you look your absolute best, the following tips will help you in acing your desired look. And once you surpass those tips, you are sure to step out of your comfort zone with all the grace and sophistication.
In the end, you will only be left with lots of time and to create memories that will last a lifetime. So get ready to dance the night away and shine on!
---