Prom Dresses to Wear On Repeat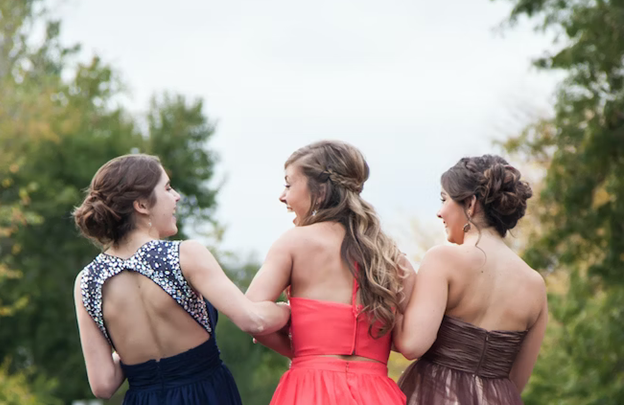 For many high school senior students, the idea of arriving at prom dressed up in full fairy tale princess regalia sounds like a dream come true, but depending on the style, you might only get to wear it once. Instead of trying to sell your "worn-once" dress online, choosing a dress you can wear after prom is a smart move.
Over time, the rules on what counts as acceptable formal wear to prom have relaxed: with options no longer restricted to full length gowns. Whether it's a gorgeous maxi dress fit for the beach or a sparkly black beaded number, it's easy to find a dress that looks just as good at prom as it does for a multitude of other occasions.
At the Club
If you've just started going out to the club, something with a little sparkle and a shape that allows you to move will be your go-to dress for nights when you're ready to hit the town with your besties. If a dress isn't your style, an embellished jumpsuit looks equally fabulous
Out to Dinner
For dinner dates, keep things simple in a classy mid-length slip dress in black or navy that you can dress up or down as you please. If you're going for a fancy sit-down meal with family, dress things up with a pair of heels and your sparkliest earrings. If you need something more casual, just layer over a tee shirt and add sneakers and you're ready to go.
On Vacation
If you still have your heart set on that fairytale dress and you're planning a trip abroad, prom dresses come in plenty of fabrics that also pack away into a suitcase with minimal risk of wrinkling. Crepe, tulle and lace are all oh-so romantic: choose a mid-to-full length style in a slightly looser fit, and you'll be the belle of the ball, as well as the beach.
Wedding Guest
Choosing a prom dress that doubles up as wedding guest attire is a smart move. Something flowy, in a mid length or shorter (again, for maximum danceability) works. Choose from a block color (any so long as it's not white), or a print: bold florals, stripes, geometric art deco patterns or a splashy, abstract print for an unexpected twist.
Any Time, Any Wear
The infinity dress came back onto the scene a few years ago, but it was originally invented by fashion designer Lydia Silvestry in 1976. Since then, this simple style (a basic a-line dress with two lengths of fabric that can be wrapped to style the dress in a multitude of ways) has become a versatile favorite. Whether you wear yours as a one-shoulder dress, strapless, or off-the-shoulder, the possibilities are endless.
On Repeat
Repeat outfits used to have a bad reputation, which is unfair, especially if you're young and on a budget. Choosing versatile or mix n' match pieces that can be styled differently isn't just kind to your bank account, it's better for the planet as well. Some people keep their prom dress after graduation as a memento, but a dress you can wear to make new memories is magical.
---