4 Styles You Should Try, Inspired by Hailey Bieber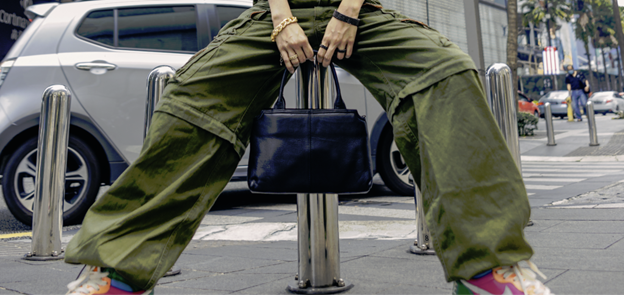 When it comes to creating a personal style, you don't have to start from scratch or try to be an innovator in your own right. In fact most of us just look to celebs to get inspo for expanding our wardrobes.
Hailey Bieber is a stalwart of the modern scene who's definitely worth following if you're looking for a fashion refresh, so here are just a few of her iconic styles to test drive yourself.
Oversize everything!
Baggy, oversized clothing is back, and in a big way. In fact Hailey Bieber has been spotted several times in recent weeks wearing different combinations of voluminous cargo pants and capacious blazers.
The key here is to pair the oversized elements with a top that's tight-fitting. You need this contrast, or else your body will be totally swamped in fabric.
Don't be afraid to try muted tones either; navy blues, military greens and subtle grays are all great options for everyday wear.
Check out more Hailey Bieber styles
You should check out the latest Hailey Bieber news if you want to see what styles she's been sporting recently.
As a supermodel and partner of a pop star, she's frequently photographed out and about, while of course having a team of stylists behind her to ensure she's always on the bleeding edge of fashion.
Revel in ruching
For more formal attire, a ruched dress is a great option, and Hailey Bieber has shown up to charity events and galas this year in several such pieces, most notably an example from famed designer Vivienne Westwood.
Ruching is another aspect of fashion which relies on contrast to work. A closer fit around the hips, and bare arms, enable more playful and asymmetric elements to be added to the front of a dress without veering into the arena of frumpiness.
Be on-trend with Barbiecore
The rise of Barbiecore in fashion over the past few months has been intriguing, with many A-listers going all-out with intense pinks across a range of different outfits.
Hailey Bieber has also been part of this movement, albeit in a less in-your-face manner than some of her peers.
For example, at a recent fashion show for Yves Saint Laurent, she sported a pink dress which was towards the softer end of the color spectrum, embracing dustiness rather than eye-melting vibrancy.
This dress was incredibly short, but also stuck to that timeless rule of limiting the exposure to one area of the body, so as to remain classy rather than being too provocative. The long sleeves and high neckline achieved this elegantly, while still drawing attention to her carefully honed body.
Adopt the comfort and glamor of athleisure
Another appealing fashion trend that has featured in Hailey Bieber's rotation recently is that of tried and tested athleisure garments.
Dressing like you're on your way to the gym or the tennis court, when you're actually heading out to meet friends for a coffee, might sound odd, but in practice it's both a stylish and practical way to go about your day.
Better yet, full outfit color matching makes sense in this context, and really lets you vibe on one particular hue, whether that's crisp, bright white, or something more intense.
Furthermore, when wearing athleisure clothing, you can also pair this with a larger bag than you might usually choose. This extra storage will come in handy for all sorts of everyday items, and is a nice change from being stuck with a super-small clutch.
Wrapping up
There are lots of celebs worth following for style inspiration, and for Gen Z it's hard to beat Hailey Bieber, so keep your eyes on her social feeds!
---