Roland Mouret
Born: Lourdes, France, 1962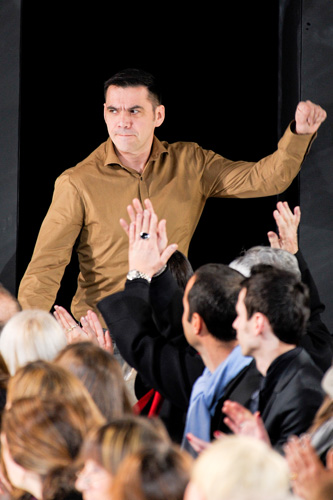 Enrolling at a Parisian fashion college in 1979, Roland Mouret dropped out in his first year on advice from his tutor that life experience was more crucial. Finding work as a model, Mouret moved on to work as a stylist.
Gaining internships at French Elle and Glamour magazine, Mouret learnt invaluable skills – while at Elle, Mouret was taught how to pattern cut. After interning, Mouret then worked for Robert Clergerie as an art director, before moving to London in 1991.
While in London, Mouret designed for People Liberation, a venture backed by the Italian manufacturer Gibo, however, the project was short lived. Mouret then started to design collections under his own name and presented during London Fashion Week in 1998.
The 15 piece collection was immaculately tailored and produced entirely without the use of patterns. The gently draped designs received critical acclaim. The success of his first collection led to his first front cover magazine appearance on Collezioni. Mouret was credited with understanding the female silhouette.
In 2000, a partnership with Sharai and Andre Meyers started, under the name Roland Mouret Designs Ltd. By 2004, Mouret had began showing his collection in New York where he was praised for his draping techniques and sartorial skills.
After five years, Mouret resigned from the company.
In 2005, Roland Mouret was catapulted into fame with the Galaxy Dress. Celebrities including Cameron Diaz, Demi Moore, Victoria Beckham and Scarlett Johansson embraced the new brand and Mouret himself.
With celebrity endorsement, the sculptural dress featured a deep square neck and cap sleeves. The design that created an hourglass silhouette was universally known as the 'it' dress. The demand for the dress was so high; it sold out before it reached the shops.
In 2006, Mouret, with help of Simon Fuller, began operating under the name 'RM by Roland Mouret'. The same year, Mouret collaborated on a limited edition collection for Gap, consisting of 10 dresses. In 2007, Mouret debuted his 'Satellite' collection in Paris. Straight after the show, Net-a-Porter had the RM collection available online to buy.
In 2008, the second collection by RM was shown in Paris. The same year a new collection, 'RM Bespoke Limited Edition' was introduced. In 2010, Mouret produced a menswear line.
Known for his precision cutting and drapery skills, Roland Mouret has an appreciation and understanding of the female body. His form enhancing pieces contradict minimalism with femininity and have an underlying sex appeal.
On September 9, 2010, Roland Mouret repurchased the rights to his own name, with the intention of opening his first standalone store on Carlos Place, London, by 2011. The new store's premises would accommodate retail space for Mouret's womenswear, menswear, atelier, design workshops, and sales showroom. The location holds historical significance as it was previously the showroom for two members of the Incorporated Society of London Fashion Designers – Michael of Carlos Place and Peter Russell.
Despite prior financial restructuring efforts, including the closure of its Manhattan flagship in 2018 and operational streamlining, the company faced financial challenges even before the pandemic. The onset of the global pandemic exacerbated the situation, causing sales to plummet by 80 percent in the first half of 2020. In response, Mouret and co-owner Simon Fuller's XIX Entertainment sought outside investment to stabilize the business. However, the company eventually collapsed into administration in November 2021, resulting in the loss of 84 jobs and the appointment of financial advisory Grant Thornton to manage the administration and closure of the London flagship store.
On a personal note, Mouret resides in a cottage in Framlingham, Suffolk, with his husband, James Webster, who is an artist, sculptor, and antiquarian bookseller. He maintains a close friendship with David and Victoria Beckham, for whom he acted as an advisor for their debut fashion collection. Additionally, he spent his honeymoon at Beckham's luxurious apartment in Dubai's exclusive Burj Khalifa complex.
Roland Mouret Biography
---