Romeo Gigli
Born: Castelbolognese, Italy, 1949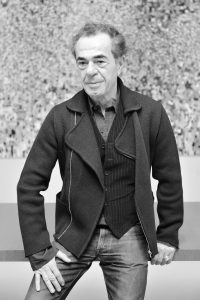 Romeo Gigli's childhood was immersed in art history and antiquarian books thanks to his father and grandfather's profession selling books. He originally trained as an architect and spent fours years living in Ibiza before moving to Milan.
In 1972, a store owner in Bologna asked Gigli to design for him. This led to him moving to New York, where he designed a collection for Piero Dimitri. Gigli's designs featured sloping shoulders, opulent fabrics and beautiful colours.
Gigli launched his own label in 1983, but it wasn't until his fourth season designing he was recognized with The New York Times naming him "a quiet new talent". His style embodied a subtle femininity in a romantic and delicate way, the stark opposite from the aggressive tailored look of the eighties.
In 1989 he moved his shows to Paris. His autumn/winter collection that year was highly praised by international buyers. The same year he launched his first perfume, Romeo.
The following year Gigli launched a younger line "Gigli". In 1991, the Bath Costume Museum in Britain chose Gigli's midnight blue velvet pantsuit as their Dress of the Year.  This followed by French Ministry of Culture, awarding him a Knight of the Order of Arts and Letters in 1992.
Four years later in 1996, Gigli launched a new line of clothing for both men and women. The following year the company collaborated with accomplished photographer Richard Avedon on an advertorial.
In 2003 Gigli's most influential designs were exhibited globally at Momu in Antwerp, the Fashion and Textile museum in London and the Metropolitan Museum in New York.
The following years saw Gigli extend his experience to projects that were not directly related to fashion. Gigli opened an art space for international artists to exhibit their work in 2007, as well as the first Romeo Gigli café launching. The following year the company opened an outlet store to utilise the growing fast fashion trade.
Romeo Gigli channel's his appreciation of beauty, history and travel into his work. He brought an essence of renaissance just as big shoulders were losing popularity during the eighties and his distinctive style features in silk suits, velvet coats and shirt collars that frame the wearers face. Clothes that feature close fits to the body are seen from Gigli with romantic draping and a tendency towards asymmetry.
Romeo Gigli Biography
---