Brian Duffy
Born: London, England, 1933
Died: London, England, 2010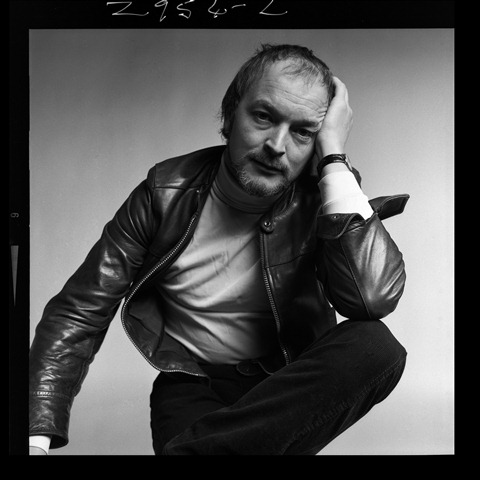 Credits & copyrights: Courtesy of Duffy Archive Limited
Brian Duffy was born in June 1933 and lived in North London.
Aged 12 he was sent to a progressive school in South Kensington. Frequent trips to the National Gallery fostered a love of painting in him and in 1950 he won a place at Central Saint Martin's but he was intimidated by the talent of his fellow pupils, and he soon decided to switch to fashion design.
In 1955 he was offered an apprenticeship with Balenciaga in Paris but with the imminent arrival of his first child he started seeking a steadier employment. Soon after he began working as a fashion illustrator for Harper's Bazaar.
By 1957 he had found a post with the British edition of Vogue Magazine.
He is mainly known for his recording of the changes in British Society during the 1960s.
He was part of the "Black Trinity" with David Bailey and Terence Donovan. Bailey was considered the most creative, Donovan the most amusing, and the art school trained Duffy as the most provocative and intellectual.
"Before 1960 the fashion photographer was tall, thin and camp," he reflected. "But we three were different: short, fat and heterosexual."
Together they created a new sense of style that worshiped youth and celebrity and the people who wore the clothes became as important as the garments themselves. Magazine images started reflecting a way of living closer to reality than the idealized world of Irving Penn and Cecil Beaton but most of all, images became more and more sexualized.
Duffy shot an article for the magazine Nova called "How to undress for your husband" using the model Amanda Lear whose true gender was very much talked about at the time.
Many of the models he chose to photograph – Terence Stamp, Chritine Keeler, Harold Wilson, Paulene Stone and Jean Shrimpton for example – are today seen as defining personalities of the decade.
In 1963 he left Vogue Magazine so that he could work from his own studio, and two years later began a long association with the French edition of Elle Magazine and took on more advertising work.
He made a memorable campaign for Benson and Hedges Cigarettes and worked on other significant commissions including two calendars for Pirelli in 1965 and 1973, and three album covers for David Bowie's albums.
In 1979, tired of the increasing commercialization of his work, he decided to burn the greater part of his archive in the garden of his studio and refused to take another picture for the next three decades.
In the late sixties, he set up a film production company with the novelist Len Deighton. Together they made "Only When I Larf" in 1968 and the musical "Oh! What a Lovely War" in 1969.
His first photographic exhibition was at the Chris Beetles gallery in October 2009.
A documentary was made by the BBC in 2009 and aired in January 2010 on his life called 'The Man Who Shot The 60's'
A book by Chris Duffy on his late father titled 'Duffy Photographer' was published in June 2011.
Since 2009 Duffy's work has been displayed in the National Portrait Gallery, currently the Aladdin Sane original dye transfer is on show at the V&A . More of his work is at The Alinari National Photo Museum in Florence and Monash Gallery of Art in Australia.
He died in May 2010.
Brian Duffy Biography
---