Ann Demeulemeester
Ann Demeulemeester biography
Born: West Flanders, Belgium, 1959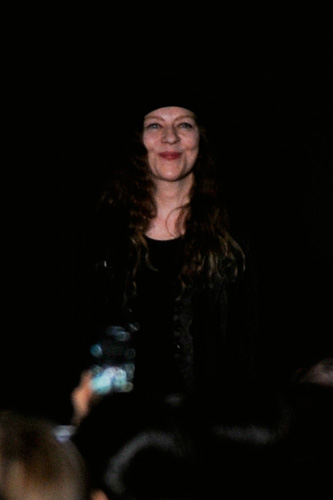 Ann Demeulemeester had a passion for art. Studying painting in Brugge, she was often fascinated by her subjects clothing. Intrigued by what the people she painted wore, she decided to pursue this further and began to study fashion instead of art.
In 1977 Demeulemeester enrolled at the Royal Academy of Fine Arts in Antwerp studying fashion design. As a student she perfected her cutting edge style, alongside Dries Van Noten and Martin Margiela.
After graduating, Demeulemeester launched BVBA "32" with her husband in 1985. The following year alongside six of her Antwerp contemporaries, including Van Noten, Margiela and Dirk Bikkembergs, she packed into a van and the group headed to London. Quickly becoming known at The Antwerp Six, they were seen to bring a new imagination through raw, non traditional clothing, that London fashion hadn't seen previously.
In 1988 Demeulemeester added shoes and accessories to her collections. Three years later she held her first catwalk show in Paris for spring 1992. Featuring a destructive edge, the avant-garde punk style featured a quiet femininity that critics adored.
Demeulemeester featured men's clothing in her womenswear collections in 1996, deciding she didn't want to divide men and women. That same year she launched a company that supports young talent, who has included Hairder Ackerman.
In 1999 her first flagship store opened in Antwerp. From that year to 2004 her work featured in several exhibitions in venues such as New York's Metropolitan Museum of Art and the Flanders Fashion Institute in Antwerp.
Demeulemeester's label continued to see steady success, and in 2005, due to the popularity of her menswear designs, she debuted her first independent men's collection in Paris. The following year she added Jewellery to her label.
From 2006 to 2007 the label opened up further stores in Tokyo, Hong Kong and Seoul and in 2008, she again expanded, launching Ann Demeulemeester (Collection Blanche) to the brand.
Inspired by close personal friend Patti Smith, Demeulemeester's clothes are perfectly cut, in blunt edgy styles. Inspired by menswear, her look is layered and slouchy while monochromatic colours are seen on simple silhouettes. Distressed fabrics are paired unusually to create a beautiful uncontrived look that features an emphasis of practicality.
Ann Demeulemeester biography
---