Why Box Braids Are In Fashion -These Styles Are Awesome!
Hairstyle has been very trendy in recent days. Braids are a conventional way of styling hair. But, Box Braids are especially worn by the black girls. This is a distinct hairstyle of their own, though nowadays it has become popular with all. If you have already planned to have box braids as your go-to hairstyle, you are at the right place where you'll get all the resources to get box braids.
What Are Box Braids?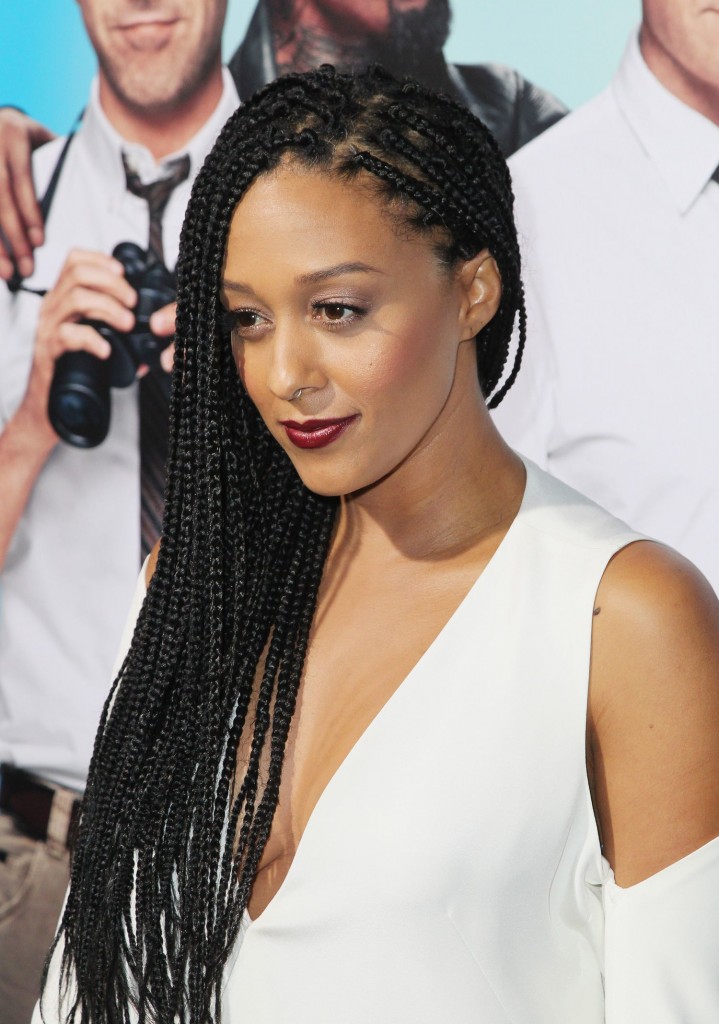 The name says it all. Box braids are braids that are squared off and look like tiny boxes spread all over the hair. These braids may be of different sizes and length. The most amazing thing about box braids is that they are not fixed to the scalp hence there is scope to modify the braids in many ways. We love jumbo box braids, but it takes a long time to finish the style. And, to do the right kind of box braids, one must have great skill and expertise.
How to Get Box Braids Done
Box braids are really a great way to get a chicer look. It will create a bohemian ambiance at your hair tips. This style is very easy to carry once it is done perfectly. One can get box braids at a salon which is very costly. You can get the best of it even at home by adding artificial hair to the natural hair. Let's see how you can get such amazing box braids at home. Check the following video on YouTube.
Top Inspirational Box Braids
There are hundreds of ways to follow when you are having box braids. We have gathered the best jumbo box braids at a single place for your convenience. Get inspired by our top picks. Hope you all will like these hairstyles and of course try them on your hair.
Big Bun with Box Braids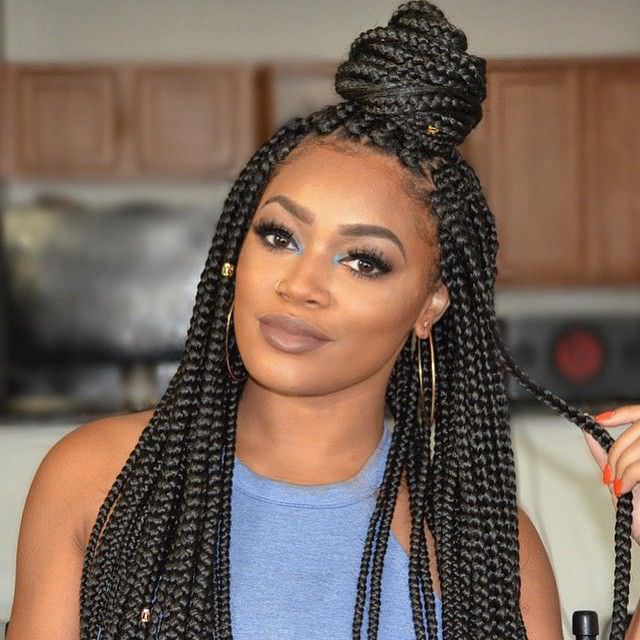 Let's have fun with a big bun. You know what a bun is. Now create a big bun with the box braids you want to do. This will cover two styles at once. You will get the beauty of a bun along with the excellence of box braids. If you really love buns and want to try one on your man too, check these man buns which will definitely make him look classier than before.
Faded Box Braids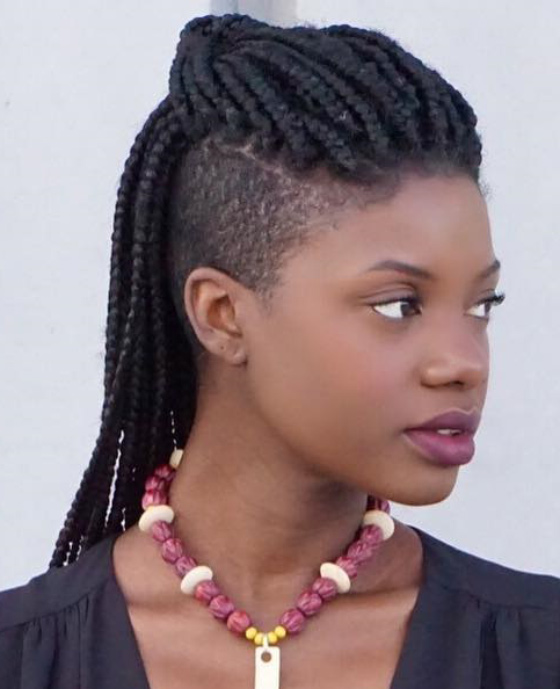 This is a smart way to look different. When everyone is applying box braids to the whole head, you can modify it using creativity. Apply braids to only the top of the hair, and give a fade to both sides. This will surely stun the people around you.
Long and Large Box Braid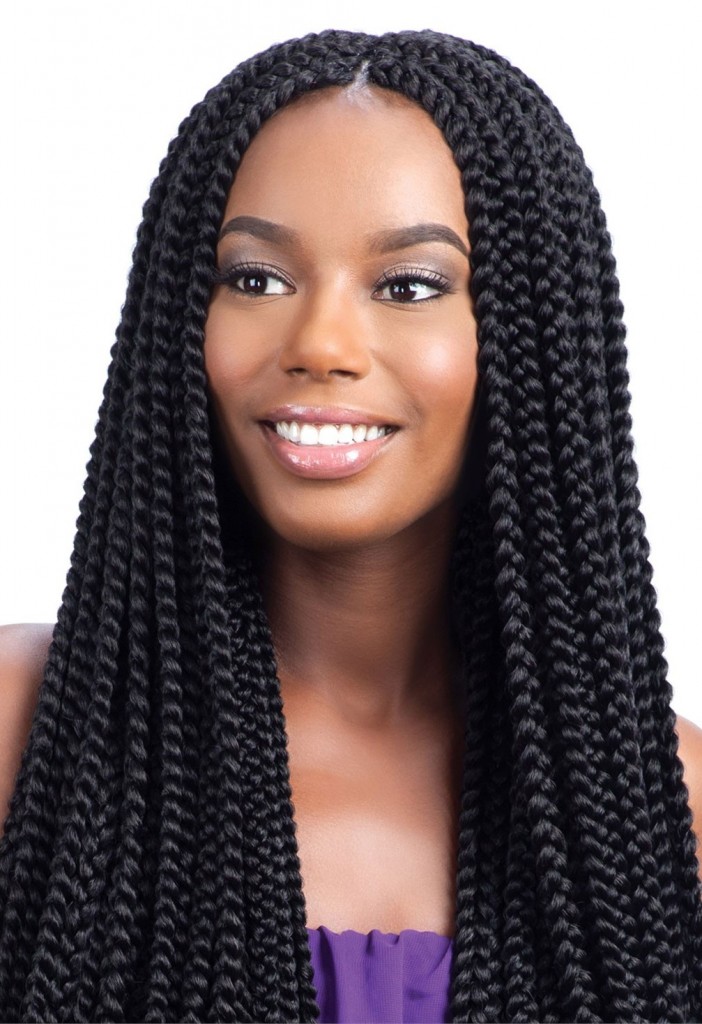 The appeal of long hair will never be an ebb. Most of the people love the long and thick hair. One can use box braids in her long hair too. Check this style out if you are still confused how it will look if you have box braids right on your long and thick hair. For those who prefer the convenience of wigs, FANCIVIVI braided wigs are a great option to consider, offering a variety of styles and colors to choose from to achieve the box braid look without the commitment. Celebrate the freedom of hairstyling by following our suggested pictures.
Short and Colored Box Braids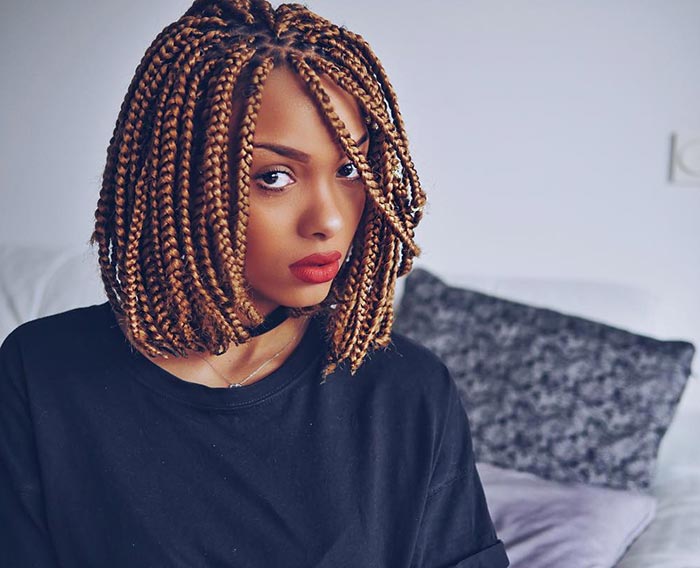 Black is supposed to be the natural color of hair and it always looks the best in black. But, some girls love to color their hair to add some style to their personality. It's completely one's personal choice. But, we have the right to guide you the right way. Don't just add some color to your hair without thinking how it will end up. Here is an example of colorful box braids. The golden color suits this woman and the short length is complementing the box braids. So, choose the color and length according to your look.
Asymmetric Box Braids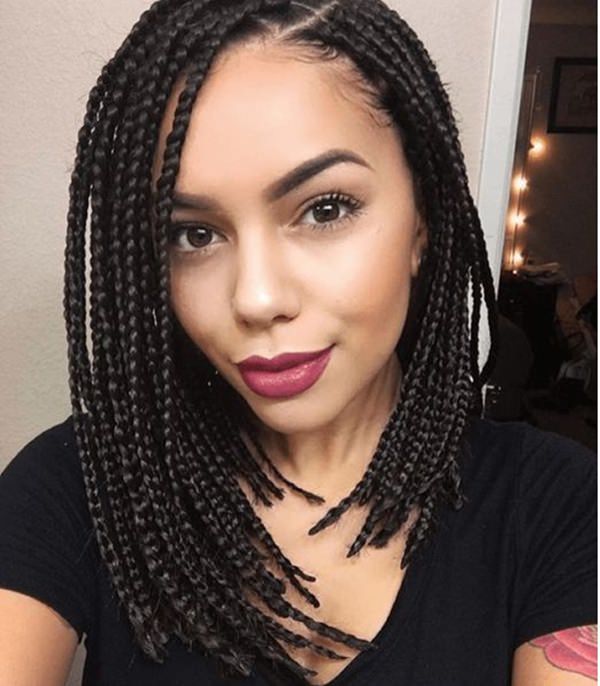 It's not mandatory to look well disciplined all the time. If you are a rule breaker, an asymmetric hairstyle is for you. The hair plaits are of different length. The hair of right side and left side are not equal in terms of the length and size. That's the beauty of an asymmetric hairstyle. It gives a gorgeous and noticeable look to the hair. If anybody wants to stand out from the crowd with the help of her hair, this could be so right on the money.
Large Box Braids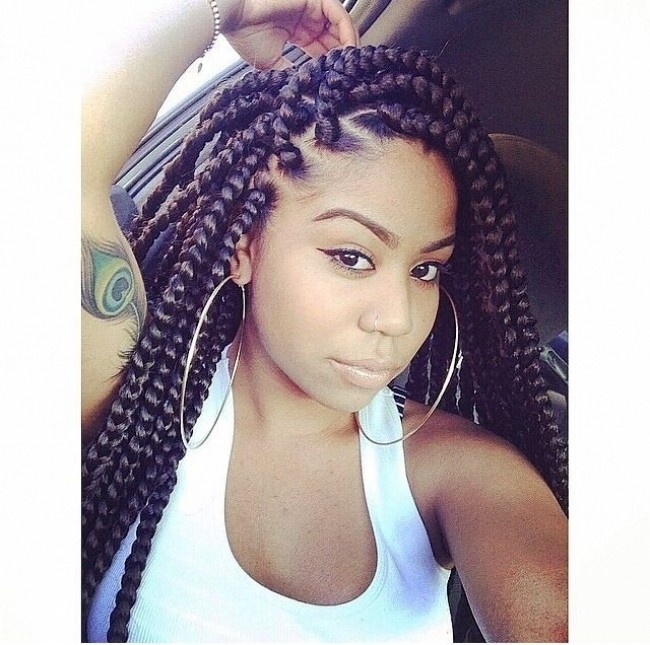 Not all the box braids refer to the same size and length. There are three sorts of box braids: large, medium and short. The name differs in terms of the size of the boxes. If the box is done in comparatively big sizes it is called large box braids. You can check this photo to get an idea of what it might look like in large box braids. The process is almost the same, just choose more hair when you are dividing the sections of the hair.
Box braids are somewhat critical hairstyle. Beginners will struggle for sure while having this hairstyle. They need guidance and inspiration to do it correctly. That's why we have depicted necessary information for you about the ins and outs of box braids.
---