Street Fashion- Spring Forward
---
Posted on
Street Fashion- Spring Forward
As the days get longer and the weather gets warmer, no item is more trustworthy than a denim shirt/jacket. Taking on the badge denim trend, the fun theme is maintained through a multi-coloured, striped skirt and killer heels.
A true transitional piece, this leatherette dress is ideal for wearing in the sun or with tights on cooler days. Practical in colour, the tan shade is paralleled through brown suede boots and tortoise rimmed sunglasses.
Unafraid of grabbing attention, a mustard yellow jacket is paired with bright blue denim. Accessorising with an oversized trilby and peep-toe black boots, this lady also opts for on trend culotte trousers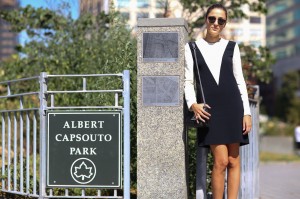 Smart in black and white, the deep v cut of this pinafore dress works to shape and highlight the figure. Illuminated by the bright white top, the outfit is finished with a staple handbag and dark sunglasses.
Street Fashion- Spring Forward
---