Make An Eye-Catching Brochure for Your Beauty Products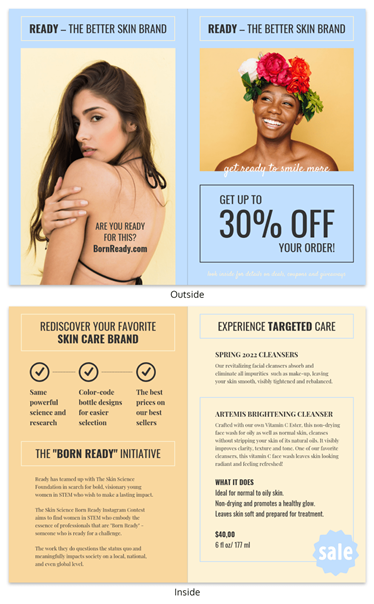 Beauty products are a big business, and every company wants a piece of the pie. If you're looking for a way to market your beauty products in an engaging and eye-catching way, then you need to create a brochure! Brochures are a great way to market your beauty products, and they can be used as an advertising tool or handed out at events. When designing a brochure for your beauty products, there are a few things you need to keep in mind. So, if you're ready to create an eye-catching brochure for your beauty line, keep reading!
Make a great first impression using a brochure maker
Your brochure is a great way to show customers what your beauty products are and how they work, so you want it to be impressive. One of the best ways to make sure your brochure makes an impact when potential buyers see it for the first time is by using a quality brochure maker. There are many companies out there that can help you get your brochure designed, printed, and distributed for you with ease. Whether you're looking to create a brochure that looks professional or one that's more modern and creative, you can find a company that offers high-quality brochure makers to help you.
Choose an interesting and eye-catching brochure design
When designing a brochure for your beauty products, you don't want it to blend in with the rest of the crowd. You want it to stand out and grab potential buyers' attention right from the start. To create an effective brochure, you'll need to choose a visually appealing design representative of your brand. Customize your brochure design with attractive colors and fonts that are in line with your brand identity.  Stick with three or four colors. Make sure the layout of your brochure makes sense so potential buyers can easily flow through it.
Introduce your brand and what makes it unique
Before getting into specific details about your beauty products, you need to introduce your brand first. Put your logo, brand name, and tagline on the front cover of your brochure. You can also add in a short paragraph about your company. Let potential buyers know who you are, what makes your brand different from others, and why they should buy your product over another company's products.
List and describe each product in detail, highlighting its benefits
Once you've introduced yourself and talked about the uniqueness of your brand, list the different products you offer. List the name of each product at the top of its description. You can list them out in a chart form, including images of each product, or create an infographic with the information. List prices of each product, too. This is where you get into details about what makes each product so special. Each product in your line should have its own section in the brochure with important information such as how it works and what sets it apart from other similar beauty products on the market. Specifically, describe what each beauty product does for customers. Is there a specific scent or color option? What are some benefits of using these items? Why would someone choose them over other products on the market?
Make sure your descriptions are informative and convey why customers would want to buy your products. Include a few bullet points about the product so you can list the main benefits it offers quickly and easily.
Venngage
Include before and after pictures or add customer testimonials if possible
There are a lot of benefits to using your beauty products, but one of the best ways to prove why people should use them is by showing customers what they can accomplish by using your products. If you can take before and after pictures of customers, that's great! If not, include testimonials from customers. This helps potential buyers really visualize how they can look and feel once they use your products, and it also shows them what other individuals have accomplished using your beauty products.
Venngage
Provide contact information and where your products are available for purchase
You don't want your potential buyers to have a difficult time getting in touch with you if they have questions about the products. So make sure your contact information, including a phone number and website, is available on your brochure. To make it easy for people to buy from you, make sure you include where your beauty products are available for purchase as well.
Venngage
Make sure the text is easy to read and well-organized
The text on your brochure should be easy to read, so make sure it's not overcrowded with too many words! Also, use bullets, headings, and numbered lists to help break up the text so it's easier to read.
To make the content in your brochure easier to read and more appealing to the eye, try using a font size of at least 16 pt. The text should also be easy on the eyes, so avoid using too many fonts, colors, and inserts.
Keep your brochure simple and clean to help show potential buyers that you are professional and easy to work with.
Use quality brochure printing services
It's important to make sure your brochure printing is done correctly. That means ordering durable paper, high-quality images, and vibrant colors. Don't skimp when it comes to quality. The last thing you want is for your brochure paper to be of low quality and your beautifully-designed brochure will just end up in the trash. Instead, use sturdy paper and images that are bright and colorful so your customers want to keep it in their purse or wallet.
If you're creating a brochure that is designed to attract new customers and increase sales of your beauty products, check out Venngage. Our platform makes it easy to design beautiful and professional marketing materials that will help you sell your products like hotcakes. Ready to get started? Make your eye-catching beauty brochure today!
---