Kenzo Takada: "I don't plan to return to the world of fashion"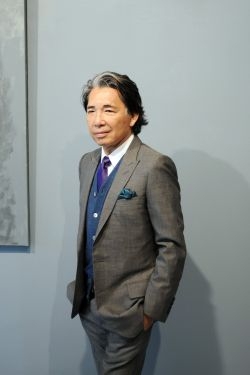 Relaxnews: Aside from fashion, you are known for exploring various fields such as painting and decoration. Do you plan to continue to do so?
Kenzo Takada: I didn't do much painting this year, but next year my goal is to start afresh, to really focus on it. I don't yet have a proper studio in my apartment, although I did set up a little space for painting, and someone from the Beaux Arts is giving me lessons, so that's marvelous.
R: Does Japan still inspire you?
KT: Of course. I like to play up the Japanese influence.
R: Do you ever stop working?
KT: Never. When I stopped [being the lead designer for the Kenzo namesake label] in 2000, I thought I'd spend the rest of my days traveling and relaxing, doing nothing. Ultimately I realized that I needed to do something. Even small things. If I do nothing, I'm stressed. In the world of fashion, working as part of a team is more comforting. These days, with painting, I tend to work alone. With Vianney, the jewelry collaboration was done as real teamwork. [When working alone] sometimes uncertainty overtakes me…
R: Do you prefer teamwork then?
KT: I do. Even with painting, when someone gives their feedback or teaches me something, I find it comforting. It's nice.
R: What's your opinion of fashion of the moment?
KT: Fashion changes a lot, just like the way people work. It's becoming a domain that is increasingly important for young people. It's incredible how intensely people are interested in fashion these days. It still attracts legions of women, but nowadays, with the new channels of communication, everyone can have an interest in fashion. It used to be very different. You could only buy dedicated magazines, while nowadays every magazine contains fashion pages. What I find a bit disappointing is that all the ready-to-wear and couture houses do more or less the same thing. Some designers are able to catch my attention, but they are few and far between. Everything is so globalized nowadays.
R: What do you think of the young duo who took the reins at Kenzo?
KT: [What they're doing is] great, it's marvelous. The Kenzo designers have really breathed new life into the brand, adding a youthful, dynamic touch.
R: Some say they are your worthy successors?
KT: Notably with their work on the runway shows and advertisements. They really add a very positive, open-minded, dynamic, young, joyful touch. I think they're marvelous. I met them once: they're very friendly and spend a lot of time looking at the archives, so that's great. I'm happy.
R: What do you think of the changes taking place at Dior and Yves Saint Laurent?
KT: It's a good thing. I really like Dior, but I've only seen some promotional photos from Yves Saint Laurent. I think it's good, but one has to see what the future holds. It's marvelous to see young designers bring in change, something new, something fresh. And this year, particularly, with Dior and Saint Laurent, a lot of things happened. And let's not forget Jil Sander, and also brands such as Balenciaga and Lanvin, which have maintained their impeccable quality.
R: Are you still in touch with some designers?
KT: Yes, of course, to a certain extent. I love people from the world of fashion; they always bring something new, they're open-minded, very curious and cultivated.
R: Do you think you could come back to the world of fashion?
KT: I don't plan to make a return to fashion, not now, especially with all these young designers, it's better to let them do their thing. But I still love fashion.
---