'Wet T-shirt' looks, bustles galore in fashion history show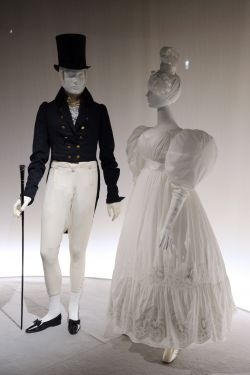 "Fashioning Fashion: European Dress in Detail, 1700-1915", was created by the Los Angeles County Museum of Art two years ago, after it acquired two rare dress collections, amassed over half a century by a duo of antique dealers.
Inside-outside displays reveal the workings of women's corsetry, starting with the wide, flat "panier" skirts of the 18th century, shaped over petticoats of collapsible whalebone or reed hoops and measuring up to six feet across.
"Imagine the grace it would require to move in one of these!" said Kaye Durland, co-curator of the show at LACMA who was in Paris for its launch at the Musee des Arts Decoratifs.
The French Revolution of 1789 ushered in a complete change of silhouette, explained Sharon Takeda, senior curator at LACMA.
Out went panier skirts and tapestry-style silks, to be replaced by linear silhouettes in wispy white Indian cotton, the Empire style that flourished under Napoleon Bonaparte.
Cartoons at the time depicted fashionable belles wearing next to nothing — "like the wet T-shirt contests of the day," Durland joked.
From there grew the romantic, bouffant-sleeved looks of the 1820s, and by the mid-19th century the big skirts are back — this time with crinolines hung over lightweight metal cages made feasible by the industrial revolution.
At the height of the trend the Bon Marche store in Paris carried 54 different types of crinoline.
Bustles ushered out the crinoline look in the 1860s, in all shapes and sizes and culminating in the "S" silhouette — nipped waist, curved rear and breast — until the early 20th century, when both bustle and corset took their final bow.
Eyebrow-raisers among the close to 100 silhouettes on show include a bustled tennis dress in striped cotton, with concealed pockets for balls.
Or a pair of 43-hoop laced leather thigh boots, and a "quick-release" leather corset offer a fascinating glimpse into the demimonde of the 19th century.
Men's fashion followed a parallel trajectory, as silhouettes grew gradually slim and sober, with tailoring replacing rich embellishments, heralding the 20th-century banker's suit.
(www.lesartsdecoratifs.fr)
---