Comme des Garçons plans new Dover Street Market outpost in NYC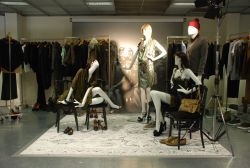 Comme des Garçons founder Rei Kawakubo is moving the Dover Street Market concept to Manhattan with the store's latest international branch.
Famous already as one of London's premier multibrand boutiques, the original Dover Street Market (located  at 17-18 Dover Street in the West End) combines art installations, fashion and a top-floor café run by hip Parisian eatery Rose Bakery. Luxury labels including Céline, Christopher Kane, Givenchy, Alexander McQueen and Comme des Garçons are all stocked. 
The Japanese fashion brand announced Friday that it had signed a lease on a new NYC space at at 160 Lexington Avenue at 30th Street. The 20,000-square-foot (1860 sq m), seven-storey emporium will host a mix of Comme des Garçons' different lines and collaborations, alongside menswear and womenswear from a range of international luxury brands. 
Development of the space will take 12 months, with the store set to open in December 2013, Adrian Joffe, CEO and husband of Rei Kawakubo, told WWD. Comme des Garçons currently has a store in the Chelsea district of New York.
Last month the brand announced a range of silk 'carré' scarves designed and sold in collaboration with Hermès. Alongside regular Comme des Garçons stores, the brand operates Dover Street Market in London's Mayfair and in Tokyo's upmarket Ginza district. The company is also present in China with the I.T. Beijing Market concept store which opened at the start of 2011. 
---