Kenzo Takada: "Fine jewelry is a brand new world for me"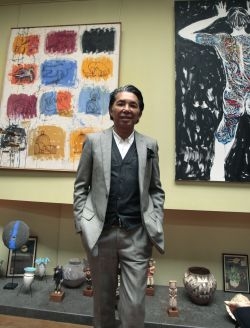 Relaxnews: How did you get involved in this new collaboration?
Kenzo Takada: A little over a year ago, a shared aquaintance talked to me about 10 Royale Haute Joaillerie. I replied that I had never done any fine jewelry before. Then I met Vianney and his young team and found them very open-minded. I saw the people who make the jewelry, and it really made me want to get involved. I thought that it would be something I'd like to try.
R: How foreign was the world of jewelry to you?
KT: I like to look at high-end jewelry pieces, of course, but I had never thought that I could make some myself. It's a brand new world for me. The fact that the people I was working with were extremely open-minded helped me delve into that world. I sketched two themes — originally three were planned — one that is rather classic and floral, and the other more graphic with an astral design.
R: Does the floral theme qualify as "pastoral"?
KT: Yes, I like the 'flowers of the field' aspect, that is both wild and natural, like peonies. I love peonies, poppies, anemones… Last year, in May or June, I was in Italy and came across some poppy fields. I took loads of photos, it was such a beautiful sight. There was a lot of wind, which gave movement to the flower petals. That provided a starting point for making some sketches and cardboard cutouts in wave shapes.
R: Where does the "astral" theme come from?
KT: As a matter of fact, it's from a drawing of my family seal, which, at its origin, used the symbol of a bluebell, a flower that looks like a star.
R: The ring you're wearing also bears that motif…
KT: I ordered it for myself.
R: Previously you didn't wear the seal?
KT: I did, but not the family one. In India, I bought a maharaja's ring, but I lost it. It featured a flat cut diamond that wasn't very sparkly. It was rather understated, but I loved it. After that, I stopped wearing rings. And so I  ordered this ring for myself.
R: What does it symbolize?
KT: It's my family seal. I'm very happy with it. It symbolizes the countryside and flowers of the field.
R: Are you particularly interested in gemstones?
KT: I'm not that familiar with them, but Vianney is a real expert. He started out in Colombia, and went on to travel the world looking for stones, which I find impressive. He's very young, but he's a true professional and his team is great. It's wonderful to work with a young person who is so driven, and with people who possess genuine savoir-faire. I like to work with people who know their trade.
R: How many pieces have you designed?
KT: A little over 20.
R: Does that make you want to do more in this area?
KT: Why not? We'll see. It was a truly interesting experience.
---