Kate Upton on the rise as fashion looks to 'healthier' models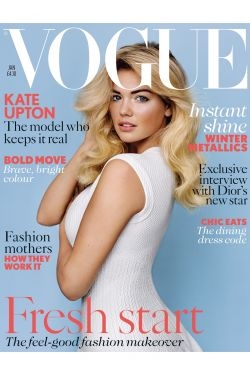 2012 has been one rollercoaster of a year for 20-year-old Kate Upton, but 2013 has already started well for the model, as she graces the cover of January's British Vogue.
Beginning as a swimwear model (Upton appeared on the cover of the 2012 Sports Illustrated Swimsuit Issue), Kate Upton has moved swiftly into fashion editorial and advertising work, shooting with big-name photographers like Miguel Reveriego, Terry Richardson and Steven Meisel. She also featured on the November cover of Vogue Italia and stars in a video for an upcoming Vogue Germany shoot.
UK Vogue editor Alexandra Shulman explained her choice of cover girl to Vogue readers:
"It's very rare for a girl; to move from one area of the business to the other, largely due to the fact that fashion models are almost without curves, whereas swimwear girls are celebrated for them," said Shulman in her editor's letter. "When I decided to shoot Kate for our first cover of 2013, it was to kick off the year with a young women who is not a stereotypical fashion model – although, let's face it, she's hardly a heffalump!"
While she's had plenty of success, Upton hasn't been embraced by everyone in the industry. Victoria's Secret casting director Sophia Neophitou isn't a fan, telling NY Mag that "she's like a footballer's wife, with the too-blond hair and that kind of face that anyone with enough money can go out and buy."
Upton's career has nonetheless been championed by Vogue magazines around the world as a poster girl for what publisher Condé Nast sees as a positive stance for 'healthier' body shapes in the pages of the famed fashion bible. In May this year, Vogue editors released a set of six guidelines laying out their responsibility for model health.
Kate was also shot for the cover of Carine Roitfeld's CR Fashion Book by famed US photographer Bruce Weber, the first run of 50,000 issues selling out in just over two months.
---