How to choose a Pakistani dress design for the right event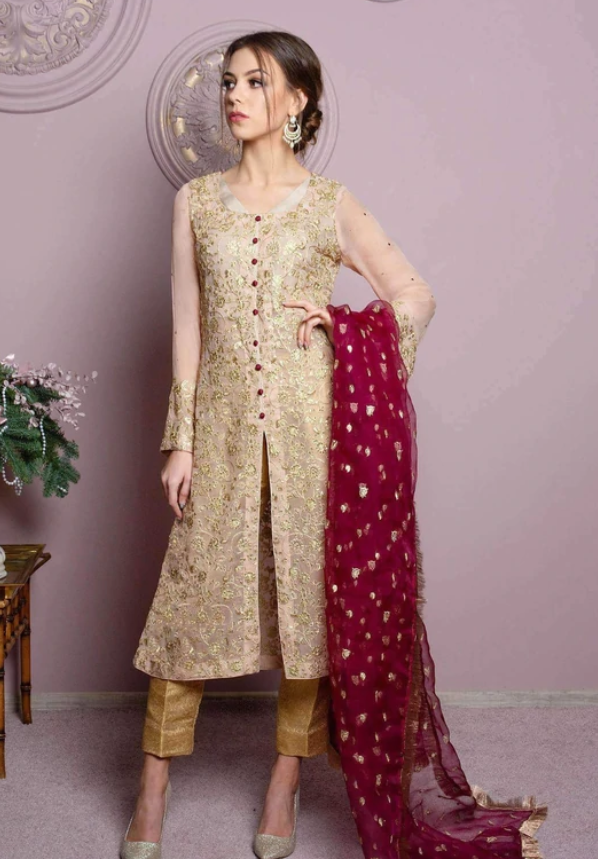 Pakistani fashion has moved beyond its borders and is now internationally recognized. Though this style of dressing represents the culture of Pakistan, you will notice people from other cultures rocking them.
Maria Nasir and other renowned brands have achieved success selling the best Pakistani dresses. Their distinctive styles, attractive embroidery, and exquisite colors and mostly what attracts people to wear these well-designed clothes.
If you are looking to have a taste of this traditional yet fashionable trend, you have come to the right place. In this article, we will list down Pakistani dress designs and where you should wear them.
Let's dive into details.
1 – Shalwar Kameez
Shalwar Kameez is a Pakistani fashion that's diverse and colorful, featuring different cuts and styles. It is a two-set dress that comprises a tunic and a loosely-fitting trouser that narrows down towards the knee.
Being one of the most comfortable and functional Pakistani outfits, the suit is ideal for both formal and informal occasions. It is the go-to attire for many ladies as it pairs beautifully with a wide range of earrings, bracelets, handbags, and other accessories.
2 – Gharara
The gharara dress is a traditional Pakistani outfit that consists of a mid-thigh length tunic and dramatic wide-legged pants. The knee area is often embroidered and the pants flare out from there downwards.
Ghararas come in different styles. They can be heavy or light, depending on your preferences. They are versatile and a favorite of many as they perfectly fit a wide range of body types.
Due to their sophistication, Ghararas are no longer considered a day-to-day outfit. However, they are perfect for special occasions such as weddings and engagements.
3 – Balochi
If you can't get enough of embroidered designs, Balochi is one of the best Pakistani outfits you should try out.
The Balochi dress design originated from the Balochi tribe, one of the richest cultures in Pakistan. It is an ideal outfit for the modern woman who loves vintage Pakistani fashion. The garment has heavy embroidery, which makes it eye-catching attire for many designers as they get to showcase their creativity with a host of designs.
Balochi is common with married women but single ladies are quickly picking up the trend. Since they are a cultural wear, they are perfect for traditional ceremonies.
4 – Lehenga
Lehenga is another much appreciated Pakistani outfit that comprises of a long skirt, paired with a choli – a fitting blouse. It is a unique and attractive style of dressing since the skirt is worn on the waist with the choli covering the chest up to just above the bellybutton, leaving the midriff bare.
Lehenga's intricate stitching and embellishments make it a popular choice for many. Brides will often wear them when making their grand entrance. And that's not all.
Thanks to their versatility, they are ideal for a variety of other festivals and ceremonies such as Diwali, a Haldi function, or office get-togethers.
The outfits mentioned above are a staple in Pakistani culture. Be a trendsetter and try out any of the above styles.
---