Buying a Men's Wedding Band: Here's What You Need To Know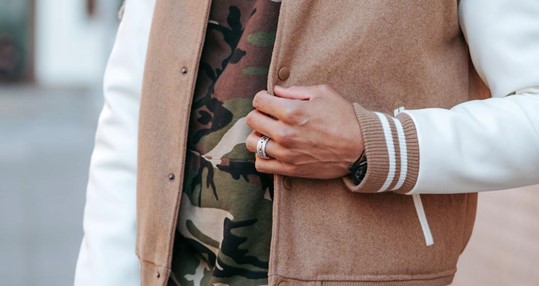 Choosing the perfect wedding ring is an important decision for any groom-to-be. Not only is your wedding ring a symbol of love and commitment, but it is also a piece of jewelry that you will wear every day for the rest of your life. With so many options available, it can be hard to know where to start when buying a men's wedding band.
Some men may shy away from the idea of a wedding ring when they consider the additional cost. Fret not the groom, because traditional wedding band etiquette states that the bride (or her family) should pay for the groom's wedding band. With that factor off the table, let's dive into the only men's wedding ring guide you'll ever need..
Men's Wedding Bands Types
When it comes to men's wedding bands, there are many different styles to choose from. The most important piece of advice to remember is to choose a ring that speaks with your personality. Whether you're a classic man with timeless taste or a modern man that uses his hands often, we'll walk you through all the men's wedding band options.
Popular Wedding Band Styles for Men
There is a wedding ring design for every man, no matter what his style is. Some designs are more traditional, while others spark conversation and excitement. Let's review the most popular styles of ring bands for him.
Classic
Classic wedding rings are often made of solid metal and feature a smooth or lightly textured finish. Timeless and traditional, the classic wedding ring is a reliable choice for any groom-to-be.
Modern
The category of modern wedding rings is much more inclusive, allowing endless options for the contemporary man. Textures and intricate designs are commonly found on modern rings, as well as unique colors, patterns, and gemstone options.
Comfort Fit vs. Standard Fit
The fit of the ring refers to the shape of the inside of the ring- the part that touches your finger. Different ring fit options are best suited for different lifestyles and body types.
Comfort-fit rings are finished with beveled, rounded edges and may even feature lattice-style cutouts on the inside of the ring to assist with taking on and off. Comfort rings are traditionally a quarter to a half size larger due to the additional metal on the inside of the ring.
Standard fit rings do not feature beveled edges and sit directly on the skin. These rings are closest to your true ring size as there is no additional metal on the inside of the ring to provide rounded edges.
Diamond
Diamonds aren't just a girl's best friend- diamonds are for everyone! More and more modern grooms are choosing wedding rings with diamonds. Designs range from a simple piece with a single stone to rings with over +100 diamonds.
Black
Black gold, also known as EverBlak, is the newest player to enter the arena of men's wedding ring material options. Everblak is a rare coating of black gold that can only be achieved through a process that takes over +300 hours of hands-on labor. Comparable to the red bottoms of a pair of Louboutins, EverBlak rings quietly yet clearly distinguishes the who's-who from a crowd.
Unique
More and more men are searching for a wedding ring that reflects their individual personalities, and thus the unique wedding band was created. Unique wedding rings for men exist to encompass the individual characteristics of the wearer. A few commonly requested designs for unique rings are:
Two Toned
Combining two metal colors, such as yellow and white gold, can be a great option for any man that likes to switch up his jewelry from day to day. Never worry about matching your watch or bracelet to your ring when you have a two-toned wedding band.
Wide
When discussing wedding bands, the term "wide" refers to any ring wider than 10 mm.  Perfect for big men, wide wedding bands have gained popularity over the past few years. Enlarged center stones and additional bands are often used to create wide wedding rings that truly stand out in a crowd.
Silicone
Ideal for any man that works with his hands a lot, the silicone wedding ring is the perfect synthesis of practicality and class. Silicone bands allow you to showcase your loyalty while remaining safe from ring avulsion and other nasty accidents.
There are many silicone wedding rings on the market in all shapes, colors, and sizes. If you want something a little nicer, you can even find luxury silicone wedding rings, such as this silicone ring with diamonds from Rockford Collection.
Colored Gemstones
Gemstones rings are a surefire way to make a statement with your wedding jewelry. Different gemstones also represent different emotions, adding an additional layer of intimacy to your ring. For example, historic leaders often wore sapphire for truth and sincerity, ruby for wealth and health, and emerald for eloquence and foresight.
Wedding Bands Materials: How to Choose the Right One?
Groom rings come in nearly every metal combination you can imagine. Here we'll cover the most popular metal options for men's wedding rings.
Gold
By default, when you think of wedding rings, you are likely thinking about a gold ring. Gold is the most popular choice of metal for wedding rings and has been used for wedding jewelry for centuries. Gold is available in three different colors: White, yellow, and rose.
Yellow Gold
Yellow is gold's naturally occurring color, therefore making it the easiest and most popular color for gold wedding rings. Yellow gold has a high purity percentage, making it an ideal choice for men with sensitive skin.
White Gold
White gold was created to replicate the luster of platinum without the sky-high price and is achieved by combining yellow gold with nickel and zinc alloys.
Although the color and price point of white gold are both attractive, this metal is not considered hypoallergenic due to its nickel content. White gold can also fade over time and requires maintenance to sustain its reflective shine.
Rose Gold
The most fashionable of the three gold colors, rose gold is achieved by combining yellow gold with copper. Rose gold is a great option for a men's wedding ring because of its attractive price point and ability to compliment all skin tones.  Rose gold is not a good option for men with skin allergies due to its copper levels.
Platinum
One of the most expensive precious metals known to man, Platinum is an excellent choice for any wedding ring style. Platinum wedding rings are durable and will last for years thanks to the metal's mind-blowing properties. Platinum is also hypoallergenic, has the highest purity of any metal, and will never fade or lose its color. The only downside to platinum is the hefty price tag.
How to Choose a Perfect Men's Wedding Band?
Now that you're aware of all of the options that are available to you as a groom-to-be, you might be wondering- where do I start? How do I know which wedding band is right for me?
If you start by asking yourself these 4 questions, you can feel confident knowing that you're on the right track.
1 – What Is My Budget?
It's not a fun conversation, but it is an important one. You must set a budget for yourself before you start searching for wedding rings. The last thing you want is to start your married life in debt over a ring, even if it is the ring you'll wear forever.
Consider what price range makes sense for you based on your income and other wedding-related expenses. Many jewelers offer financing options, which may allow you to search slightly outside of your initial budget range. Remember though that layaway and payment plans can affect the delivery date of your ring, so keep this in mind while considering when to buy a men's wedding band.
Jeweler Tip: When asked about your budget, always provide a number 20-30% lower than your real budget. Sales agents are often trained to overshoot your budget by about this much, so even their "out-of-budget" rings will secretly be attainable for you!
2 – What Is My Size?
Many wedding rings cannot be resized, especially if they have diamonds or intricate designs. For this reason, it is extremely important to find your most accurate ring size from the beginning.
Most in-person jewelers will help you find your ring size free of charge. Sadly, many jewelry sales agents are not properly trained to find your true ring size and may  provide you with inaccurate information.
For this reason, we always suggest ordering a free ring sizer from Rockford Collection. Rockford's sizer was designed specifically for men, with wide sides and comfort fit interior to provide your most accurate size possible.
3 – What Are My Habits & Lifestyle?
If you work out on a daily, or use your hands for manual labor, a silicone band is probably your best bet. If you find yourself frequenting first-class lounges and business lunches, a classic ring might be better for you.
Your lifestyle will define which rings will fit most comfortably with your day-to-day habits. Consider what you need from your ring before making a final decision.
4 – What Is My Personal Style?
Do you take pride in your appearance, or are you perfectly fine with leaving the house in basketball shorts? Do you have a signature look, or are you constantly on the watch for the latest trend?
Your ring should match your vibe, so whether you're a fashion king or a traditional stepper, keep your style in mind when shopping for your wedding ring.
5 – Where Do I Shop?
There is no shortage of wedding ring designers, especially in the age of online shopping.  This surplus of providers has left us wondering- how are we supposed to trust someone we've never met?
You can build trust by asking your jeweler the following questions. If they aren't able to answer even one of these questions, it's probably best to run in the other direction.
1 – Can You Explain the 4C's? The 4C's refer to diamond quality and are defined as Cut, Carat Weight, Color, and Clarity. Every jeweler should be able to explain this basic information. (You should be very concerned if they don't.)
2 – Where Are Your Stones From? Providers should always be willing and able to share proof that their stones are sourced through ethical and conflict-free avenues
3 – You Have A Lifetime Warranty?  Rockford Collection's lifetime warranty covers replating, cleaning, polishing, and stone tightening throughout the life of the ring.
4 – How Is Your Customer Service? When it comes to shopping for something as important as your wedding band, customer service can make or break your experience. Rockford Collection is proud to provide you with live agent support seven days a week via text or call.
Final Thoughts
Choosing a men's wedding band is no small feat. With so many factors to consider, it can be overwhelming to know how to pick a  men's wedding band.
If you are in the market for wedding rings for men and would like to learn more, you can contact a jewelry specialist at Rockford Collection any time Monday through Friday from 10-6 PM EST
---