Balmain x Victoria's Secret, Levi's 50 Jacket Collaborations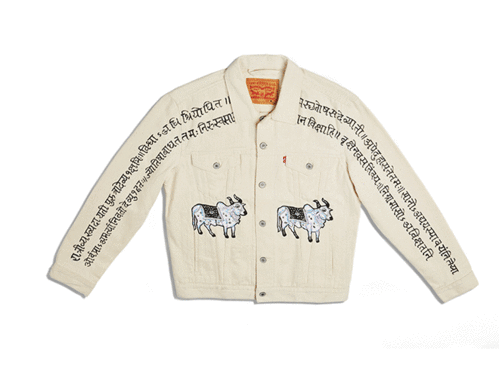 Balmain x Victoria's Secret, Levi's 50 Jacket Collaborations
Collaborations are The Thing at the moment – which is surely news to no one – creating a crossover collection that will reach beyond one brand's audience, and offering a new style that could reach even more individuals.
Two of the latest collaborations are Balmain by Victoria's Secret, and the 50th anniversary of Levi's Type III trucker jacket collaboration with 50 modern influencers.
Balmain's creative director Olivier Rousteing does not seem to stop – only last month the L'Oréal Paris x Balmain Paris collaboration was making headlines and being featured by makeup artists and bloggers across social media. This month, the news broke that Balmain will not only be designing looks for the Victoria's Secret Fashion Show, but that there will be an accompanying capsule collection as well.
While this is not the first instance of designer collaboration on the Victoria's Secret runway, this is the first collaboration on an exclusive collection with a high-fashion brand such as Balmain. This match was made wherever good designs go when they have outstayed your closet's welcome – the two brands both embrace sex appeal, luxury and show, paying keen attention to the female form and enhancing curves.
The collection will be available in stores and on the Victoria's Secret website November 29, the day after the Victoria's Secret 2017 Fashion Show.
Levi's has enlisted the talents of 50 influencers, ranging from designers, entrepreneurs and editors to models, musicians, athletes and more. This 50th anniversary celebration of the Type III trucker jacket is in part an initiative to break out of the blue-jeans mold they are known for. "We started saying, 'How do we pivot from share of denim to share of closet?'" says James 'JC' Curleigh, executive vice president and president of Levi's global brands. "And you find yourself exploring Levi's categories a little bit differently."
These jackets were revealed at a party on October 5, to an audience of 400 influencers and members of the media. Rather than being mass-produced for sale, these jackets are meant to create buzz and add a punch of culturally-influential design to the 164-year-old brand's image. "Having these adjacencies with the people at the center of culture is super important, whether they are musicians or fashion designers," said Levi's head of design, Jonathan Cheung. "If you set your brand as a rocket ship, everything else will be pulled into the slipstream."
While many of the designs brought to mind teenage rebels and '80's punks, some had a more unique and versatile look. "I went back to my teenage years to come up with the ultimate moody teen trench jean jacket," stylist Karla Welch said of her own extra-long version of the design. Other notable jackets included Carla Fernández' white-fringed piece, CL's backpack-jacket, and Hyukoh's plaid patterned look.
Images courtesy of Vogue France.
Balmain x Victoria's Secret, Levi's 50 Jacket Collaborations
---