Carolina Herrera at the MoMA; Balmain x L'Oréal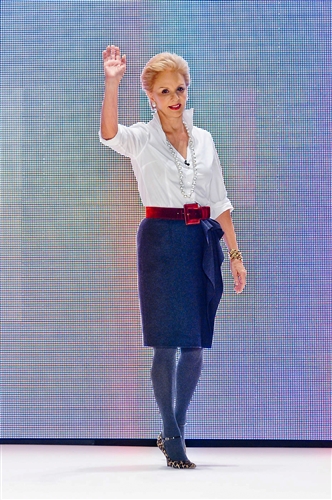 Carolina Herrera at the MoMA; Balmain x L'Oréal 
Carolina Herrera has chosen to show her Spring/Summer 2018 collection in the Abby Aldrich Rockefeller Sculpture Garden at the Museum of Modern Art in New York City, just 6 blocks from Central Park.
This will be the first full-blown fashion show for the MoMA according to a spokesperson. While smaller fashion presentations have been made, this will be the first official show, and for the Venezuelan designer it will be the first evening show, being held at 8pm on Monday, September 11.
Known for using famous landmarks around Manhattan, Herrera was also the first designer to show at the Metropolitan Club, and has also made use of Lincoln Center, The Frick, The Plaza and more over the year. Herrera will also show her Fall/Winter 2018 collection at the MoMA in February, though the location therein has not been confirmed.
"Fashion is ephemeral art in movement that is constantly changing," Herrera told The Business of Fashion via email. "As a designer, it is an enormous honor to be allowed to show my work at the MoMA, one of the world's greatest museums of modern art." This show on September 11 will be Herrera's 72nd.
Balmain has paired up with L'Oréal Paris for a lipstick collection, called L'Oréal Paris x Balmain Paris, which is a first for the Parisian fashion house. The lipsticks, which will be released next month, will feature 12 shades and sell for $14 each.
Encased in onyx-like tubes, the lipsticks come in bold shades and luxe packaging. "If Balmain is going to do lipstick, we have to make it the most exquisite possible," Olivier Rousteing told Vogue. Each color is inspired by a woman close to the designer: Lara Stone, Soo Joo Park, Ysaunny Brito and more have inspired shades from deep blue, soft violet, and safari green."To me, creating lipstick is like creating clothes," Rousteing stated. "It can be an armor, it can be a communication tool, it can be an invitation."
This collaboration aim to provide access to Balmain for fans globally, on a more attainable level for many. "With the makeup," Rousteing told Vogue, "it's a way to invite them to have a piece of Balmain."
The lipsticks will be available starting September 20 from Barney's, barneys.com, and lorealparisusa.com.
Carolina Herrera at the MoMA; Balmain x L'Oréal 
---