Balenciaga could launch couture with Alexander Wang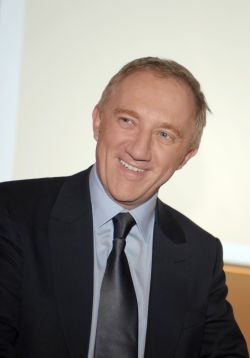 PPR boss, and owner of Balenciaga, François-Henri Pinault has hinted that the famously forward-thinking label may make a return to the haute couture calendar.
The news is a tantalizing prospect for fashion fans, and comes just after the official announcement that New York designer Alexander Wang would be taking over from Nicolas Ghesquière as the creative director of the Balenciaga brand.
In an interview with WWD, Pinault explained that the designer had always been an attractive candidate for the role due to his youth, global reach and his Asian influences: "Wang is young and he has a very universal culture. He is American with Chinese roots. His family is based in Shanghai."
Balenciaga heads were apparently swayed by Wang's qualities as a designer, so much so that Pinault even touted the idea of a return to haute couture for the brand "he has a very strong talent not only when it comes to accessible product, but his talent could also be adapted for couture at Balenciaga. It will be a big challenge for him."
Nonetheless, there is no desire for a dramatic split with the past and Nicolas Ghesquière's legacy. "We plan to continue to build on what has been built by Nicolas," said Pinault. "We have spent a lot of time determining where the brand is and where we want to stay in terms of being very modern and avant-garde, but still being influenced by the street. Nicolas was one of the best at this."
The house of Balenciaga was established in 1914 by Spanish Basque designer Cristóbal Balenciaga and produced haute couture designs until 1968 when it was closed by its eponymous founder. It was then re-opened in 1986 as a high-fashion prêt-à-porter label and has grown in stature since the 1997 appointment of Ghesquière, who left the house after 15 years at the helm this November.
---