6 Ways To Incorporate Retro Styles Into Your Modern Wardrobe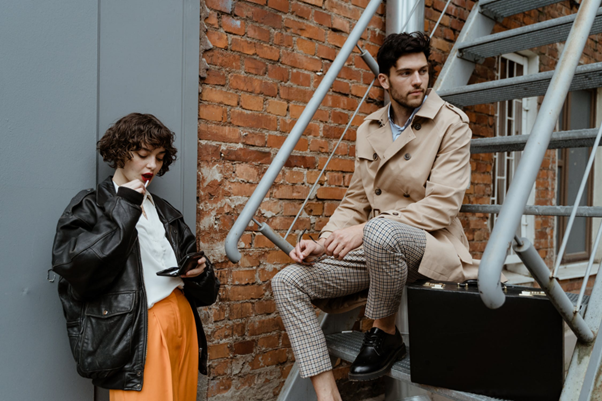 Introduction
Do you like the look of vintage clothing but don't know how to integrate it into your current wardrobe? You're not on your own.
In this post, we'll share how to incorporate retro styles into your modern wardrobe. These tips will help you create a unique and personalized look that stands out.
What Are Retro Styles?
Retro styles are fashion trends from the past that are returning in modern times. These styles are inspired by the fashion trends of previous decades, typically from the 1920s to the 1980s.
Retro fashion branches into various styles, from vintage-inspired clothing and accessories to retro hair and makeup. Some popular retro fashion trends include flared jeans, midi skirts, high-waisted pants, polka dots, and bold prints.
The style has become increasingly popular as people look for ways to add unique and nostalgic touches to their wardrobes. It allows people to show their style while paying homage to former fashion luminaries.
Whether introducing a vintage piece into your outfit or embracing a retro style, there are endless ways to integrate retro fashion into your modern wardrobe.
How To Incorporate Retro Styles Into Your Modern Wardrobe – 6 Tips
Retro fashion has been coming back in recent years, and it's no surprise why. Breathing a retro note to your modern style can add a touch of nostalgia and unique flair to your everyday looks.
From vintage-inspired accessories to bold prints and high-waisted styles, here are six ways to make a head-turning outfit.
Start With Accessories
Vintage-inspired accessories, such as cat-eye, round sunglasses, oversized hoop earrings, and vintage scarves, can add retro charm to any outfit. You can also experiment with statement pieces like chunky necklaces and bold brooches.
Another way to play with retro accessories is to look for pieces incorporating retro materials like lucite, Bakelite, Christian apparel, and tortoise shell.
These materials were popular in the mid-20th century and are now making a comeback. Additionally, a statement lucite bangle or a tortoiseshell hair accessory can give any outfit a touch of vintage glamor.
Vintage-inspired bags and purses are a great way to incorporate retro style. Look for structured bags with classic shapes, like a vintage-inspired top handle bag or a chic clutch.
Not only do these bags bring a retro vibe, but they are also timeless pieces that won't go out of style!
Mix And Match
Combining styles and eras is a terrific way to blend old fashion into your present wardrobe. You can create a unique, individualized design that reflects your taste.
For example, pair a vintage top with a modern skirt or a retro-inspired outfit with stylish shoes. Don't hesitate to try different combinations to see what works best for you.
One tip for successful mixing and matching is to stick to a color scheme. This will ensure that the pieces you use complement each other and are easy on the eye.
Also, you can mix and match patterns but balance busy prints with solid colors to avoid overwhelming your outfit.
Play With Prints
Bold and vibrant prints are a key feature of retro fashion. They bring a playful and unique touch to your style, whether you prefer floral or geometric designs. However, incorporating prints into your outfit requires some finesse.
One tip is to balance your prints with solid-colored pieces to keep your outfit from looking too busy. For instance, pairing a floral blouse with solid-colored pants or a skirt is a great option.
When mixing prints, try to keep them within the same color family or choose patterns that have a similar scale. For example, pair a small polka-dot blouse with a larger floral skirt.
Embrace High-Waisted Styles
Embracing high-waisted styles is a great way to add a vintage feel to your wardrobe while elongating your legs and cinching your waist.
Choose a silhouette that flatters your body type and experiment with different styles to make the most of this style.
Tuck in your tops to create a defined waistline, and mix and match other high-waisted pieces. Finally, accessorize your high-waisted outfits with a belt or statement jewelry to add flair.
Experiment With Vintage-Inspired Makeup And Hair
Experimenting with vintage-inspired makeup and hair can never go wrong with any outfit. When trying out this style, there are a few things to consider.
– Research different makeup and hair looks from your chosen era. From pin-up curls to bold red lips, there are many iconic looks to choose from.
– Adapt the look to suit your style and features. For example, if you have shorter hair, you may need to modify a long hairstyle to make it work.
– Don't be scared to combine different vintage elements. You can pair a 1960s-inspired hairstyle with a 1920s-style makeup look for a unique and eclectic look.
– Practice your techniques before committing to a look for a special event. This will help refine your skills and ensure you feel confident and comfortable with your final result.
Go For Retro-Inspired Footwear
Retro-inspired shoes, such as platform shoes, block heels, Mary Janes, or retro-inspired sneakers, can add a unique touch to modern outfits.
When selecting retro-inspired footwear, consider the era you want to channel and pair it with a modern outfit to balance the vintage vibe.
Alternatively, modern shoes with retro elements, such as chunky heels or decorative buckles, can introduce a subtle retro touch to your outfit while still feeling contemporary.
FAQs
Where Can I Find Retro Clothing And Accessories?
You can find retro clothing and accessories in various places, including thrift stores, vintage shops, online marketplaces, and specialty retailers. Try borrowing from family or friends or upcycling existing pieces to give them a retro feel.
When shopping for retro clothing, remember your style, the era you want to channel, and the fit and condition of the garment.
Can I Wear Retro Styles To Formal Events?
Yes. While retro styles can certainly be incorporated into formal events, it's important to consider the event's dress code and overall theme.
For example, if you're attending a black-tie wedding or gala, opting for a classic, formal gown rather than a retro-inspired dress may be more appropriate.
However, if the event is more relaxed or has a vintage theme, incorporating retro elements can be a great way to stand out and breathe some personality to your outfit.
For women, a vintage-inspired cocktail dress or sleek jumpsuit can be stylish. Additionally, a suit or a classic tuxedo with retro accessories such as a bow tie or suspenders can make a statement for men.
The key is to balance incorporating retro elements and adhering to the event's dress code and overall vibe. If unsure, it's always a good idea to check with the event organizer or consult a stylist for guidance.
Conclusion
To incorporate retro styles into your modern wardrobe is a creative and exciting approach to displaying your style. Combining old and contemporary pieces, you may create a one-of-a-kind and eye-catching aesthetic.
Use these six pointers to get started, and don't hesitate to try other combinations. With a little practice, you'll blend retro and current trends like a fashionista in no time!
---