Slim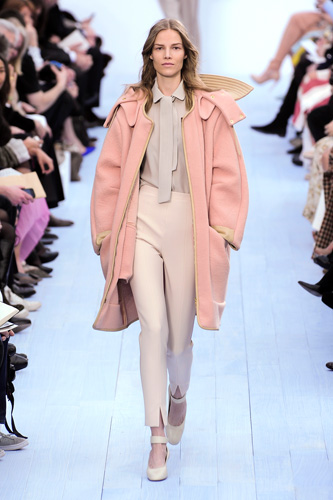 Slim is a look associated with trousers and blazers. A slim-fit trouser is when the trousers skim over the leg fitting tightly, giving a smooth silhouette.  A slim-fit blazer hugs the body, nipping in at waist.
A slim fit trouser can be seen to be called drainpipes, cigarette pants or skinny jeans. Each of these slim-fit trousers is different in design; drainpipe jeans will sit as a straight fit at the ankle whereas the skinny fit tapers on the ankle. Slim-fit may have design features too such as zips to enable taking them off to be easier.
The slim-fit trouser was very popular during the 1980s particularly on the rock scene worn with belts at the hips. This style continued into the early 2000 and transformed into skinny jeans which was the slimmest fit yet to be fashioned in trousers and normally worn with slim-fitting blazers to project a casual but smart look.
2012 has been keen to continue the slim-fit trend. Chloe A/W 12 gave pastel shades in high waisted classic slim-fit trousers with a small slit at the ankle offering a twist and replacing the usual zip. Jeremy Laing squeezed the models into leather slim-fit trousers, showing a clear inspiration from a rock star past.
Can you help us improve this page? Send us your contribution on dictionary@catwalkyourself.com, we will update this page and give you proper attribution!
---