Draped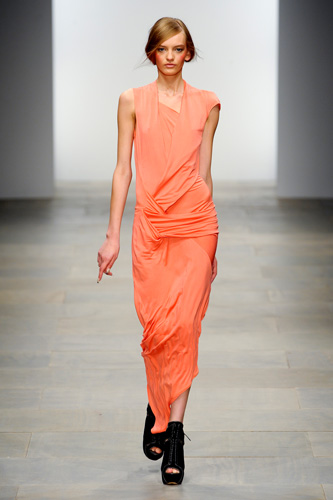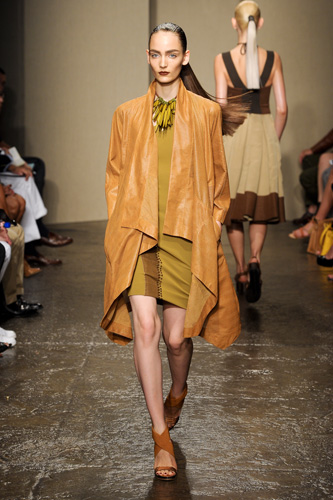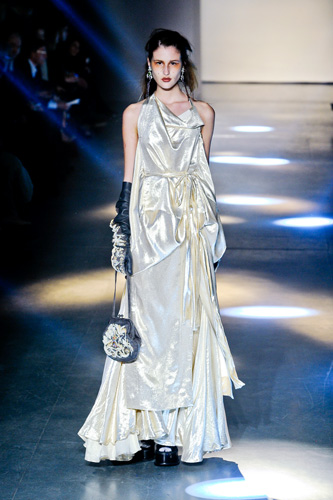 Draped is a term used for when an excessive amount of fabric cut on the bias is placed over the body in a certain area. This causes the fabric to create a slightly rouched effect which is named draped. It may be tucked into place or pinned, usually crossing over the body and it is likely for the area of which draping occurs to be accessorised with a belt or broach. Draping is a design which requires little cutting of fabric or structure. It is a flattering silhouette to the body, being best designed in dresses and tops.
This style was firstly worn during the Ancient Greek period. It has seen a rise in trends through the late 1940s being used by designers Jacques Fath and Claire McCardell and in the early 1970s the trend rose again through designersPaco Rabanne and Roy Halston Frowick. It saw another rise in draping in the 1980s.
Draping hit catwalks again for 2012 taking form in jackets and dresses. Creating loose silhouettes, they appeared in an array of fabric mediums in such catwalks as Jean-Pierre Braganza S/S 12, which used draping as a design feature in an elegant evening gown. This same method of draping featured in Vivienne Westwood A/W 12 tumbling in a silk satin whilst Donna Karan S/S 12 showed a loosely fitted leather jacket.
Can you help us improve this page? Send us your contribution on dictionary@catwalkyourself.com, we will update this page and give you proper attribution!
---