Cowboy Boot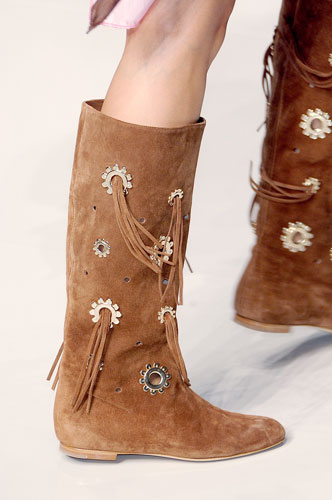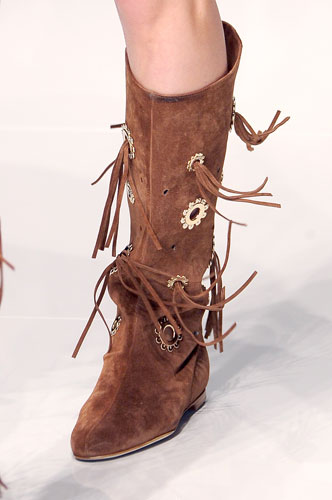 The history of the boot quite clearly as the name says comes from cowboys. From the USA in Texas these boots have evolved since the 1800's.The boots had a heel about the height of an inch and were rounded to a pointed toe. The height of the boot come to just below the knee and were traditionally made out of cow hide leather or other animal skins like alligator, snake etc.
There are two different styles of cowboy boots such as western which are the known classic which is seen as a tall boot to just below the knee (mid calf) and inch high heel with a range of toe shapes. The other style is the roper style which basically come just above the ankle, these are the same styles as cowboy boots just a shorter style. Cowboy boots were used for protection against rocks and landscape and whilst riding. The cowboy boots became a fashion item in the 1930s and 40s when movies and radio played stories of the genre wild west.
Then in the 1950s when country music was popular they made a comeback and since have been a popular fashion item. There are so many styles of a cowboy boot that have studs, diamonds and other decor as well as made of different material, animal and range in different style heights. The boots are still popular today and seen in the catwalk collections of D&G Milan spring/summer 2010 or Bluemarine spring-summer 2011.
Can you help us improve this page? Send us your contribution on dictionary@catwalkyourself.com, we will update this page and give you proper attribution!
---