Tomas Maier
Born: Pforzheim, Germany, 1956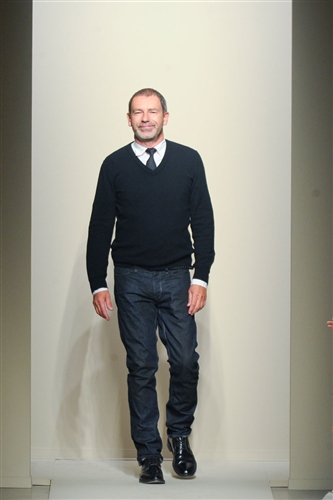 Growing up in Germany, Tomas Maier moved to Paris to attend the Chambre Syndicale de la Haute Couture. After graduation, he worked for a succession of luxury houses including Sonia Rykiel, Guy Laroche, Revillon and Hermès.
Maier launched his own label in 1997. He established a line of swimwear and separates for men and women. The collections were immediately popular, selling at his boutiques in Miami Beach, Palm Beach and Florida. In 1998 Maier launched an online boutique.
In 2001, after Gucci's acquisition of Bottega Veneta, Tom Ford sought out Maier and appointed him creative director of the house. Maier helped transform Bottega Veneta from a fading Italian house to a leading lifestyle brand. Following the house's tradition, Maier pushed away from logos and celebrity endorsements and focused the label on craftsmanship and quality.
The Tomas Maier label is now sold in over 100 stores in 30 countries worldwide. Known for its luxurious and elegant separates, swimwear and accessories, the Tomas Maier style is lavish, comfort loungewear.
Tomas Maier as a designer is known for his simplicity. His designs are always luxurious and of a high craftsmanship, but with a subtle quietness and elegance. Having increased Bottega Venta's sales by 800% since he joined them in 2001, Maier is a rare talent.
In 2014, Tomas Maier and Bottega Veneta collaborated with Casa BRUTUS, a Japanese publication, to raise awareness about the potential destruction of Modernist buildings in Japan due to economic, political, and Olympic preparations in the lead-up to the 2020 Summer Olympics.
During Maier's tenure as creative director, Bottega Veneta experienced significant growth, tripling its revenues and surpassing $1 billion in 2012. However, in subsequent years, revenues fluctuated, and by 2017, Saint Laurent overtook Bottega Veneta as Kering's second-biggest source of revenue. As a result, Maier resigned from Bottega Veneta on 13 June 2018.
The designer, established a swimwear label in 1997 in partnership with Andrew Preston. The brand expanded with the launch of an online boutique in 1998 and later opened five eponymous stores in various locations. Kering invested in Tomas Maier's label in 2013 to support its expansion, which generated around $10 million annually from swimwear, knitwear, and jersey.
In 2018, he collaborated with Uniqlo, a Japanese casual wear retailer, for a resort-focused collection. However, the Tomas Maier brand was subsequently shut down in 2018, marking the end of the cooperation between the designer and Kering.
Tomas Maier Biography
---