Raf Simons
Born: Neerpelt, Belgium, 1968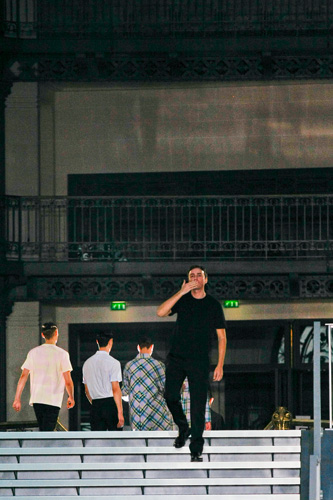 Raf Simons originally trained in Industrial and Furniture Design. While still studying, Simons interned at the design studio of Walter Van Beirendonck, working on the decoration and presentation of his showrooms and collections. After graduating in 1991, Simons worked as a furniture designer.
Encouraged by Linda Loppa, head of fashion at the Antwerp Royal Academy, Simons decided to change his profession and became a self-trained menswear designer. In 1995 he launched his own label, Raf Simons.
With the success of his business growing, in March 2000, Simons decided to take a break due to the restrictions he felt from the business side of fashion. After announcing he would quit, the following year after an offer from Belgian manufacturer, Gysemans Clothing Industry, he decided to restart the company, but with a smaller group of collaborators.
In 2003, Simons won the first price Swiss Textiles Award. Two years later he launched a new line, Raf by Raf Simons. The same year he was appointed creative director at Jil Sander to critical acclaim.
In 2008, Simons opened two flagship stores in Japan for his own label. The same year he expanded his label by adding bags, leather goods, footwear and eyewear. He also began an ongoing collaboration with Fred Perry, as well as collaborating with Eastpak on a range of bags.
With his style being described as influential, Raf Simons is seen as an innovator in contemporary menswear. His style is known for its modern proportions, classic sartorial cuts inspired by both rebellious youth cultures and traditional menswear.
In April 2012, it was announced that Raf Simons would take over as creative director at Dior, succeeding John Galliano who had been dismissed from the role. Simons received praise for his first collection, which focused on the 1950s and incorporated some of Christian Dior's iconic silhouettes.
After a successful tenure at Dior, Simons joined Calvin Klein as chief creative officer in August 2016. Under his leadership, the brand experienced a highly anticipated and well-received debut collection for the Fall 2017 season. However, in December 2018, Simons and Calvin Klein decided to part ways due to a shift in brand direction.
In 2020, Miuccia Prada and Patrizio Bertelli appointed Simons as co-creative director of Prada. His first co-designed collection with Miuccia Prada was set to be unveiled during a fashion show in Milan for the Spring-Summer 2021 season.
Outside of fashion, Simons has been involved in various art-related projects and has curated exhibitions. He is also recognized as a significant influence in popular culture, inspiring musicians like Kanye West and being admired by various artists in the music industry.
Raf Simons Biography
---