Pringle of Scotland
Founded by Robert Pringle in 1815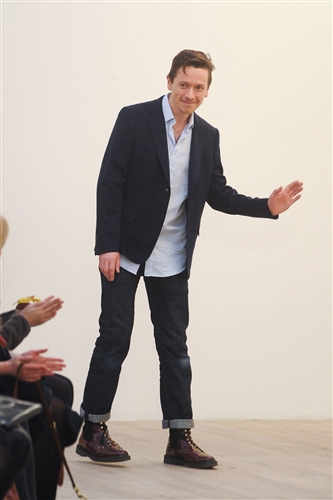 Established as a manufacturer of knitted hosiery, Pringle of Scotland started production in the Scottish borders at Hawick. In 1870 the company started manufacturing cashmere.
In 1905 Pringle introduced knitted garments to their product portfolio and created the word 'knitwear' to describe their new goods. In the 1920s the company developed the Pringle Argyle pattern, which is now iconic with the brand.
In 1934 Otto Weisz was appointed as Pringle's first full time designer. The twinset was developed under his direction.
In 1948 Pringle was granted the Royal Warrant of appointment to her Majesty the Queen Mother. Five years later Pringle opened a cashmere bar in Harvey Nichols selling twinsets. Pringle was again granted the Royal Warrant of appointment, this time to her Majesty the Queen.
Pringle of Scotland was acquired by Joseph Dawson Limited in 1967.
Richard Gere appeared on the cover of Men's Vogue in 1978 wearing Pringle, widening their exposure. Three years later a 20 year partnership with Nick Faldo began. During the next two decades sportswear became a key part of the Pringle brand.
The company was bought by S.C Fang & Sons Company Ltd in 2000. With the change of leadership, Pringle embarked on a re-brand under the leadership of chief executive Kim Winser.
New designer Clare Waight Keller designed her first collection for Pringle in 2006. In 2009 David Shrigley was commissioned to produce an animated film for the brand. The following year, Pringle launched their first runway show for menswear at Milan Fashion Week.
Pringle collaborated with Central Saint Martins in 2010, to re-establish their 195 year old archive. The same year, Alistair Carr was appointed as the new Design Director.
Pringle of Scotland is an iconic heritage brand. Known for technical innovation in the creation of knitwear, the brand's signature Argyle pattern has been a must for royals and the fashion conscious. Now seen as a luxury brand, Pringle offers exceptional, extravagant knitwear.
In March 2011, Alistair Carr, a former Balenciaga designer, was appointed as Design Director after the resignation of Keller. From 2016 onwards, Fran Stringer was announced as the Womenswear Design Director, and in 2019, Giuseppe Marretta joined as the Menswear Design Director.
In 2019, Pringle of Scotland collaborated with H&M worldwide (Pringle of Scotland X H&M) and skater brand Palace (Pringle of Scotland X Palace). The brand celebrated its 205th anniversary in 2020.
Pringle of Scotland Biography
---