Oscar De La Renta
Oscar De La Renta biography
Born: Santo Domingo, Dominican Republic, 1932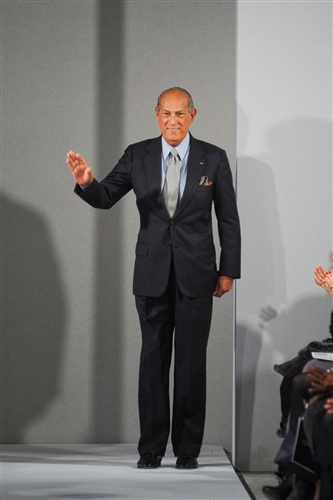 Growing up in Santo Domingo Oscar De la Renta was surrounded by vibrant colours, flowers and sunshine. Aged 18, De la Renta moved to Spain to study painting at the Acadamey of San Fernando in Madrid. While studying he became captivated by Spanish fashion.
With his in interest in design growing, De la Renta began sketching for Spanish fashion houses. In 1950 he secured an apprenticeship with renowned couturier Cristóbal Balenciaga.
De la Renta then moved to Paris where he joined Antonio Castillo at the house of Lanvin as a couture assistant. Continuing with sketching, his other skills were being perfected while he was immersed in the extravagant, lavish world of haute couture.
In 1963 De la Renta relocated to the US wanting to focus on ready-to-wear. However, once in New York, Diana Vreeland advised De la Renta to return to haute couture. De la Renta began designing for Elizabeth Arden's custom-made clothing line where he gained more public recognition.
After years gaining experience from some of the world's greatest couturiers, De la Renta established his own house in 1965. Combining his Latin American passion for colour with his couture trained eye for luxurious fabrics and embellishments the label was instantly successful with both media and retailers.
In 1967 and 1968 De la Renta received the Coty American Fashion Critic's Award. Five years later De la Renta earned a place in the Coty Hall of Fame.
For the next three years De la Renta served as President of the Council of Fashion Designers of America. While in office he created the CFDA Awards.
De la Renta launched his first fragrance in 1977 named 'OSCAR'.
In 1982 De la Renta showed his charitable side by building La Casa del Nino, an orphanage and school for Romanian orphaned children.
De la Renta received the CFDA Lifetime Achievement Award in 1990. The following year with annual sales of $350 million, De la Renta showed his collection for the first time attempting to broaden his client base. It also marked the first time a Latin American designer had shown in Paris.
In 1993, De la Renta was appointed head couturier at Pierre Balmain in Paris where he set about to revive the label.  He became the first Latin American to design for a French couture house.
In 2001 an accessories line was added to the De la Renta  portfolio. The following year a home range was launched. 2002 also marked the end of De la Renta's successful time working at Balmain.
The company launched their retail division in 2004 starting with the opening of the first freestanding store. Two years later a Bridal collection launched and in 2008 further retail stores opened globally.
Oscar De la Renta's designs show the influences of his years spent in haute couture in Paris. His beautifully embellished designs feature a passion for colour and emphasise the importance of detail.
Oscar De La Renta biography
---