Olivier Rousteing
Born: Bordeaux, France, 1985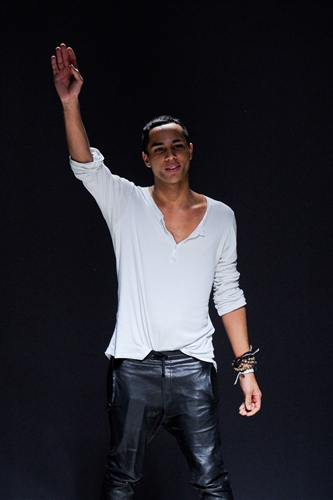 After being placed in an orphanage, Oliver Rousteing was adopted and raised in Bordeaux, France. With a talent for design, Rousteing studied fashion at the ESMOD School in Paris in 2003. After graduating, he joined Roberto Cavalli where he worked for five years. In control of both the women's and men's ready-to-wear collections, Rousteing received recognition for both during his time there.
Rousteing left Roberto Cavalli to join Balmain; working under the direction of Christophe Decarnin, Rousteing was in charge of the women's ready-to-wear.  After Decarnin's departure from the label in April 2011, Rousteing was named creative director of the luxury French fashion house.
Rousteing's debut collection for Balmain was deemed a success by the critics. The Resort 2012 collection kept the sharp tailoring from Routeing's predecessor but pushed the couture aesthetic creating a seamless transition between the two.
With pressure to continue Balmain's success, Oliver Rousteing is sticking to the rock chic style the label is known for but adding his own couture glamour.
Since Olivier Rousteing's arrival as the creative director, Balmain has seen significant growth in its menswear segment, which now accounts for 40 percent of the brand's revenue. Although exact figures were not released, estimates suggest that Balmain's revenue increased by 15 to 20 percent between 2012 and 2015. Rousteing expanded Balmain's presence by opening new boutiques, including the brand's first stand-alone store outside of Paris in London and a store in SoHo, New York City.
Rousteing's close association with A-list celebrities such as Kim Kardashian, Kelly Rowland, Jennifer Lopez, Rihanna, Beyoncé, and others, along with popular models, including those from Victoria's Secret, has greatly contributed to Balmain's success on social media. With their help, Balmain became the first French fashion label to amass over one million followers on Instagram.
In 2022, Rousteing signed with the Creative Artists Agency (CAA) to explore additional opportunities in entertainment and popular culture, aligning with his role as Balmain's creative director.
Apart from his work in fashion, Rousteing also designed costumes for the ballet opera "Renaissance," which premiered at Opéra de Paris in 2017. The ballet featured 22 dancers and was choreographed by Sébastien Bertaud.
On a personal note, Rousteing was adopted and is openly gay. In 2019, he made a surprising discovery about his heritage, learning that he is fully African, with a Somali birth mother and an Ethiopian birth father. The 2019 documentary "Wonder Boy," directed by Anissa Bonnefont, explores his professional career and his journey to find his biological mother, who was only 15 years old when she gave birth to him.
Olivier Rousteing Biography
---