Narciso Rodriguez
Born: New Jersey, USA, 1961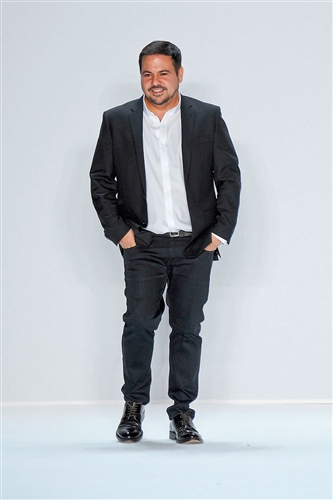 Despite his parent's objection, Narciso Rodriguez started his training at Parsons' School of Design. Although they wanted Rodriguez to pursue an academic career, he graduated from Parsons and began freelance designing. Initially Rodriguez worked for Anne Klein under Donna Karan. He followed this by working for Calvin Klein designing women's ready to wear.
In 1995 Rodriguez became design director at TSE where he presented ready to wear collections for both men and women in New York. Rodriguez was also appointed design director at Cerruti in Paris. While at Cerruti Rodriguez designed the bias cut wedding dress that Carolyn Bessette wore when she married John Kennedy Junior. This brought Rodriguez international attention.
In 1997 Rodriguez launched his own label in partnership with Italian manufacturer Aeffe. Rodriguez presented his first women's ready-to-wear collection in October that year for the spring/summer 1998 season.
Following his initial collection, Rodriguez was awarded 'best new designer' at the Vogue/VH1 Fashion Awards and the 'Perry Ellis Award' for best new designer by the Council of Fashion Designers of America.
Rodriguez was appointed director of womens ready-to-wear for Spanish leather luxury house Loewe in 1997.  He received the CDFA womenswear designer of the year award consecutively in 2002 and 2003 making him the first designer to ever do so.
Rodriguez launched his first fragrance in 2003 called 'For Her'. This was followed by a male fragrance 'For Him' four years later.
By 2006 Rodriguez's partnership with Aeffe ended leaving him over $1 million in debt.  He had to ask for fabric donations for his spring collection. The following year Liz Claiborne acquired a 50% stake in the label.  He partnered with artist Cindy Sherman on a project featured in American Vogue. His work has been showcased in museum exhibitions, including the "Skin and Bones" exhibition at MoCA in Los Angeles and the Cooper Hewitt Design Triennial Exhibition, both held in 2006. In 2008 Rodriguez bought the 50% stake back from Claiborne for $12 million.
Michelle Obama chose a Narciso Rodriguez dress from the spring 2009 collection to wear on stage at Grant Park in Chicago.
Rodriguez once commented, 'I think something can be both classic and also be completely modern'. He is reknown for his architectural, sleek and elegant style with a Classic American /European influence and streamlined tailoring.
In 2010, a comprehensive retrospective of Rodriguez's work was held in San Juan, Puerto Rico, with proceeds benefiting the nonprofit organisation Alas a la Mujer, which supports women's education. Additionally, he was featured in the "American Beauty: Aesthetics and Innovation in Fashion" exhibition at the Museum at FIT.
Sundance presented "The Day Before" in 2010, a documentary that offered a behind-the-scenes glimpse into the designer's life and atelier in the 24 hours leading up to a fashion show. The film was directed by Loic Prigent.
Narciso Rodriguez, originally from Newark, New Jersey, received his formal education at Parson's School of Design in New York. After freelancing in New York's garment industry, he joined Anne Klein under Donna Karan before transitioning to Calvin Klein, where he contributed to the women's collection.
Narciso Rodriguez Biography
---