Neil Barret
Born: Devon, England, 1965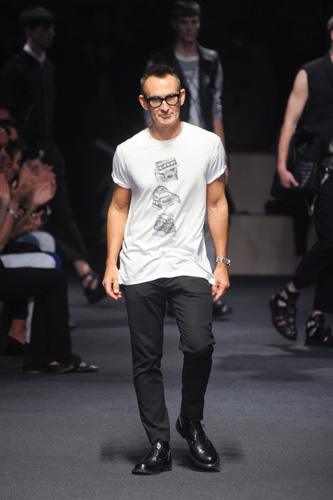 With a grandfather and great grandfather both being master tailors, an early interest in fashion and tailoring were instrumental in Neil Barrett's interest in fashion. After graduating from Central Saint Martin's School of Art and Design, Barrett moved onto the Royal College of Art to study for his Master's.
Barrett's designs caught the eye of fashion house Gucci, who hired him to design for their menswear line. With his designs bringing commercial success, Barrett was promoted to senior menswear designer.
After a successful period at Gucci, Barrett proposed the launch of Prada's first designer menswear collection. Prada hired Barrett as creative director and, under his influence, Prada became renowned for minimalist menswear. During 1994 and 1995, the sales at Prada doubled.
In 1999, with the confidence and skills learnt from Prada and Gucci, Barrett launched his own name brand for men.  Two years later, the first flagship store was opened in Tokyo.
In 2002 Barrett starting showing his collections at Milan Fashion Week. The same year Barrett collaborated with Puma on a range of athletic shoes. The following year Puma named Barrett as creative director for some of the brand's collections including Italy's National Football Team. The football team not only wore Barrett's sports kit designs, but also his formal wear making Barrett the first designer to exclusively dress a national football team.
In 2006, Barrett's womenswear collection made its debut during New York Fashion Week. The following year, Barrett started designing a concept store with architect Zaha Hadid. The store revolved around a large sculpture and opened in 2008.
Neil Barrett's designs offer an elegant rebelliousness. With refined, waisted suits that fit perfectly, Barrett tends not to follow trends but his own individual taste and instinct.
In 2009, Neil Barrett established a production division in Tuscany, responsible for coordinating sampling, production, and distribution.
The brand boasts a strong global presence with over 550 multi-brand stores worldwide, as well as a total of 31 mono-brand stores and shop-in-shops. The concept for these stores and shops-in-shops has been developed in collaboration with Zaha Hadid Architects.
Neil Barrett's impeccable suits have garnered attention from various celebrities, including Gary Barlow, Ben Whishaw, and Matthew Morrison. Since 2004, international personalities have been drawn to Neil Barrett's designs, with famous figures such as Orlando Bloom, Colin Firth, Jake Gyllenhaal, Lenny Kravitz, Ewan McGregor, Chris Martin, and Mark Ruffalo opting for his wardrobe creations. Barrett was particularly proud when Brad Pitt chose to wear Neil Barrett in the film "Mr. & Mrs. Smith," becoming the first celebrity to sport one of the signature "hand-aged" leather jackets that have since become iconic pieces in Neil Barrett collections.
With the launch of his Womenswear Collections, Neil Barrett also attracted attention from female celebrities like Jennifer Aniston, Madonna, Kirsten Dunst, Angelina Jolie, Kate Hudson, Zendaya, and Robin Wright.
Throughout the years, Neil Barrett has not only dressed celebrities but also provided wardrobes for various movie productions, including "Spider-Man 2," "Spider-Man 3," "I, Robot," and "Ghost Rider: Spirit of Vengeance."
Neil Barret Biography
---