Gareth Pugh
Born: London, England, 1981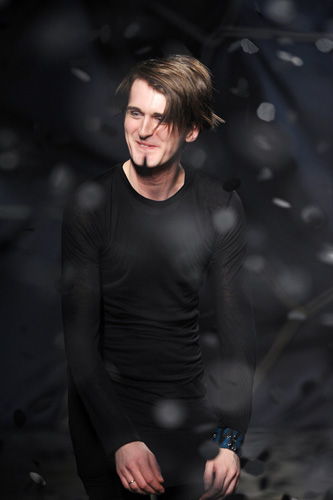 Gareth Pugh originally trained as a dancer, beginning ballet lessons in 1990. On his tenth birthday Pugh's mother took him to London to see The Phantom of the Opera.
Inspired by the streets of London, Pugh was amazed by the gritty sleaze that surrounded some of the areas.
In 1995 Pugh spent a summer in London working in the costume department of the National Youth Theatre, a position he continued for three years. Aged only 14, Pugh lied about his age to secure him the job.
Still with a strong love of dance, Pugh was forced to give up the art to focus on his A-Levels. He then studied sociology at the City of Sunderland College in 1997, followed by an arts course, where he decided to set his heart on attending Central Saint Martins.
Accepted by the prestigious school, Pugh graduated in 2003 with a bachelors in fashion design. Having developed a dark aesthetic, his final collection, featuring balloons tied to various body parts, landed him the cover of Dazed & Confused magazine.
After graduating, Pugh began using a squat as his studio. Living near the abandoned building, eventually, Pugh and a group of his contemporaries moved in. The decedent space resembled an old night club, gym and evangelical church, all abandoned.
In 2004 Pugh began interning with Rick Owens at Revillon, before Michelle Lamy, a fashion consultant, started to mentor him. That same year Pugh created an Inflatable Creatable installation that was featured at Dazed & Confused's designer showcase, alongside Dolce & Gabbanna, Hussein Chalayan and Stella McCartney.
In 2005 Pugh started working with Fashion East. That same year Kylie Minogue's stylist asked him to design costumes for her Showgirl tours. Giving Pugh a bag of black fabric, he transformed it into a showpiece outfit that showed his uncompromising and personal vision.
Pugh was awarded the British Fashion Council/Topshop New Generation sponsorship for his autumn/winter show in January 2006. The following month he officially debuted at London Fashion Week.
Pugh's designs weren't available for sale until 2007, when his avant-garde creations were sold for the first time.
In 2008 Pugh debuted in Paris. His collection took inspiration from Christian Dior's famous silhouettes. This was followed by the debut of menswear in 2009. In 2011 Pugh made his Italian debut as a guest designer at Pitti Immagine in Florence.
Pugh was awarded The Andam international fashion award in 2008. Backed by the French Government and the Pierre Bergé, the award injects £120,000 into his label. One of the largest prizes in fashion, it ensures that Pugh will show his collections in Paris alongside fashion's biggest designers.
Pugh takes inspiration from historical references with samurai warriors, gothic romanticism and the Elizabethan era all influencing his designs. Dramatic and often sinister, he offers a sense of theatricality with his designs taking you into a different universe.
His Spring 2007 collection was highly acclaimed, with British Vogue describing it as "incredible" and acknowledging Pugh's undeniable genius. Anna Wintour, the influential editor-in-chief of Vogue, is a notable supporter of his designs.
Pugh's creations have been embraced by prominent musicians as well. Kylie Minogue has frequently worn his designs during her tours, including the Showgirl – The Greatest Hits Tour and Showgirl – The Homecoming Tour. Róisín Murphy, another artist, sported one of Pugh's distinctive outfits in the music video for her album Overpowered and on various occasions. Beyoncé, Lady Gaga, and Ashlee Simpson have also chosen Pugh's designs for their performances and music videos, showcasing his unique aesthetic.
In 2008, Gareth Pugh received the prestigious ANDAM Fashion Award, recognizing his talent and contributions to the industry. He opened his first boutique in Hong Kong in 2010, expanding his presence globally. Pugh's avant-garde style draws inspiration from Britain's club scene, and his designs often experiment with form, volume, and unconventional materials. His creations can be described as wearable sculptures that push the boundaries of the human body. Pugh's aesthetic has been compared to fashion-as-performance-art, following in the footsteps of influential designers like Alexander McQueen, John Galliano, and Vivienne Westwood. However, he dismisses comparisons to Leigh Bowery as "lazy journalism."
Despite critical acclaim, Pugh faced financial challenges early in his career, struggling to sell his designs and make ends meet. His clothes were initially unavailable for purchase, and he relied on support from partners like Rick Owens and Michéle Lamy, who now hold a 49% interest in his firm. Pugh has gradually incorporated more wearable elements into his runway shows, signalling a potential shift towards commercial success while maintaining his unique vision.
Gareth Pugh Biography
---