Hussein Chalayan
Hussein Chalayan biograhpy
Born: Nicosia, Cyprus, 1970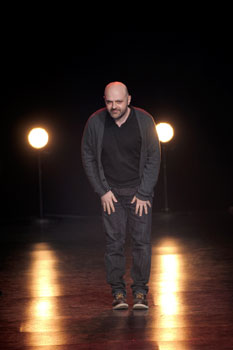 Born in Cyprus,Hussein Chalayan moved to England with his family aged 12. Obtaining British citizenship, he studied fashion and clothing at college. After graduating he gained a place at Central Saint Martins where he studied Fashion Design. Receiving a first class honours degree in 1993 his final collection, entitled 'The Tangent Flows', featured fabrics that had been buried in his garden. The whole collection was purchased by design store Browns.
After graduation Chalayan started his eponymous brand and also began designing collections for Topshop, Autograph at Marks & Spencer and New York cashmere company TSE. Chalayan won the 'Absolut' competition in 1995. With the prize of £28,000 he developed his own designs for the 1995 London Fashion Week.  The same year collaboration started with Icelandic singer Björk. The 'Post' album cover featured a Hussein Chalayan jacket and her 1995 tour saw several Chalayan designs. Björk also modelled in Chalayan's London Fashion Week show in 1995.
Chalayan was appointed as a design consultant for New York cashmere company TSE in 1998. In 1999 and 2000 Chalayan was awarded 'British Designer of the Year'.
He stopped working for TSE in 2001, which left his own label in financial difficulties. The business was forced to go into liquidation. Chalayan started designing for Autograph at Marks & Spencer and at Asprey to support himself financially. He was then able to restart his own company and re-launch. In 2002 he added a menswear line. Two years later a diffusion line 'Chalayan' was added to his company's portfolio.  Chalayan was recognized again in 2006 with a MBE.  In 2007 he was awarded the 'Design Star Honoree' by the Fashion Group International.
In 2008 Chalayan collaborated with Swarovski creating a collection of Laser LED dresses that showcased in Tokyo. 2008 also saw him appointed as creative director for Puma, who purchased a majority stake in his label.  Chalayan also worked with hosiery and legwear label Falke to create one-off footwear designs for his 2008 Paris show. In 2011 Chalayan worked with Lady Gaga and her stylist Nicolo Formichetti on her outfit worn at the 53rd Annual Grammy Awards. Hussein Chalayan is known for his experimental ideas. Dubbed the 'mad professor' of British fashion, he has often been compared with Rei Kawakubo's modern simplicity. Inspired by architecture, science and technology Chalayan commented; 'I like to design simple things but which are not at all basic'.
Hussein Chalayan biograhpy
---