The Bad and the Ugly: Looking Back at 5 of the Worst Celebrity Sunglasses Trends
---
Posted on
We often look to celebrity style to explore the latest trends at the cutting edge of fashion. Not only are they stars of the screen, arts, and social media, celebrities are also trend setters who have the power to inspire millions of fans in adopting new clothing, accessories, and make up.
Despite their wildly influential role in shaping fashion trends, sometimes a new look can fail to take off altogether.
When it comes to celebrity fashion faux pas, few are clearer and more unmissable than when it comes to wearing sunglasses.
Celebrities love shades, and for good reason. When paparazzi are looking to snap you at any given moment, a pair of alluring shades can offer up that all-important privacy from prying eyes. Sunglasses can also be a great form of expression for celebrities that are looking to show their signature style when out and about.
Above all, sunglasses are undeniably cool–there's a reason why we all look for the emoji wearing shades when we want to express coolness in conversations. The world of celebrity would be hard to imagine without sunglasses everywhere you look.
So, with this in mind, how come our idols can get sunglasses fashion so wrong in recent years? From the impractical to the outwardly outlandish–let's take a look at some of the worst celebrity sunglasses trends in recent years:
Shutter Shades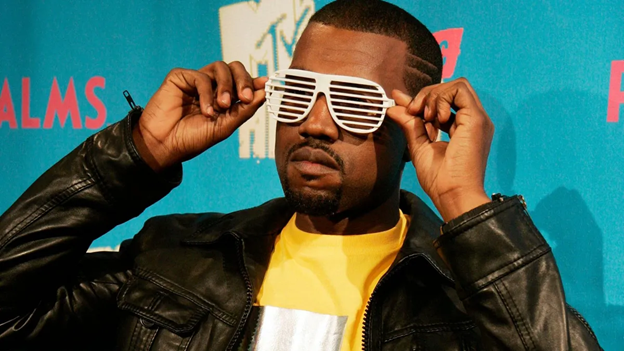 (Image: Quartz)
The striking but ultimately impractical shutter shades trend was almost single-handedly dragged into vogue by the ever-controversial Kanye West.
West's contribution to hip-hop, particularly in the mid-to-late noughties can't be doubted by any stretch of the imagination. If nothing else, his music is timeless, however, his choice in fashion is at the very least something that's a little more questionable.
If you were asked to picture Kanye West at his peak years in the music industry, the chances are that you'll imagine him wearing shutter shades. West was wearing the unmissable glasses (which, of course, had nothing to do with actual glass–or any lenses for that matter) in the music video for his iconic hit Stronger, released in 2007. The style sparked a flurry of interest in the shades.
Because the design is plastic, the look was easy to replicate and sell on by retailers at a far lower price than traditional shades, sparking a brief fashion craze for shutters–that is until everyone realized that they don't really work at blocking out the sun.
However, there's no doubt that shutter shades represent a moment in time. "After Kanye made these shades popular, they became a symbol of a few short-lived but impactful eras in hip-hop, like the Futuristic era in Atlanta from 2008-2010," explained Brooklyn-based writer, Tatyana Jenene Kemp.
"You couldn't see well with them on," Kemp added. "They were extremely oversized, and at some point, I realized wearing sunglasses in the club was weird."
Gas Station Sunglasses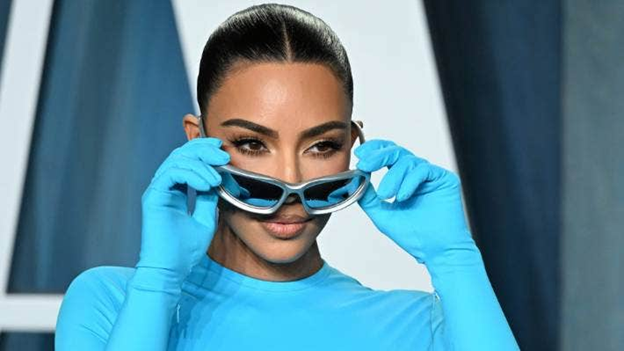 (Image: Stuff)
One of 2022's most quirky trends saw celebrities embrace 'gas station sunglasses'. Getting their name due to their resemblance to the kind of colorful and funky shades you can find on gas station forecourts around the world, celebrities like Kim Kardashian, Rihanna, Bella Hadid, Kylie Jenner, Kaia Gerber and Addison Rae, Justin Bieber, Bad Bunny, ASAP Nast, Offset and Pharrell Williams have all been snapped in these funky frames.
In a more kitsch turn for fashion, the gas station sunglasses trend was initially met with a wave of positive feedback from onlookers. "I only want to wear gas-station sunglasses," wrote Laura Reilly, founder and editor of Magasin.
The look coincides with a wider revival of 90s fashion that's still flowing to this day. Is the look going to endure in the fickle world of fashion? Almost certainly not. But it seems likely that we'll continue to see gas station chic while 90s nostalgia remains the dish of the day.
Mini-Shades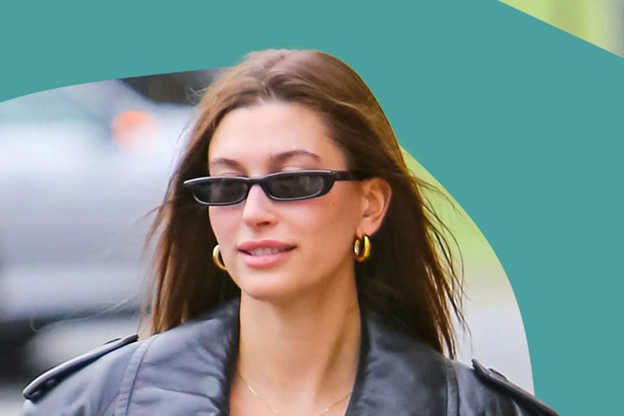 (Image: Glamour UK)
Speaking of 90s nostalgia, The Matrix has a lot to answer for when it comes to the stubbornness of mini-shades. Although they were most prominent in the aftermath of The Matrix's 1999 release, mini shades have made a recent comeback once again–with model Hailey Bieber adorning the small lens sunglasses this time–and a Matrix-inspired leather coat to complete the look.
The tiny sunglasses trend is often met with derision from onlookers, and these lenses tend to act as an object for ridicule more so than their overly-large lens counterparts. Why could this be? Perhaps we're just drawn to how obstructive such a significant frame-to-lens ratio would be.
However, this hasn't stopped mini-shades from wiggling their way back into high-fashion. Balenciaga is a fashion brand with a taste for more outlandish and ambitious designs and we can see better examples of mini-shades becoming a focal point of their recent eyewear collections.
Lady Mouse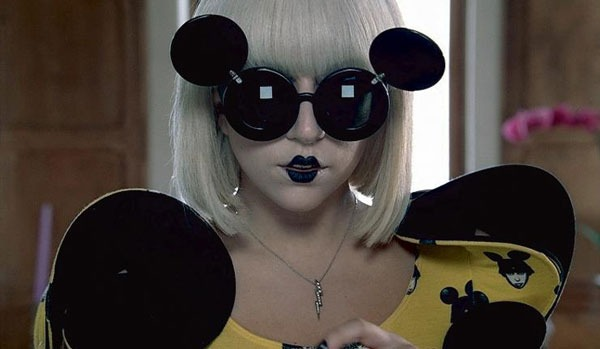 (Image: SunglassCurator)
We've already seen with Kanye West's shutter shades that the noughties hosted some highly ambitious sunglasses trends. Lady Gaga was one of the biggest artists of the late 00s, and regularly shocked and awed with her fashion.
One of her most iconic looks featured the 'lady mouse' sunglasses, which were characterized by large circular frames with hinged lens covers that would open to make the wearer look like they're creating a tribute to Mickey and Minnie Mouse.
Unlike shutter shades, Gaga's lady mouse look didn't have a brief cultural impact–probably due to the risk of knocking the shades off whenever getting out of a car or in tight spaces. It turns out that wearing glasses that open outwards like cartoon mouse ears can be impractical in tight spaces.
Shields
Shields rose to prominence in the late 00s, and were a hit among celebrities due to the 'shield' like privacy that the large, single lenses would provide when faced with paparazzi.
These larger glasses often took the form of an elaborate pair of aviators combined with skiing glasses, and became a popular fashion accessory for a time.
However, the positive reception towards shields faded when it became clear that not everyone could pull off such a bold look. Even David Beckham struggled to pull off shields. Ultimately, the line between style and tackiness was too often blurred and the shields fad waned in the 2010s.
Although many of the glasses covered here still look completely out of place today, the quirkiness of fashion is that it's always cyclical. This means that trends can be resurrected at a moment's notice. Let's just hope that we don't see any of the styles listed here enduring in the 2020s.
---