Women Spring-Summer 2013 Trends
Latest Fashion trends
Tickle your fashion taste buds with our specially selected trend page for Spring/Summer 2013. From monochrome for the minimalists, to gothic for those who like to indulge their dark side, this is the go to page for your summer style inspirations.
Search and forecast by Fabio Jesus D'Elia
Written by Camilla Harrison
TOTAL LOOKS: CARAPACE/ARMOURY
Heavy embellishment was spilling from the catwalks this season with designers adorning dresses with pile upon pile of jewels; a suit of armour for the modern day woman.
Marc Jacobs
Lanvin
Giorgio Armani
Adhering to the monochrome trend as seen at Marc Jacobs, also explore shades of silver, grey and midnight blue in the style of Lanvin and Armani, whose heavily decorated pieces meant the models shimmered with every step.
Alexander McQueen
Jewel tones of green and gold were on offer at Alexander McQueen, with nipped in waists and cropped trousers bringing feminine shape to the structured trend.
Burberry                                                       Antonio Berardi

Burberry created fluorescent shoulder capes for their models, whilst Antonio Berardi included bright turquoise on white for a more summery look.
Fendi
And for the very brave, don yourself in head to toe gold and bronze, as seen at Fendi; fiercely fabulous.
TOTAL LOOKS: MINIMAL
If you are a 'less is more' kind of a girl, then the minimalism trend is perfect for you. Designers stripped back their collections from frills and frivolity, and presented expertly cut pieces that speak for themselves.
Marni                                                           Christopher Kane

Simple two piece looks were seen at Marni, in muted shades of cream and dusky blue, with deep V necklines and A-line skirts forming the central silhouette, also seen at Christopher Kane in canary yellow.
Martin Margiela
Elsewhere at Maison Martin Margiela, a label famous for unbridled creativity and innovation, models were encased in origami-esque jackets and strapless floor length maxi's in a palette of whitewash blue and barely there cream. Simplistic at first glance, but expertly considered and crafted after a closer look.
Louis Vuitton
Givenchy
Simple pastel shifts and matching coats punctuated the checkerboard prints at Louis Vuitton, whilst chic sophistication oozed from the Givenchy catwalk with models dressed in monochrome suits and shift dresses that seemed to hang effortlessly from the body.
TOTAL LOOKS: 50'S SHADES OF GREY
Since the launch of a 'certain' book in 2011, the world has been going wild for all things fetish, and this does not exclude the fashion world. Corsetry, leather and seductive lace were all present on the catwalk this season as designers looked to the lure of the erotic for inspiration.
Alexander McQueen                                       Ann Demeleumeester
Heavily jeweled corsets were seen at Alexander McQueen, whilst at Ann Demeulemeester, leather body harnesses were strapped across models chests completing the all black look.
DSquared
Jean Paul Gaultier                                            Elie Saab
Skin tight leather clung to models curves in floor length dresses and quilted mini skirts at DSquared, and intricate body cagings encased models at Jean Paul Gaultier. A subtler take on the trend was seen at Elie Saab, where sheer panels of intricate lace added interest to cocktail dresses and trouser suits.
TOTAL LOOKS: GOTHIC
The gothic trend continues from Autumn/Winter into this season, but with inspirations less vampiric, more sophisticated.
Ann Demeulemeester
Often one to head for the darker side of things, Ann Demeulemeester sent models down the runway in drapes of black, harnessed together by strong shoulders and chiffon trains.
Gareth Pugh
A tight fitting structural silhouette, leather bodices and flared trousers were sure to have pleased fans of Gareth Pugh's signature style.
Lanvin                                                         Rick Owens   
Lanvin also focused on nipped in waists and textural layers of black whilst king of gothic style, Rick Owens, showed an altogether lighter side with dresses that fell off the shoulders in an earthy palette and unkempt hair. Not so much an angelic look, more of a 'Midsummer Nights Dream' take on an otherworldly creature, that will never veer to far from the dark side.
Saint Laurent
Lanvin also focused on nipped in waists and textural layers of black. For his debut show for Saint Laurent, Hedi Slimaine sent 70's style rock chicks down the catwalk, dripping in tiers of lace and sumptuous leather complete with oversized hats that covered the eyes
COLOURS: METALLIC vs BLACK
COLOURS: ACQUA
Dip your toes into the water this season as shades of aqua flood the catwalk.
Elie Saab
Gucci
Bold colour blocking was seen at Elie Saab in the form of buttoned up shirts and pencil skirts, whilst elsewhere at Gucci, models were head to toe in luxe turquoise complete with rippling detail across the neckline and at the sleeves like the crests of a wave.
Alberta Ferretti
For a party look this season, look no further than Alberta Ferretti, where dresses were adorned with glistening jewels and sequins that shimmered like the sun bouncing off the ocean, and waves of chiffon cascaded down the models' backs.
Givenchy
Giorgio Armani
For a more muted take on the trend, see Givenchy and Giorgio Armani, where fabrics were breezy and ethereal.
COLOURS: BLACK & WHITE
It was monochrome madness at the catwalk this season, with black and white taking centre stage with Sixties inspired prints and bold stripes.
Balmain
Louis Vuitton
One of the biggest trends for Spring/Summer 2013 is the checkerboard print as seen at Balmain and Louis Vuitton; models sauntered down the catwalk in pairs, with graphic black and white blocks of colour adorning mini skirts and cropped tops.
Marc Jacobs
Moschino
Marc Jacobs and Moschino followed suit with monochrome stripes being the print de jour in both vertical and horizontal forms at Jacobs, and decorating neat skirt suits at Moschino.
Givenchy
At Givenchy, a monochrome palette was used to accentuate focus on the shapes of the garments, with billowing chiffon tunics and floor length, asymmetric dresses.
Hussein Chalayan
Balenciaga
A less uniform take on the trend was seen at Chalayan and Balenciaga where cropped sports style tops merged into mini skirts with Flamenco ruffles.
COLOURS: NAVY
The humble shade of navy is one to watch this Summer, with designers opting for the colour head to toe thanks to its versatile nature.
Christian Dior
It can be worn simple and classic, as seen at Dior in summer dresses, either strapless or nipped at the waist.
Giorgio Armani
Valentino
Alternatively, it can transform into a shade that exudes luxury, as seen at Giorgio Armani and Valentino. Presented in fabrics that catch the light, it makes a perfect alternative for the more austere black, and is the perfect colour for summer shorts to show off tanned legs, as seen at Armani.
COLOURS: WHITE
Historically, the colour white denotes purity and virgin qualities. Fast forward to 2013 and it's the shade on everyone's lips, but no longer is it reserved for the innocent and pure, the new white is for everyone. When Bianca Jagger wore an Yves Saint Laurent white suit for her wedding to Mick Jagger she screamed power and sexuality, far from the traditional virginal bride.
Givenchy
Just like Jagger's suit, Givenchy's bold, structural garments commanded the catwalk and all eyes were on the silhouette.
Gucci
Equally, the floor length dresses at Gucci were striking and sexy, with flutters of detail across the shoulders and a plunging neckline.
Pucci
Valentino
For a more delicate take on white, look to Pucci, where models were encased in sheer white fabrics creating a girly yet sophisticated look, or to Valentino, where intricate patterns adorned floor length gowns and feminine skirt suits; perfect with a summer tan.
MUST HAVE ITEM: LE SMOKING

When Yves Saint Laurent created the iconic Le Smoking in 1966, little did he know this single garment would leave behind a legacy of influence and inspiration. Fast forward more than forty years and designers are still referencing it, most notably at this seasons shows.
Balmain                                                      Jean Paul Gaultier
Lanvin
Balmain, Jean Paul Gaultier and Lanvin put their classic yet sexy twist on the jacket, with power shoulders and a bare décolletage exposed underneath.
Celine                                                     Balenciaga
At Celine and Balenciaga, sleeves were removed, leaving a more casual garment that can be thrown over a vest top and trousers, creating lean lines.
Christian Dior
At Dior, the proportions of the jacket were altered to allude to the label's traditional silhouette, pinched at the waist and paired with a skirt, and transformed into a little black cocktail dress.
MUST HAVE ITEM: THE PRINCESS DRESS
MUST HAVE ITEM: JEANS
PRINTS: SNAKESKIN
Add some interesting texture to your wardrobe this season with a dash of snakeskin.

Erdem
The slinky skin was seen most prominently at Erdem, who introduced a new print amongst his signature florals, whilst retaining his ladylike aesthetic by showing pops of pastel hues amongst the scales to lift the palette.
Gucci
Gucci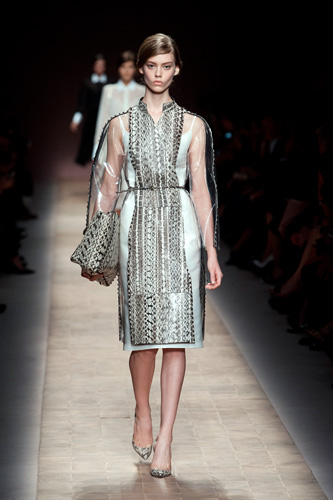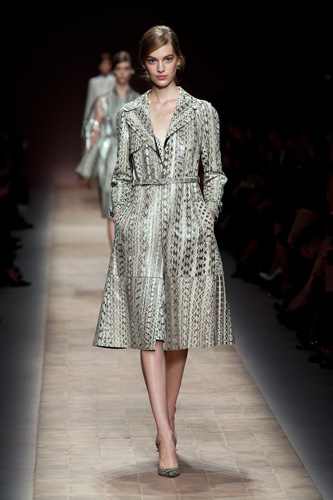 Valentino
Gucci offered a suitably luxe version of coloured snakeskin that took the form of Sixties shift dresses and button down coats, whilst Valentino's minty green scales toughened up a 'girlie' collection.
Gianfranco Ferré                                                                           Salvatore Ferragamo
For classic snakeskin, look to Salvatore Ferragamo and Gianfranco Ferré who created draped silhouettes to compliment scaly mini skirts and high waisted shorts.
PRINTS: FLORAL
Flower power is back on the agenda this season, but with so many different ways to wear this look, there is something for everyone.
Christian Dior
Chanel
Prim and ladylike at Dior, full skirts were printed with floral motifs in jewel colours of gold and sky blue, whilst at Chanel, strapless straight line gowns were adorned with delicate floral embroidery that snaked its way across the models' figures.
Dries Van Noten
Dries van Noten's show was key for this season, and who says florals can't be grunge? Loose, floral printed chiffon hung from the shoulders on smock tops and maxi dresses in faded hues, paired with Kurt Cobain-esque shades and checked bottoms.
Erdem
Blugirl
If the laid-back look isn't for you, turn to Erdem and Blugirl, whose take on florals was altogether more bright, girly and perfect for a summer day.
ACCESSORIES
BAGS: TO MATCH
This season it's all about coordination; match your bag to the colour or print of your outfit and you'll be bang on trend. After all, what better excuse to add to your collection!
Gucci
Follow Gucci's lead and go for a neat long strapped handbag, or sleek, envelope clutch that blends seamlessly with your clothes to achieve a chic form of camouflage.
Marc Jacobs
Vivienne Westwood Red Label
If you prefer a more structured bag, look to Marc Jacobs who showed rigid, rectangular options in everything from leopard print to Beetlejuice stripes or Vivienne Westwood whose Sixties-esque handbags blended into the print of their fabric counterparts.
Mulberry
Queen of handbags Mulberry never fails to create a must-have and this season was no exception, translating baroque and floral prints onto buckled satchels, and presenting a veritable rainbow of shades to colour their 'it' bags.
SHOES: STRUCTURAL
Statement heels, wedges and platforms were on every fashionista's wishlist this season, after an impressive array of unusual styles stormed down the catwalk.
Prada
Miuccia Prada has the unparalleled ability of making the eclectic and sometimes bizarre, totally desirable. Her models were transformed into Geisha girls with attitude, and their footwear followed suit, with wooden block platforms complete with with flashes of futuristic silver.
Rodarte
The sci-fi theme was evident at the Rodarte show also, with chunky offerings of almost bionic proportion with structural detail at the heel.
Bottega Veneta
Bottega Veneta's ladylike heels were transformed from demure to sexy, with towering platforms of a sturdy proportion.
Ermanno Scervino
Custo Barcelona
If you're more of a wedge girl, then look to Ermanno Scervino who showed textured cut out wedges in shades of orange and monochrome, and Custo Barcelona whose curved wedges were reminiscent of a Barbara Hepworth creation.
Latest Fashion trends
---