Woman Trends Spring-Summer 2016
Woman Trends Spring-Summer 2016
Written by Jessica Watson

Search and forecast by Fabio Jesus D'Elia
Total Look: Transparencies
Transparent layers are seen everywhere this season, from sheer flowing skirts with Victorian undergarments, to delicate floral dresses, and organza layered two pieces. Designers have eschewed heavy covering layers, for delicate, sheer, light layers.
Balenciaga
This season, Balenciaga focued on mimimal dresses with sheer white lace and ruffled edges. Each look was paired with laced slippers.
Chloe
Chloe featured hippie–bohohemian vibes with off the shoulder dresses and sheer lace, paired with gladiator sandals ready for the festival season.
Dior
Scalloped cami knickers and matching chemise tops which fastened with small buttons on the side at Dior. Layers was a focal point of the collection with under garments and sheer pastel garments over.
Dolce & Gabbana
Dolce & Gabbana's transported back to Italy in the 50's filled with bright colours, floral embroidery, embellishments and trumpet sleeves.
Elie Saab
Transparent lace dresses brought in at the waist, with collared and tied up necklines featured in short, sweet dresses and dramatic gowns.
Etro
Etro showed romantic folk dresses embroidered with floral patterns styled with chokers and lace up ballet flats.
Alberta Ferretti
Spagetti strap desert dresses, boho lace tops and torn chiffon gowns were paired with bracelets, styled with the utilitarian backpack for a travelers twist on Ferretti.
Giorgio Armani
Giorgio Armani's collection was all about uniform, tailored shorts, fitted jackets with ribbed organza trousers of transparent burgundy and navy colours paired with a simple clutch bag.
Givenchy
Asymmetric lace layers and wispy light layers featured in the Givenchy Show, with silk trouser suits and embellished lace tops.
Gucci
Frills and delicate detail featured in the Gucci show, with light wispy dresses and gowns. The sheer garments were paired with traditional undergarment knickers.
Marchesa
Marchesa's dresses bought beauty and romance to the runway, with angelic tulle gowns with corset bodices, feather décolletage embroidered 3D petals and crystal embellishment.
Saint Laurent
Saint Laurent showed a sparkly mini dress and bomber jacket is the perfect combo. With sheer mini dresses and grungy jackets, a feminine look can be styled down with an oversized vintage piece.
Valentino
Valentino visited Africia with tribal styles and sheer Aztec patterns, whilst cuffs and necklines featured quills and peacock feathers.
Total Look: Net
Net garments if definitely one for this season, whether it's a sporty bomber, a fishnet slip or a crochet dress. Olivier Rousteing dressed his Balmain team in crochet in sexy crochet dresses, with nude undergarments whilst Acne went for distressed style.
Acne
The collection inspired by music was edgy and featured bold colours. Netted tops looked ripped, shredded and almost as if they had been clawed at.
Alexander Wang
There was a definite street-cool edgy vibe at Alexander Wang. The distressed style featured mesh, leather jackets, bombers and shredded skirts and trousers.
Balmain
Cable knit dresses and chunky belts featured at Balmain. Tiered ruffles bought femininity to the fierce fishnet and strong shoulders. Silhouette dresses in nude shades showed softness to the collection.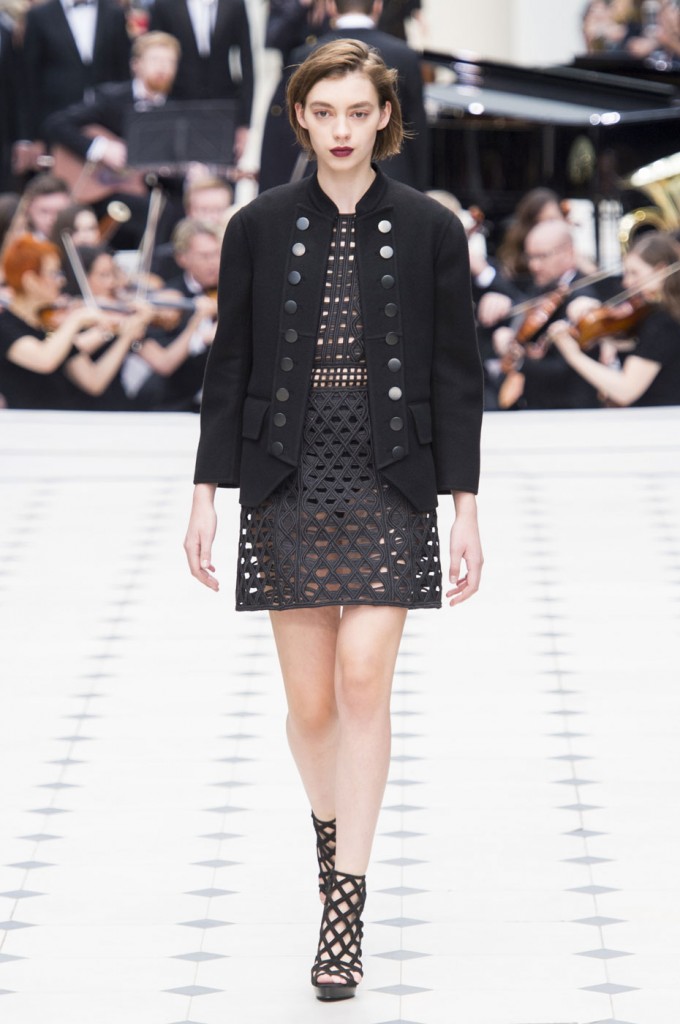 Burberry
Military jackets and caged heels paired with a little black dress with a caged net twist was shown at Burberry.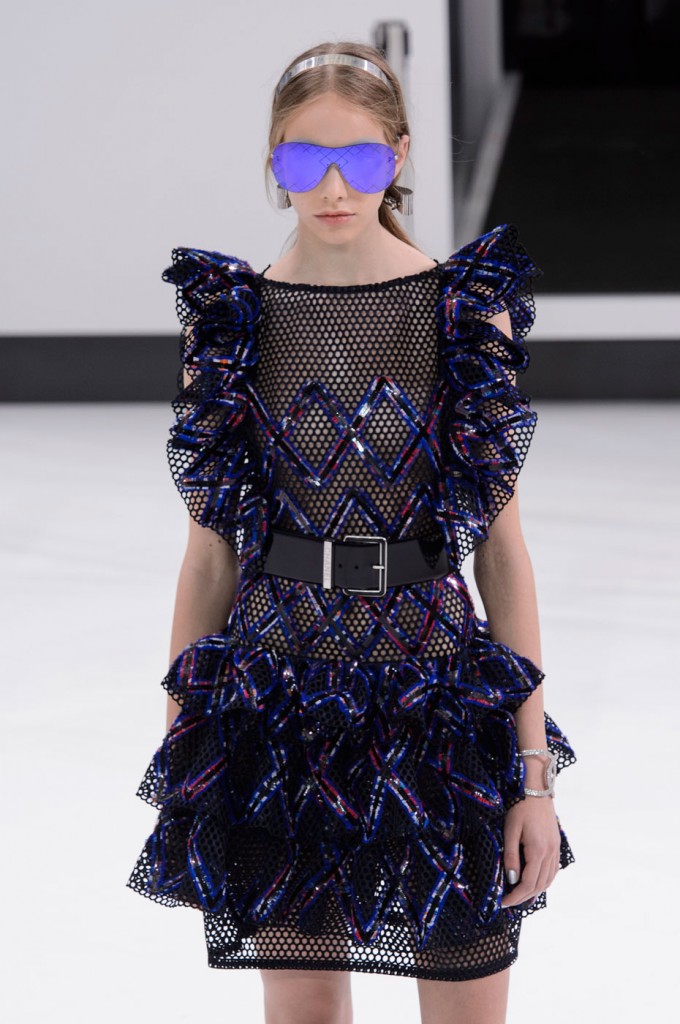 Chanel
Metallic shades with statement ruffled shoulders gave a fierce 90's look at Chanel. A ruffled skirt brought femininity to the edgy net piece with a statement belt.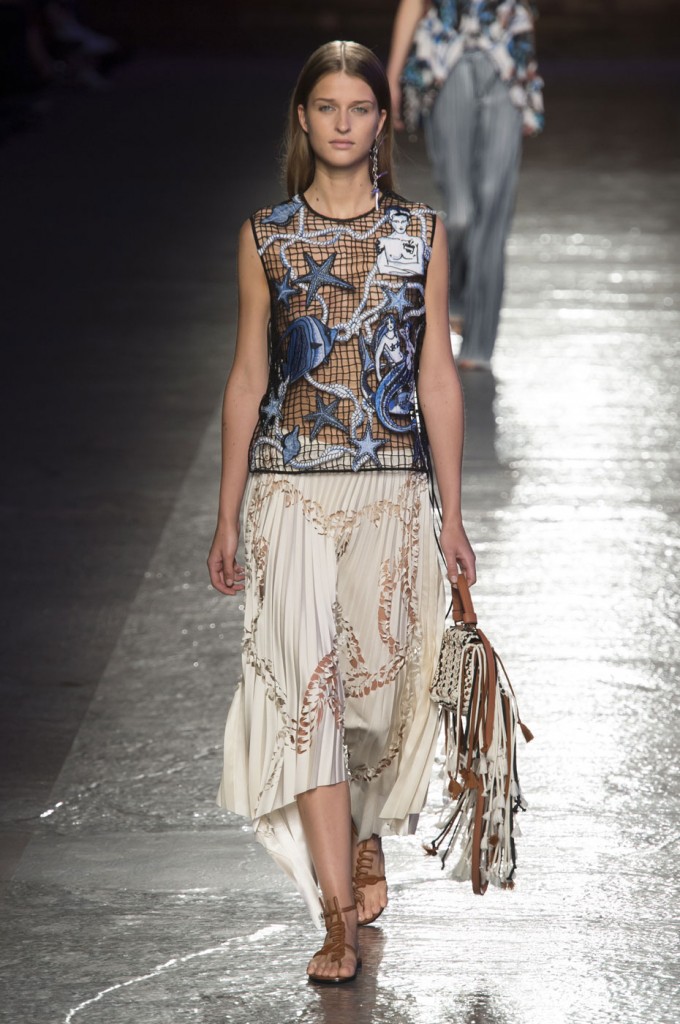 Emilio Pucci
Nautical Pucci motifs and totems have been taken – starfish, mermaids and shells have been embroidered onto nylon netting. Lightweight asymmetric pleated skirts brought the beach vibe to the look.
Saint Laurent
Princess turns grungy with metallic mini dresses layered with nylon caged slip dresses and vintage leather and denim jackets, paired along with some stomping wellington boots.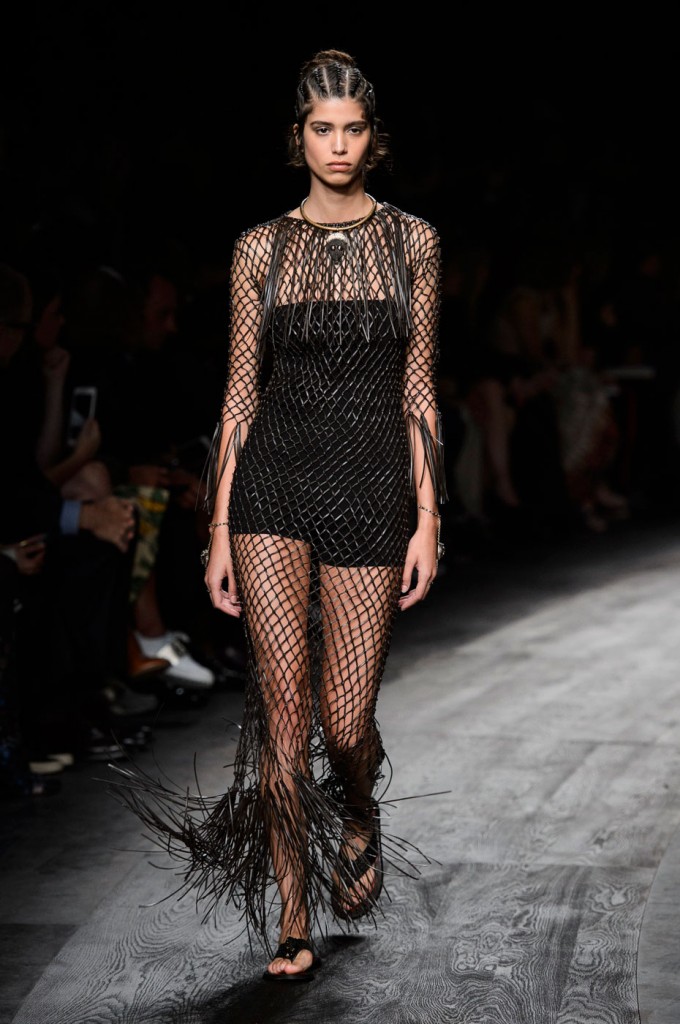 Valentino
Full length dessert dresses were given a new look with a netting and statement fringing, casually paired with some flip flops.
Louis Vuitton
Rebooted kilts and studded leather and the bubble skirt paired with biker gloves made an appearance with the layered netted T-shirt at Louis Vuitton.
Total Look: Lace
This season lace isn't just for evening wear with lace pieces becoming hard to avoid, with plenty of slip lingerie style dresses with lace detail and feminine floral pieces.
Burberry
The traditional Burberry trench coat, perfect for any season was thrown on top of a sheer black and nude lace dress featuring frills, layers and a paired sandals and caged heels for the summer. Casual but Chic.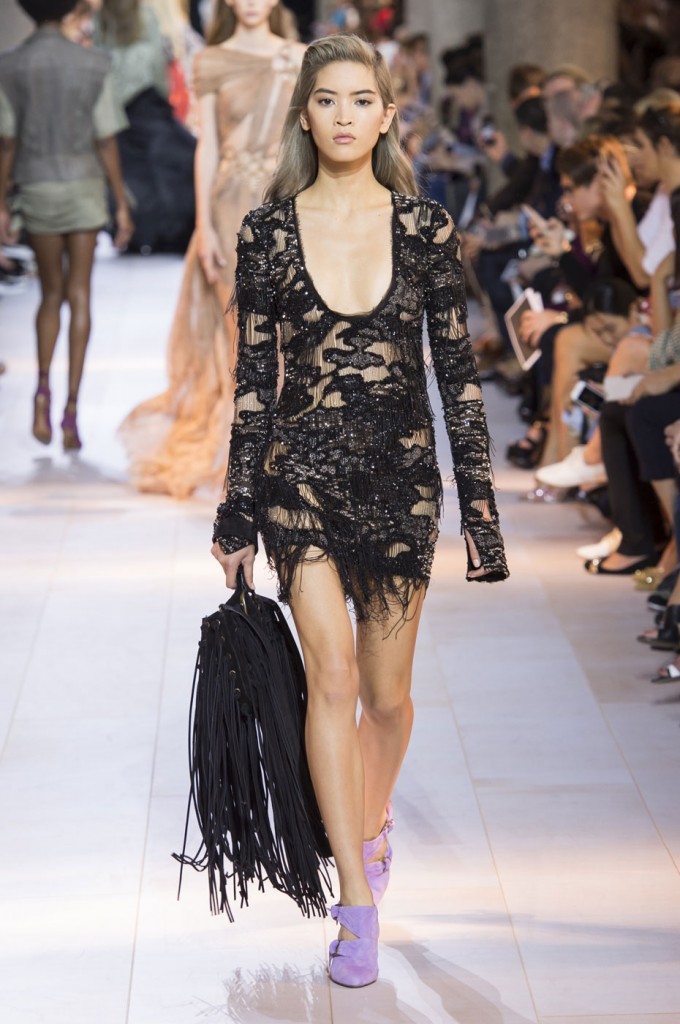 Roberto Cavalli
Fitted like a showgirl, Cavalli's sheer lace dresses were embellished with sequins and full of fringing. Delicate but dreamy.
Celine
Sleek and glamorous were the looks at Chloe. Lingerie slip dresses and camisoles arrived in silk with ironed creases. Statement lace and deep V necklines bought femininity to the look.
Dolce & Gabbana
Floral Lace showed in all different styles at Dolce & Gabbana including floaty quarter length skirts and statement two pieces.
Elie Saab
A variety of black lace trumpet sleeves is featured in the gowns of Elie Saab with multiple layers, ruffles and tie up belts.
Givenchy
Bride and Groom inspiration was taken for Givenchy to catch feminine and Masculine elements, with suits, chemise dresses gathering at the shoulders and silk slip dresses with asymmetric lace layers.
Lanvin
A celebration of femininity and womanhood saw layers of lace in a variety of black dresses at Lanvin.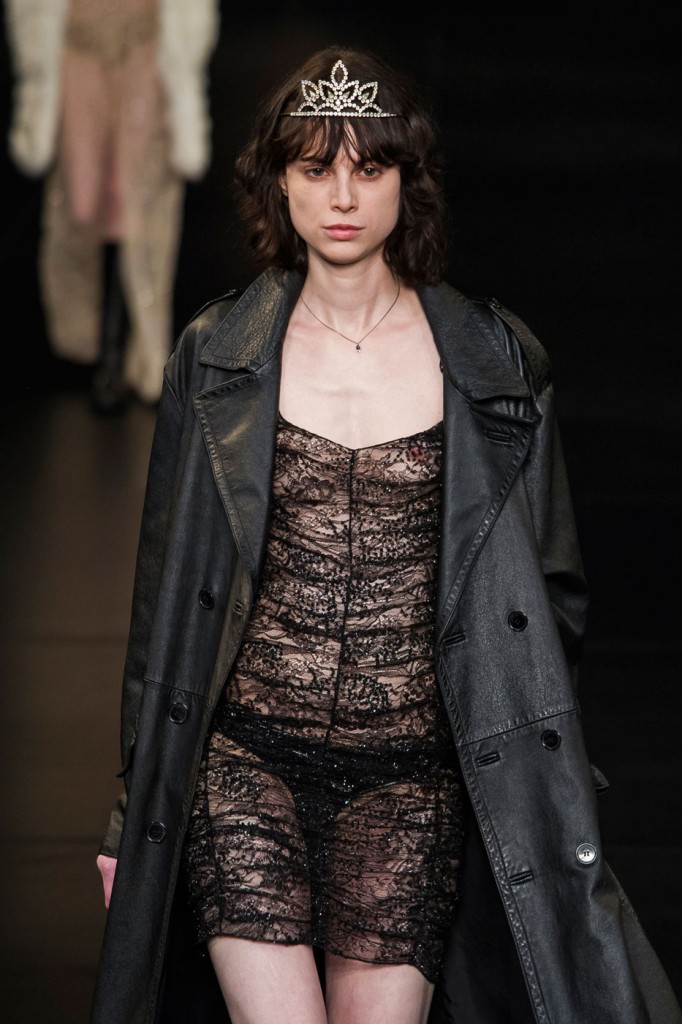 Saint Laurent
Saint Laurent showed unusual combos with a vintage leather biker jacket paired with a tiny elasticated black lace dress.
Total Look: Fringing
Fringe detailing is becoming big this season, and not just for festival wear, with glamourous fringed dresses, and edgy tweed jackets with a fringe twist.
Roberto Cavalli
Twinkle and tight shapes were shown at Cavalli with a variety of wispy fringing and embellished with sequins.
Chalayan
Chalayan featured an on going type of fringing, worn on asymmetric shorts, floaty skirts and fitted tops.
Salvatore Ferragamo
Feathered fringing showed a new side of femininity at Ferragamo, with feathered necklines and cuffs like a bird.
Lanvin
Tweed jackets, skirts and tops featured raw edged fringing accessorised with matching fringed scarfs and a classic leather over the shoulder bag.
Alexander Mcqueen
Alexander McQueen takes a different gentle and feminine approach. Fringing varied from luxurious golden sparkling pieces with gentle frays to extreme shedding and wife cuffed sleeves.
Saint Laurent
Fringing varied at Saint Laurent from sparkly mini disco dresses paired with a variety of oversized coats including a multicoloured fringed jacket.
Valentino
Valentino featured tribal vibes with aztec patterns with bold feathered necklines and sleeves with fringed jackets and dresses. Fringing is a mainstay here, swishing in a variety of pieces.
Must Have: Knitwear
There's no need to put the knitted pieces away for the spring summer season because they're here to stay just a bit longer paired with floaty light skirts. Beach dresses have also taken a turn and instead of light wispy layers, they're tight fitted and knitted.
Acne
Shredded and tight fitting knitwear featured in Acne, with sleeveless pieces for the spring summer weather. Texture and fabrics is a mainstay here.
Bottega Veneta
Little striped knits with contrasting patterns featured in Bottega Veneta, playing with materials and combining different prints.
Chanel
Air Travel was the main theme of the spring summer collection and Karl Largerfield showed how travel loungewear is a must, including graphic knitwear, knitted skirts and sweater combos.
Dior
Dior's runway featured layers of cropped scalloped knitwear of the vintage type. A series of 'Fisherman' rough knitwear was worn over silk slip dresses.
Missoni
Missoni saw pure simplicity with sheer knit dresses with horizontal stripes for breezy beach weather. Aztec vibes came from the zig zag pieces paired with full length sheer knit cardigans.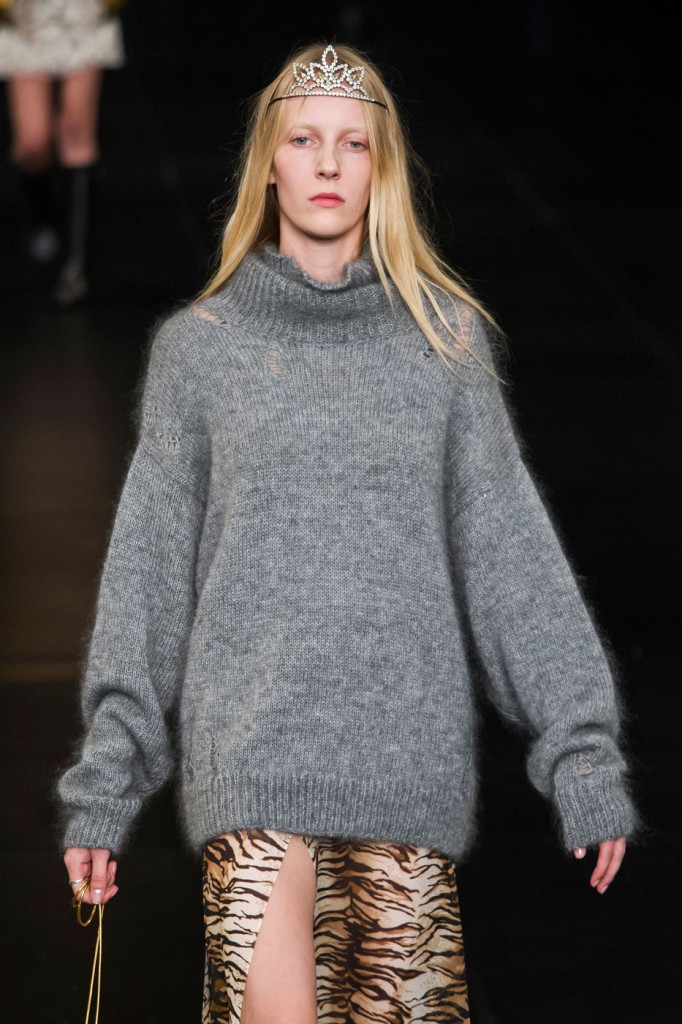 Saint Laurent
Oversized fluffy knits worn at Saint Laurent with distressed features paired with contrasting silk leopard print floaty skirts.
Must Have: Low Crotch Trouser
There's no escaping the 90's this season, with low crotch cargo trousers, and light harem trousers for the spring/summer weather.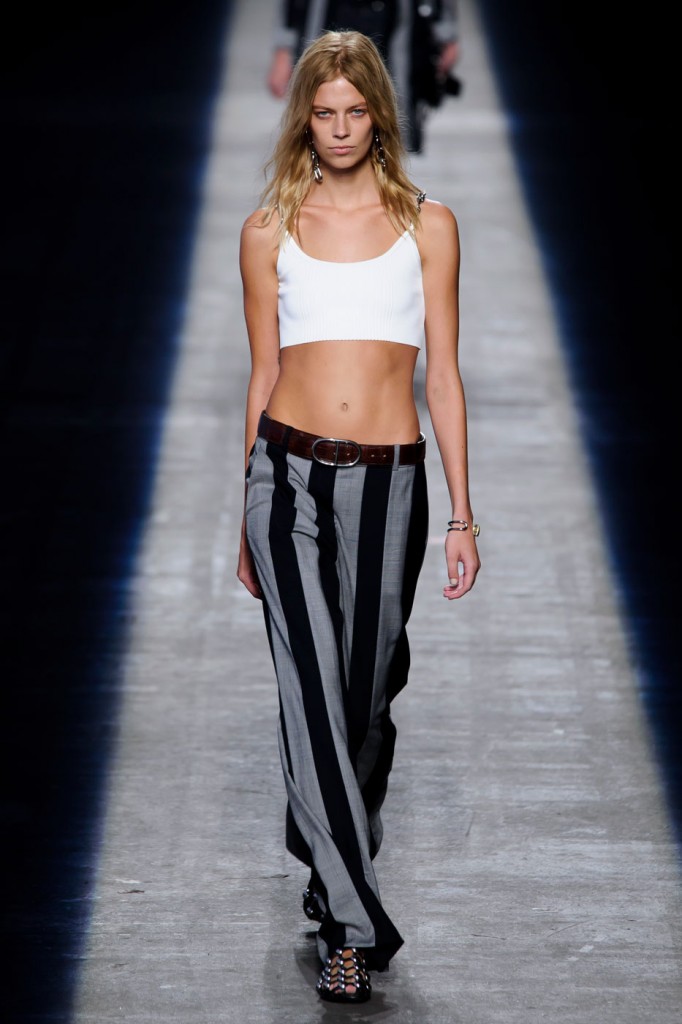 Alexander Wang
There was attitude within Alexander Wang but a very relaxed street-cool style with flared striped trousers with a low crotch paired with a simple crop and sandals.
Balenciaga
Ivory silk satin took over the Balenciaga runway, with 90's cargo pants, low swung trousers, along with zipped bum bags paired with a variety of little silk crops.
Louis Vuitton
Inspired by the digital era, Urban trousers made an appearance at Louis Vuitton with flares, zips and buckles in block colours.
Pattern: Stripes
Varying in large statement bock stripes, metallic colours, animal prints and nautical stripes. This season proves whatever the style, anyone can pull of some stripes. A timeless pattern.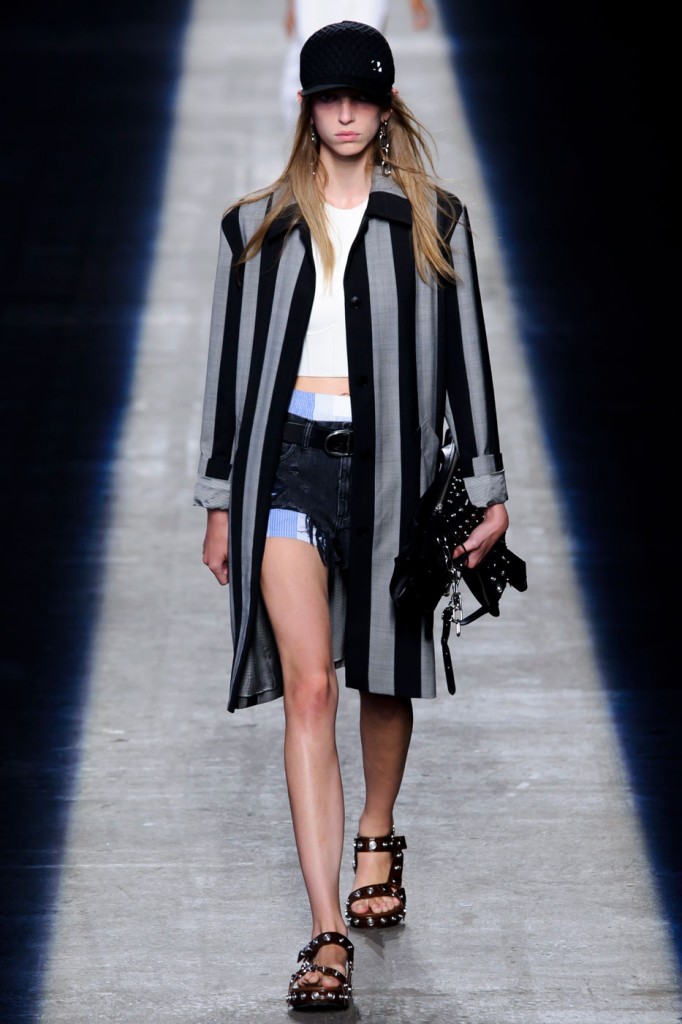 Alexander Wang
Bold, statement stripes reoccured through Alexander Wang's collection in low crotch trousers and tailored jackets.
Luxourious bronze and gold tones shone through the runway at Dior, with bold strips running through rain coats, dresses and jackets.
Dolce & Gabbana
Inspired by 'Italia', 50's sundresses, skirts, twi pieces and full length satin dresses all featured stripes of different sizes and colours. Playful and Chic.
Elie Saab
Different to the traditional red carpet gowns, and shimmering numbers, Elie Saab's collection featured a range of day to day wear for on the go with a range of distinctive clean cut stripes in blacks and bright colours.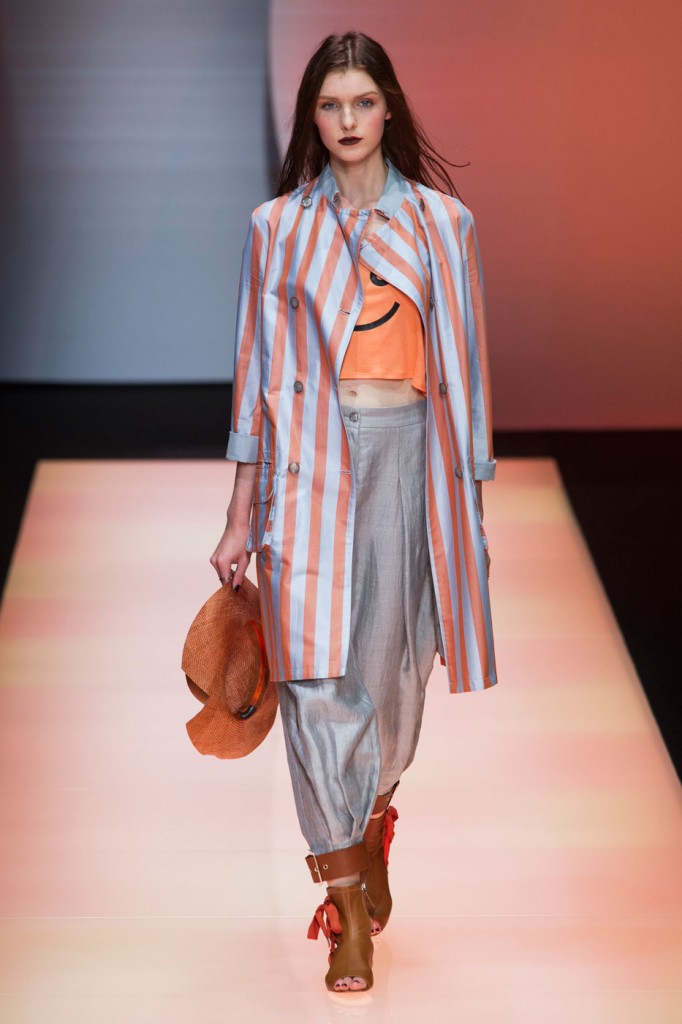 Emporio Armani
Peach stripes for the spring summer time featured in Emporio Armani in lightweight jackets.
Salvatore Ferregamo
Shades of pink and fir green featured with clean minimal outfits and a variety of pleated summer dresses which all had a reoccurring theme of bold and bright stripes.
Giorgio Armani
Stripes and ribs were featured in Giorgio Armani with white sleeved jackets, organza trousers, knitwear and silky playsuits,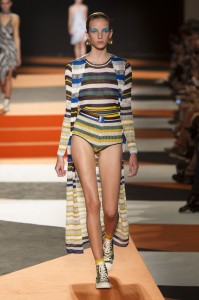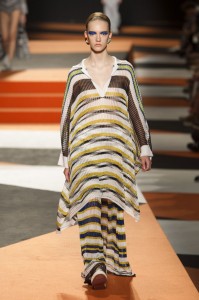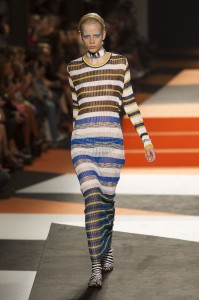 Missoni
Sporty vibes were shown though Missoni, with colourful striped polo tops and flared lightweight trousers for the summer. Beach clothes perfect for summer, stripped in yellow and ocean blue colours.
Paul Smith
Paul Smith featured prevalent stripes through his pastel dresses. Light and breathable for the beach weather paired with sun yellow sandals.
Pucci
Asymmetrical neck lines were shown at Pucci with different variations of monochrome stripes and zigzag patterns.
Patterns: Floral
The Floral print makes a comeback every single summer and why it wouldn't as it is the perfect spring trend. Whether its delicate floral details or floral prints paired with masculine shapes and styles.
Agnes B
A different kind of floral print was shown through at Agnes B, with photographed prints on simple summer dresses.
Burberry
Burberry took on a floral twist on the traditional trench coat this Spring Summer, with floral tie dye prints featuring on short summer dresses.
Chanel
Clean cut white dresses were detailed with statement floral ruffles along the sleeves, cuffs and bodice of the garment. Smart but playful vibes.
Dolce & Gabbana
Statement prints and floral patterns is a mainstay at Dolce & Gabbana, with floral motifs embellished on mesh dresses and gowns, with flirty floral prints on voluminous gowns.
Elie Saab
Sweet dresses and romantic gowns were filled with signature floral prints at Elie Saab floating along the runway and tying up at the neckline.
Emporio Armani
A feminine take on tailored wear with a pastel 60's floral prints featuring on jackets, tops and tailored shorts with matching silk neck scarfs.
Etro
Frills and flouncy dresses featured in Etro with soft embroidered flowers on pleated gowns for a romantic folk vibe.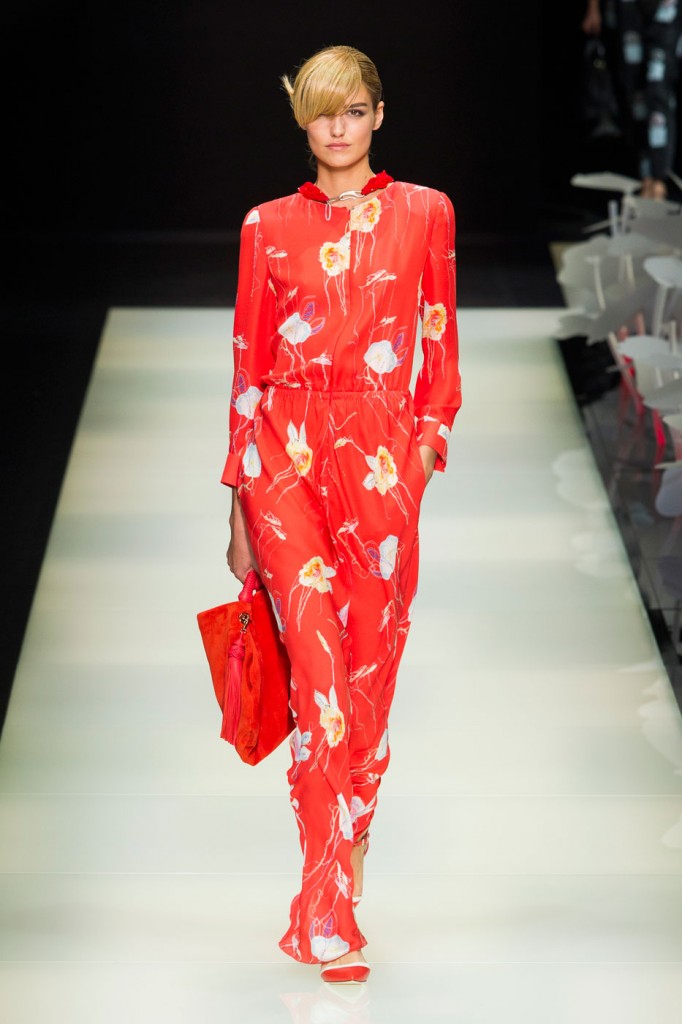 Giorgio Armani
Brightly coloured and loose fitted jumpsuit's catch eyes in the summer time with an abstract floral print paired with red shoes and clutch bag.
Gucci
The geek-chic collection features lots of decoration, lace, colour, frills, embroidery and floral patterns of the mature type. A very strong smart spring style at Gucci.
Alexander Mcqueen
Mcqueen showed variety, with denim, frills, layers, embellishments and embroidery which showed that floral can be feminine and flirty, but a statement to any denim piece also.
Pattern: Check
Think sleek minimal checks, bold and colourful stripes as well as the classic checked tweed jacket. The check pattern is incorporated into any women's wardrobe.
Celine
Flared tailored checked trousers featured multiple times at Celine with wrap around belts and styled with black tops, and matching jackets and coats.
Chanel
Classic tweed skirt suits, dropped shoulder jackets and boucle jackets represented a smart but glamorous travel style. Monocrome colours featured throughout with the odd suttle colour or two.
Hermes
Simplicity is key through Hermes collection, with clean cut culottes, two pieces and playsuits, as well as floaty and lightweight dresses all with minimal checked detail.
Stella McCartney
McCartney's collection featured a variety of plaid jersey in trousers and full length dresses, with laidback vibes and focal colours.
Valentino
Large Mosaic checked patterns and empire neck lines, Valentino's collection shows signs of roman history. Floor length pleated dresses with black colours paired with gladiator sandals and braided hair.
Colour: Orange
Juicy bright colours feature this season, like a summer's sunset. Orange pieces make a statement to any outfit with a splash of colour.
Agnes B
Bold and beautiful, ready for a desert trip, different shades of a summer's sunset feature at Agnes B. Casual and easy pieces making a statement.
Balmain
From sleek suede to ruffled chiffon, orange is clearly making a statement at Balmain, with a variety of two pieces, full length skirts and mini dresses.
Bottega Veneta
Bottega Veneta took on deep red orange tones in the collection, with checked leather coats and tailored dresses, totally casual with a pair of flip flops.
Dolce & Gabbana
Dolce & Gabbana showed sleek colourful Italian summer style with different shades of orange in a variety of fabrics and textures.
Emporio Armani
Rose-Pink and peachy orange shades featured at Emporio Armani with tailored trousers and effortless floral summer dresses.
Fendi
High neck lines and puffy sleeves saw some possible Victorian influences at Fendi with deep orange and red shades.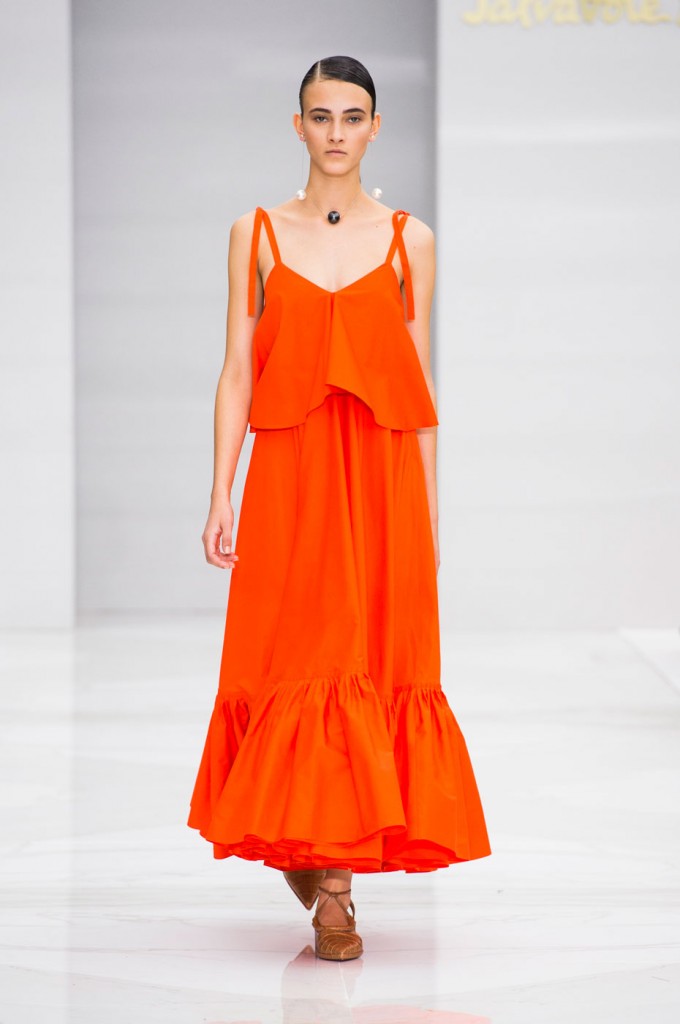 Salvatore Ferragamo
Bright and bold, Ferragamo made a statement with orange colours with bouncy summer dresses with frilly layers.
Alberta Ferretti
Dessert dresses in taupe orange colours featured in a very casual runway styled with sandals and heavy jewellery.
HermesWith pleated skirts, flared trousers and two pieces, Hermes collection was totally casual paired with trainers with shades of red and orange featuring throughout.
MarniLayered with different fabrics, lengths and detail, Marni featured block colours with bold orange pieces thrown on top of white t shirts, sequin skirts and floral jumpers.
Paul Smith
Wide culottes and dresses, Paul Smith has taken on a deep red orange tone for his Spring Summer collection, paired with sandals of a contrasting colour.
Colour: Pastel
Contemporary and playful pastel colours feature this season, with a range of mint greens, lavender shades, baby pinks and dusty blues. The colours are fresh, youthful and bring femininity to any outfit.
Agnes B
There wasn't a definite style throughout Agnes' show but there was a definite show of baby pink shades from denim jackets, jumpsuits and summer knits.
Roberto Cavalli
Acid washed and soft suede jackets, silk taffeta dresses and tie-dyed ruffles all featured in beautiful pastel shades or pink, purple, orange and blue.
Celine
Fleshy pastel colours featured at Celine with very simple floaty dresses which are easy to wear.
Chanel
Tweed jackets and tailored skirts, made travel pieces smart but with a summer twist, Chanel featured shades of pasel pinks and purples.
Chloe
Youthful and very playful, a rainbow of pastel colours featured in tasseled summer dresses, off the shoulder lace tops and sweet summer dresses.
Emporio Armani
Emporio Armani saw fleshy nudes and the power of pink, with a feminine take on smart and tailored pieces with chiffon scarfs and heavy jewellery.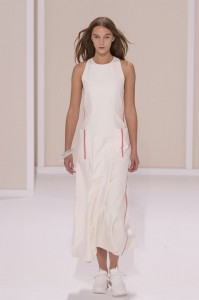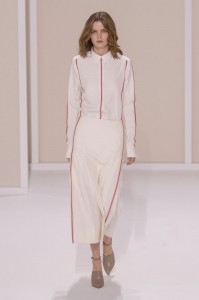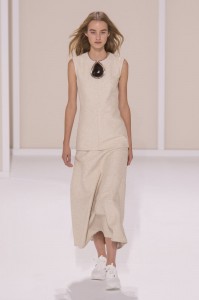 Hermes
Off white pieces at Hermes saw simplicity, with sporty stripes and white trainers as well as smarter jackets and culotte trousers.
Stella McCartney
Sporty jersey polos were seen in a pretty pastel shades at McCartney with matching asymmetric shorts and jersey skirts.
Alexander Mcqueen
Delicate chiffon pieces with shown in pastel shades with lots of intricate ruffles along the dress, down the sleeves and around the collar.
Emilio Pucci
Pucci was definitely cool and trendy with a variety of shimmer, metallic shades, sequined knits and skirts for the younger market but pastel colours once again featured throughout with yellow, blue and pink shades.
Colour: White
Could white ever not make the trend forecast or any season? The simple, but versatile colour is the perfect colour for any spring summer outfit. Minimal and easy.
Agnes B
Voluminous pleated gowns of a snow queen drift along the runway at Agnes B with head dresses and hoods.
Chalayan
Shoulders out for the summer collection at Chalayan with inspiration from her recent trip to Cuba. White makes a clean and sophisticated look with buttoned shirts and Bateau necklines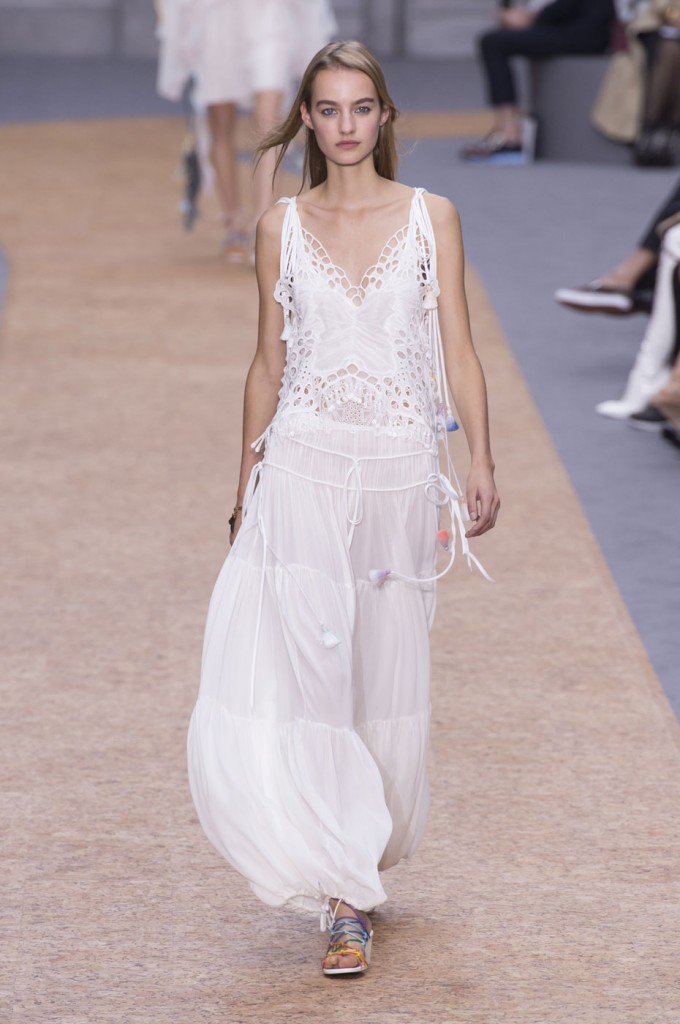 Chloe
A relaxed and easy style was worn in white at Chloe, looking totally Bohemian with low crouch Harem pants.
Dior
Simplicity, Femininity and a soft palette was the inspiration behind Dior's beautiful white two pieces with scalloped lines and sheer white dresses
DKNY
DKNY's collection was about business and professionalism white minimal but smart white dresses, tailored and pleated dresses.
FendiThere a mix of strong tailored pieces and dresses inviting breeze into them at Fendi yet they all shared an all in white theme.
From, thick ruffles, high necks, large pleats and lace, Mcqueen focused on all white pieces, with plenty of layers.
Woman Trends Spring-Summer 2016
---