Men's Spring-Summer 2015 trends
Men's Spring-Summer 2015 trends
Written by Elnaz Soltanmohammadi
Search and forecast by Fabio Jesus D'Elia

TOTAL LOOK: Dandy

This trend will keep you looking effortlessly smooth and dapper.
Dandy in the city
The Fendi collection featured relaxed attire for the contemporary businessman, in a trendy palette of khaki, cream, pale blue and light grey.
Fendi
Similarly, the 'Dandy' items at Lanvin were urban, yet elegant enough for the workingman. Drop crotch trousers and slacks were seen in moodier tones than those at Fendi.
Lanvin
A trip to Africa
Inspired by traditional African fabrics, the Ferragamo take on the trend featured a giraffe motif that subtly lined the cuffs of jackets. In keeping with the African theme, the colours consisted of earthy tones, from beige to chocolate; accompanied by shades of blue, rust and green. There were also some elements of loungewear, such as shorts and belted jackets. Perfect for a laid-back traveller.
Salvatore Ferragamo

A nautical nod
This season's Gucci collection was based on a combination of subtly worked nautical elements and slim silhouettes.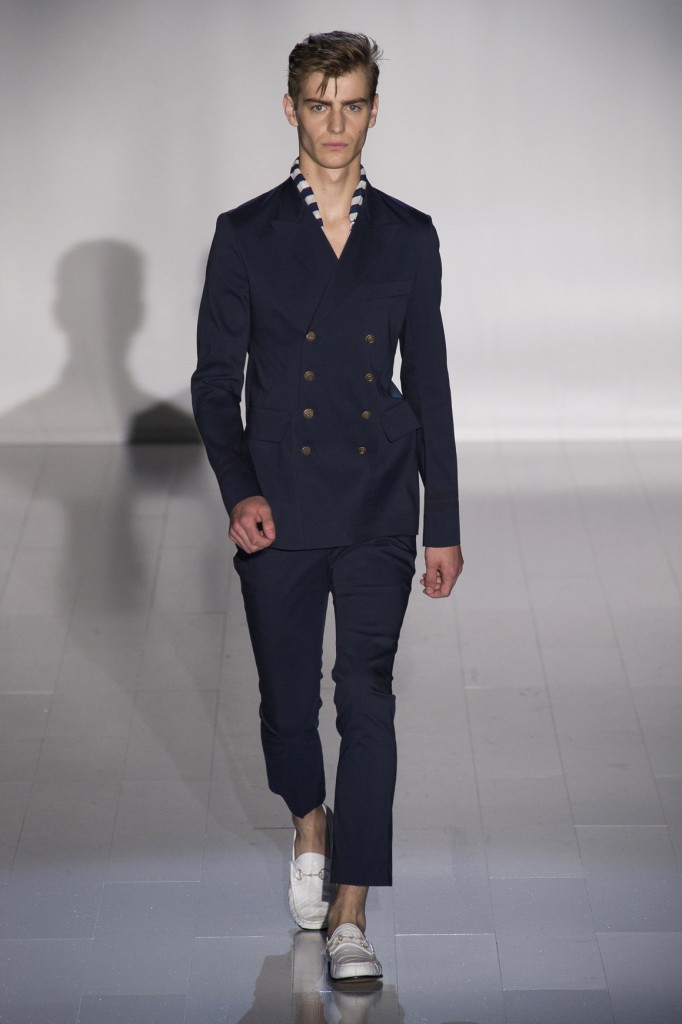 Gucci
TOTAL LOOK: Long tops

Why not mix up your staple summer t-shirt and opt for a longer style…

Layered look
At his first solo menswear show in Paris, Sebastien Meunier perfectly executed the art of layering: thin items such as sheer coats and shirts draped over thicker items like tailored jackets.
Ann Demeulemeester
Abstract print
Sarah Burton's long tops for the McQueen collection stood out with their abstract swirls of primary colours.
Alexander McQueen
'Faun'
Rick Owens' collection was named 'Faun', after the Ballet Russe, L'Apres Midi d'un Faune. At the heart of his collection were long, sleeveless tunic tops embroidered with graphic drawings such as primitive imagery; based upon the ballet performance. He utilised a faded version of the same colours seen in the ballet.
Rick Owens

Plain
At Van Noten, the long-length t-shirts were kept basic- plain, in muted shades of beige and navy.
Dries Van Noten
TOTAL LOOK: All over patterns

All-over prints were paramount at this season's catwalks.

Dolce & Gabbana
Raging red
Spanish bull fighting was the inspiration behind this season's Dolce & Gabbana collection. The famous toreros were brought to life with rich, red jacquard boleros and ornamentally embroidered jackets, paired with cropped pants and velvet slip-on shoes. The bull itself took a playful turn, appearing in the form of fun vintage bullfighter posters printed onto sweaters. Elsewhere, Spanish tile motifs were seen on oversized sporty three-quarter sleeve tops.
Dolce & Gabbana
The world of the artist
Twin designers Dean and Dan Coten merged fashion and art in a tribute the '80s Pop Art era in New York. Inspired by key contemporary artists such as Andy Warhol and Roy Lichtenstein the patterns were bold and bright. Particularly eye-catching was a shirt covered with splashes of paint in a multitude of colours.
Dsquared2
Geometric
Emporio Armani produced a highly graphic collection that focused on the power of the line. The colour palette was limited to shades of black and whites, with subtle hints of grey and navy creating stark contrasts.
Emporio Armani
Floral
Paul Smith's collection featured a summery plant print in 'watered-down' hues, upon soft, loose fitting silhouettes. Coloured sunglasses finished off the looks, creating a cool 70s vibe.
Paul Smith
Botanical prints were also seen at Valentino, where boxy tops and wide-cut trousers kept the styles looking relaxed yet elegant.
Valentino
Fluidity
Drawing inspiration from the ballet dancer Rudolph Nureyev, the Van Noten collection brought together the fluidity of dancewear and the comfort of loungewear. Delicately embroidered patterns were seen upon silky shirts, as well as suits covered in line drawings. A warm palette of burgundy, gold, navy, sand and deep olive green complimented these looks.
Dries Van Noten

MUST-HAVE ITEM: Fleece and sweat

It's always good to have some warmer clothing at hand during the spring-summer transition.

Summer breeze
The cotton jersey sweatpants rolled up to the knee gave off a breezy stroll along the beach vibe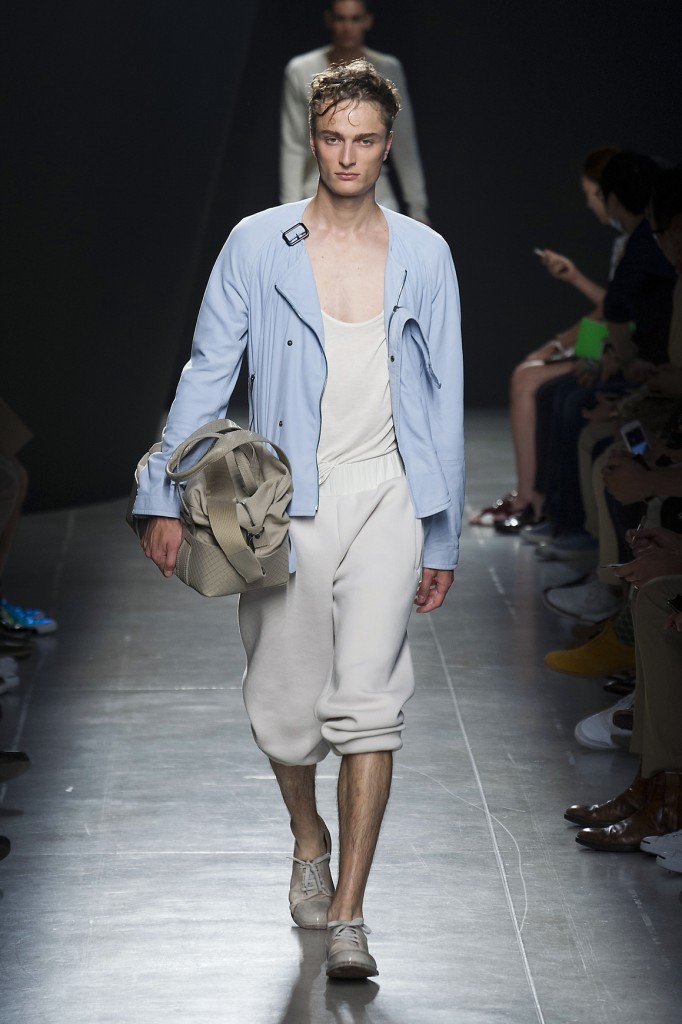 Bottega Veneta
Smart Casual

Armani introduced quilted tops and jersey blazers, fitted yet comfortable for an overall effortless look.
Emporio Armani

Layers
At Miharayasuhiro, the trend was kept low-key with layered hoodies and jersey tops in dull shades of grey, blue and white.
Miharayasuhiro
Colourful
In contrast to the muted tones seen elsewhere, Vivienne Westwood matching hoodie and trouser ensembles were a vibrant tone of orange or a mix of bright colours.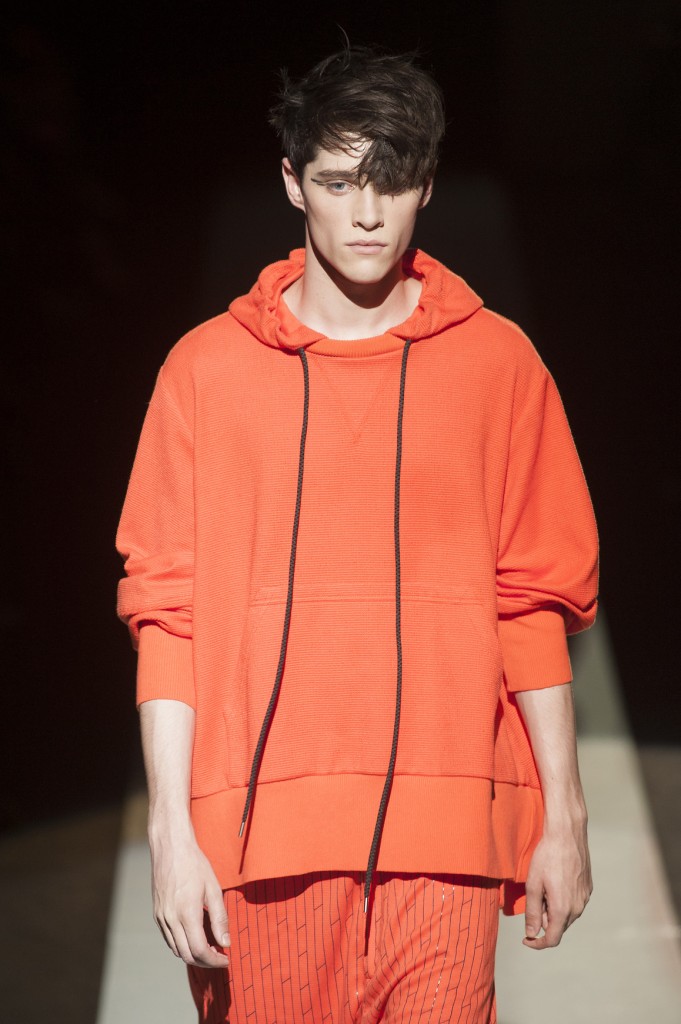 Vivienne Westwood
MUST-HAVE ITEM: Summer mac

Undoubtedly a timeless trend, the summer mac is a must-have outwear piece in every man's wardrobe.

Classic
The classic beige summer mac was a popular choice at the catwalks this season. With the likes of Diesel, Phillip Lim and Corneliani, there were plenty of styles to choose from.
Phillip Lim                                                                              Diesel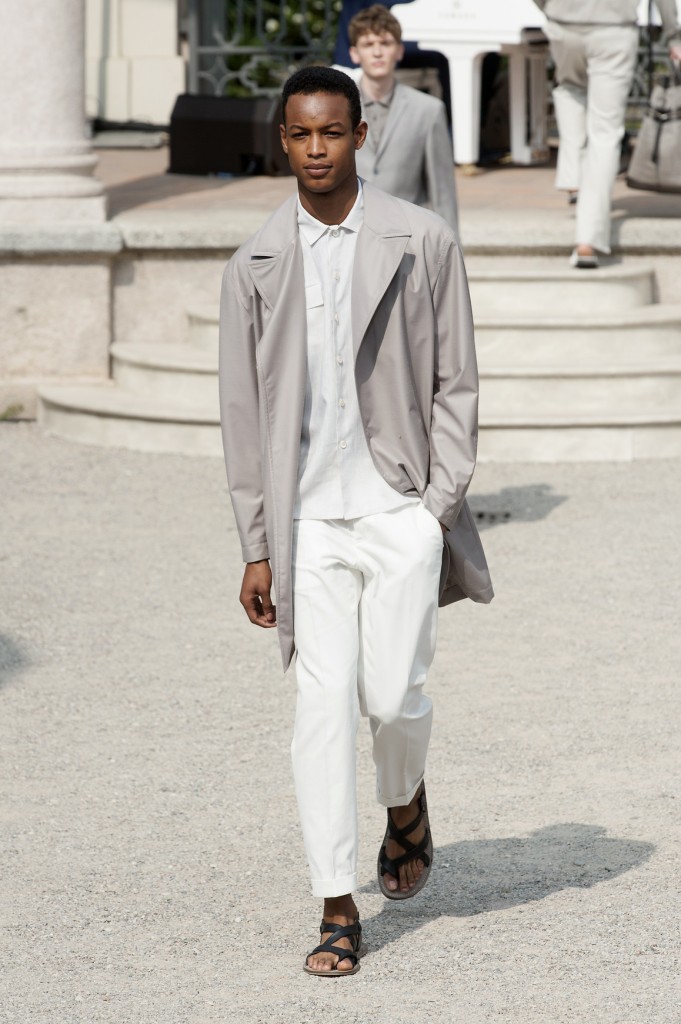 Corneliani
Colour pop
Some of the macs at DSquare2 were also beige. However, in true Dean and Dan Coten style, no classic trend is complete without their quirky twist put on it, so the buttons and sleeves were finished off with graphic blocks of cobalt blue. That said, the standout piece was the fluorescent green mac, bright enough to dazzle away even the drizzliest of summer days.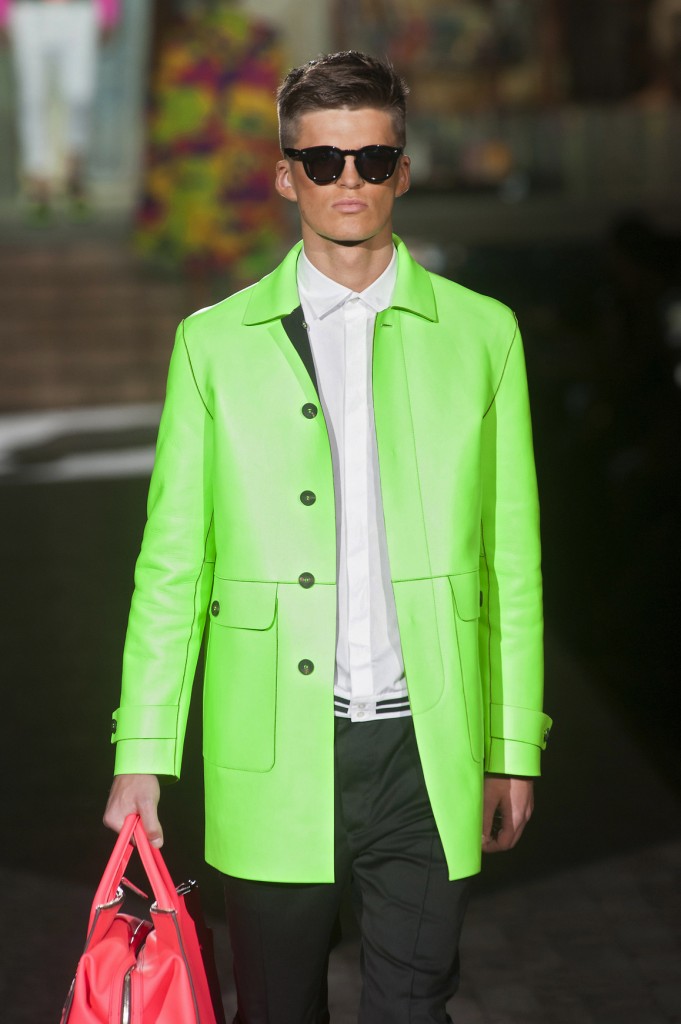 Dsquared2
Black or white
The designs at Fendi were kept simple, and consisted of a straight-cut black mac lined with beige; as well as a stark, all-white version.
Fendi
Oversized
The oversized black macs at Givenchy looked dramatic over the all-black ensembles. Some had large, statement pockets.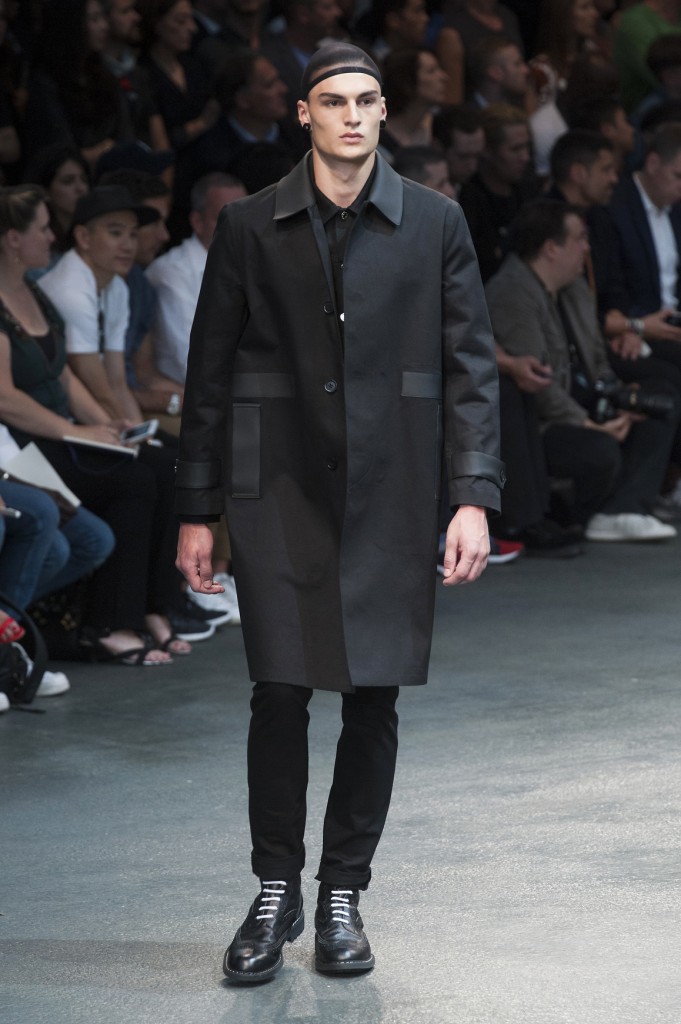 Givenchy
Topstitched
Prada's signature take on the trend consisted of topstitched suiting and denim in indigo, beige and brown. A 70s spin on the classic mac design.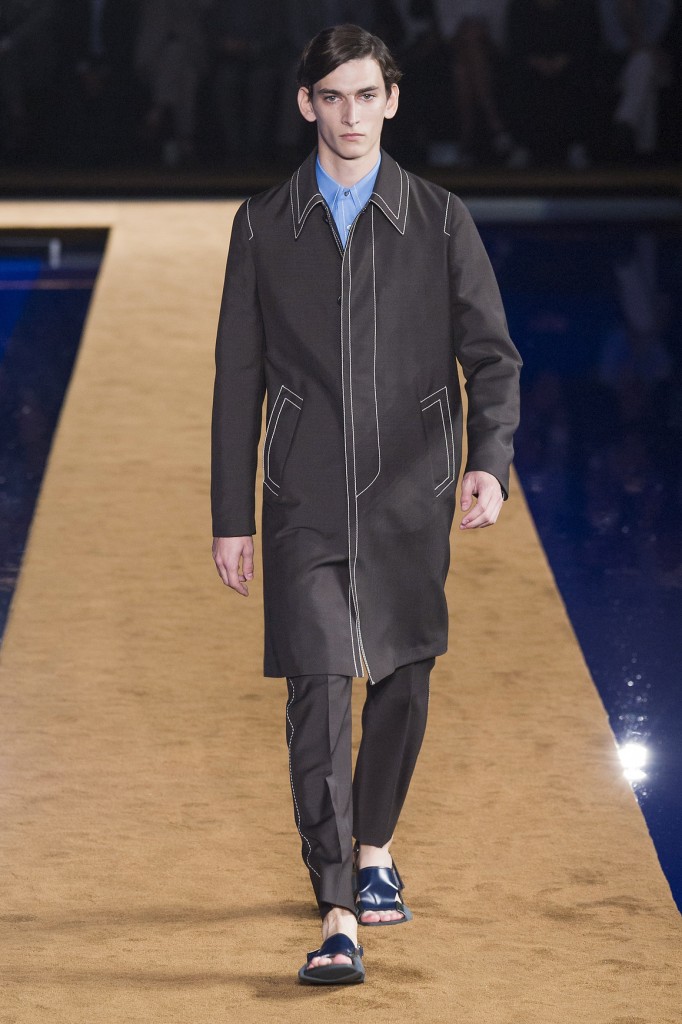 Prada
MUST-HAVE ITEM: Textured knitwear
Washed effect
The Bottega Veneta collection featured an unusual dark navy mist faded jacquard cashmere sweater, with contrasting stich work motif on the body and sleeves. There were also thinner jumpers and cardigans with a similar washed-out effect. Also on the catwalk was a slightly heavier cream jumper with subtle black texturing and ribbed cuff sleeves.
Bottega Veneta
Pastels
At Corneliani, the knitwear appeared in a soft range of colours and delicate fabrics; including a lightweight cashmere jumper in pale green, and a cosy waffle-knit cardigan in faded blue.
Corneliani
Horizontal Stripes
The nautical-inspired knitwear at Dior presented itself as a modern take on the fisherman's yellow slicker and the Breton stripe, with combinations of navy, blue, white and yellow across cosy jumpers.
Dior
Open-weave knits
The Hermes collection featured a thin mustard yellow cardigan and an equally lightweight, navy short-sleeved knit. The open-weave stitching provides the perfect compromise for those warm, yet breezy summer nights.
Hermes
Men's Spring-Summer 2015 trends
---