Man Trends Spring-Summer 2016
Man Trends Spring-Summer 2016
Written by Jessica Watson

Search and forecast by Fabio Jesus D'elia

Total Look: Dandy Is Back
The season's trend, is so effortless and perfect for the relaxed sort of summers day.
Giorgio Armani
Armani showed how a suit can be done without a shirt in sight, with waist coats wrapped around bare chests, with careless and easy jackets and voluminous lightweight trousers.
Antonio Marras
With influences from Italy, lightweight suits for a day at the beach were featured at Marras, worn with Neck chiefs and Berets.
Missoni
The Missoni collection featured an utterly relaxed attire with slouchy fitted jumpers, summer scarfs, sandals and white shorts.
Dries Van Noten
Suits without a fit, were voluminous or oversized at Von Noten and so lightweight for the easy-going type of guy.
Vivienne Westwood
Suits couldn't be more cool and comfortable at Vivienne Westwood, styled down with striped t-shirts and drawstring trousers.
Total Look: Suited-Up
This season, designers take on their own summer's twist on the classic tailored suit.
Burberry
Suited-Up with a feminine touch, models at Burberry this season, wore lace shirts, skinny lace ties with the classic Burberry Trench, perfect for the working life of a city guy.
Costume National
Costume National's take on this season's trend was raffish, rocky with an edgy style, which featured skinny tailoring and bright colours.
Dior Homme

Dior took a twist on this season's trend. Classic suits had an edge with camouflage ties, matching bags and zipped detailing.
Emporio Armani
Emporio Arami's suits this season, were versatile for the summer being loose fitted, lightweight, with trousers swinging at the ankles.
Etro
Etro has incorporated paisley and floral prints into jacquard overlaid suits this season. The collection also featured a range of fabric, including a baby blue suede suite with a jewelled chiffon shirt.
Salvatore Ferragamo
This collection was so effortless but sophisticated, with elements of loungewear with sweaters and trainers paired with tailored suits.
Paul Smith
Paul Smith's tailored suits this season were paired with brightly coloured brief cases, perfect for working man during the summer.
Must Have: DB Blazer
The Double Breasted Jacket, is a fresh twist on the classic blazer for a summer suit…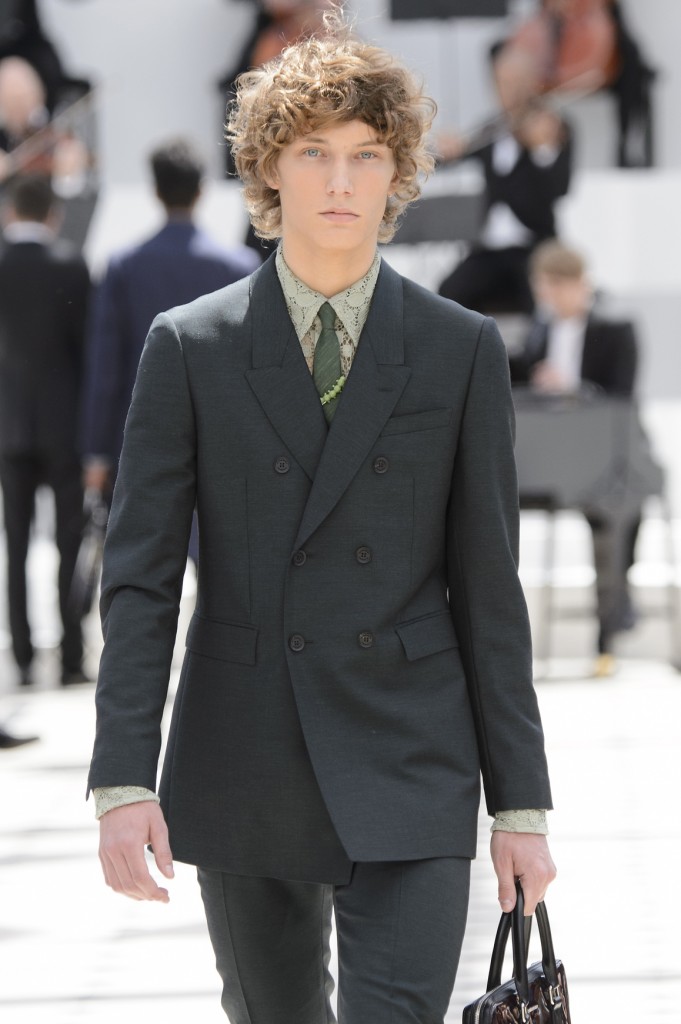 Burberry
Christopher Bailey found ways of weaving Burberrys favourite for this season – lace into his tailored suits which also featured black double breasted blazers.
Emporio Armani
The colour palette of Emporio Armani's collection was classic with nays and greys, and the tailored suits were smart worn with a double breasted blazer.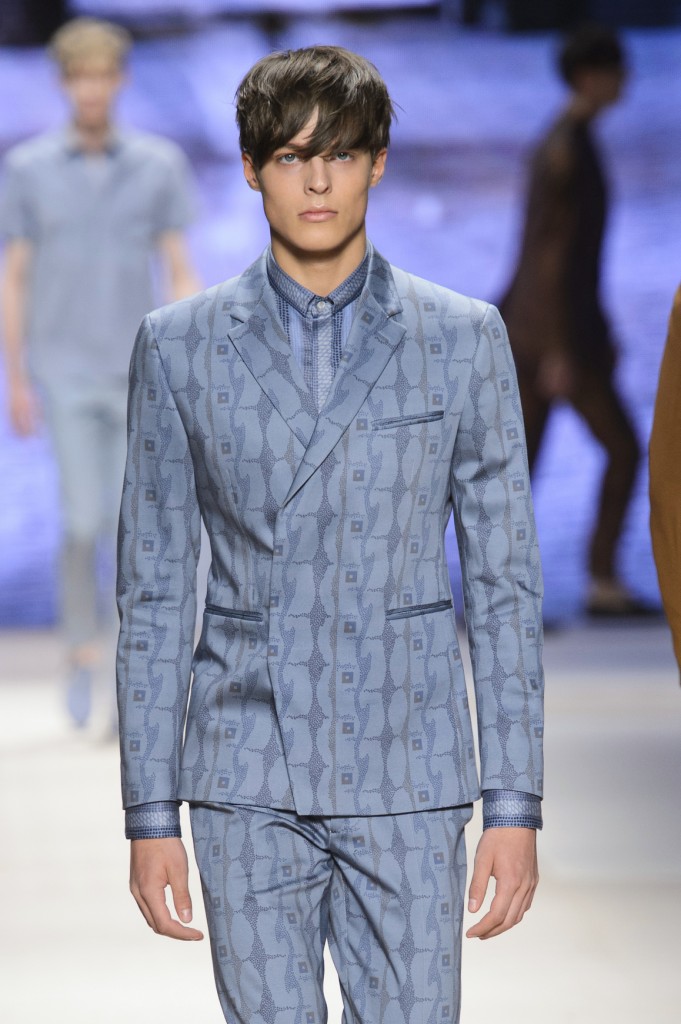 Etro
Luxurious satin suits were worn at Etro, in shades of duck egg blue with double breasted jackets, silk shirts and tailored trousers all of which had a subtle pattern to them.
Salvatore Ferragamo
Grey double breasted blazers with a twist were worn at Ferragamo, with bright colours and block stripes.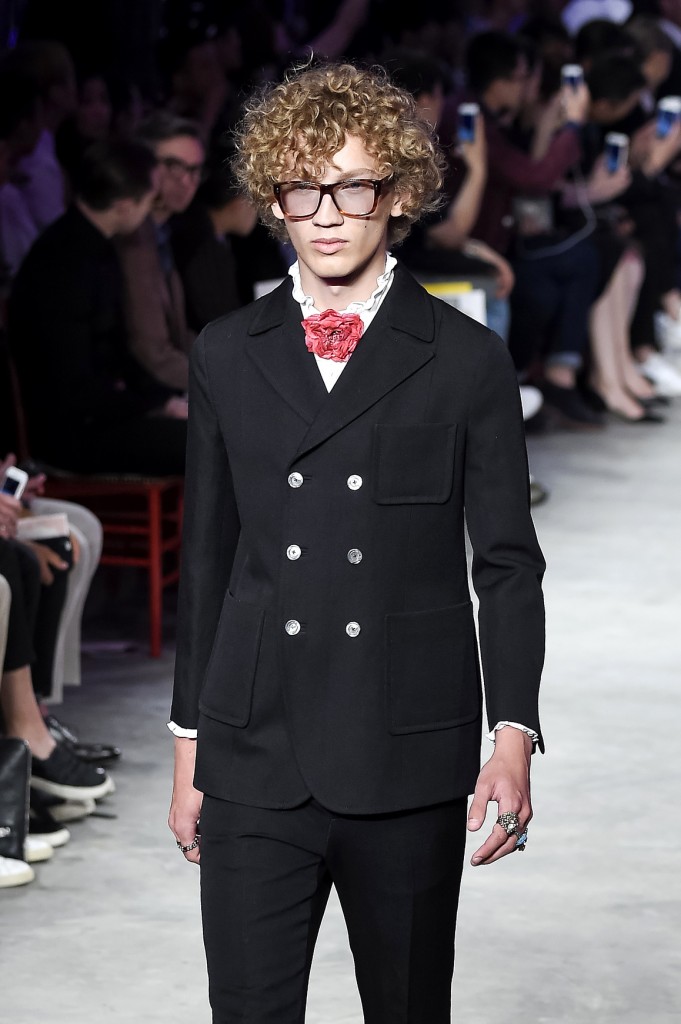 Gucci
The double breasted blazer featured at Gucci with metallic buttons and large pockets, whilst there was a feminine touch of frills around the colour and flower.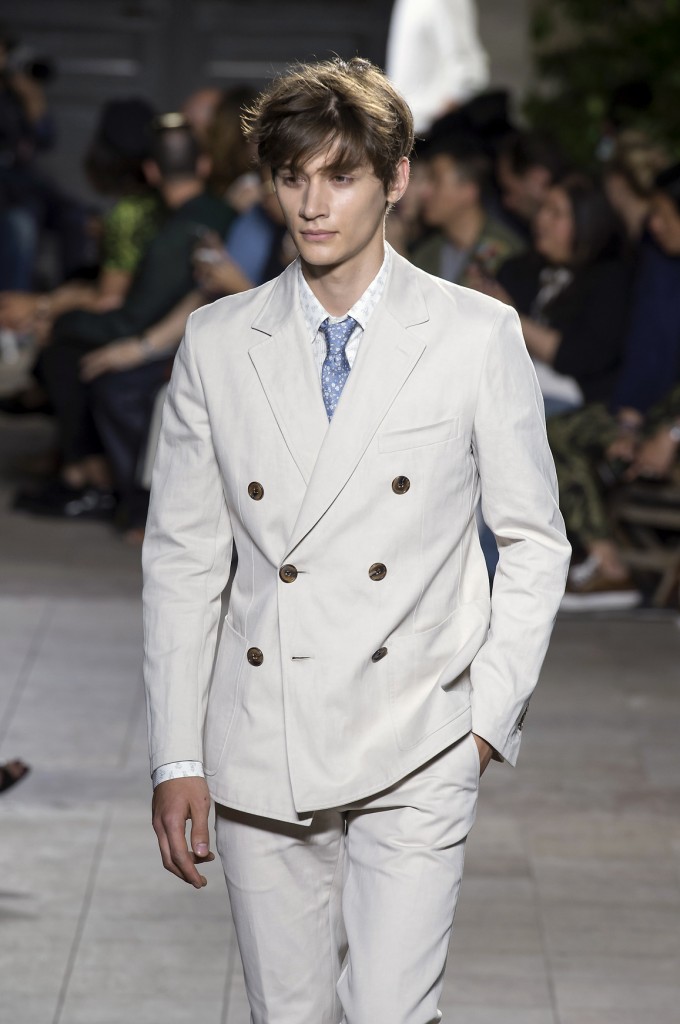 Hermes
A suit for summer time, Hermes' featured an off white suit with a double breasted blazer which had statement buttons. With a floral shirt, and tie, this seemed like a casual piece for the daytime.
Alexander Mcqueen
Jackets belonging to captains on board, Mcqueen took on the double breasted blazer in white with nautical motifs. The collection also took on board the controversial denim on denim look with a distressed blazer and jeans.
Missoni
Missoni's tailored suit's had inspiration from India, with scarfs and double breasted blazers in shades of Jodphur blue, Jaipur pink, a shades of orange.
Paul Smith
There was no specific trend or theme throughout Paul Smith's Spring Summer Collection with double breasted blazers in a range of colours and fabrics, from golden brown metallic to sand orange.
Dries Van Noten
Van Noten's tailored suits were ones of volume, with oversized double breasted jackets, and baggy cropped trousers, embellished with unusual sequin motifs.
Print & Pattern: Stripes
In different shapes and sizes, the striped trend never goes away too long…
Antonio Marras
Antonio Marras' collection comprised memories of the fishermen in Sardinia, with Breton stripes, berets neck-chiefs, paired with tailored bottoms and sanalds or wellington boots for the beach.
Alexander Mcqueen
Stripes at Alexander Mcqueen this season featured in asymmetrical dinner suits with cropped trousers. The exaggerated stripes definitely caught eyes within the range of graphic suits at Mcqueen.
Missoni
In Jodphur Blue, and Camel Yellow, Missoni still managed to incorporate stripes into the Indian inspired collection with cropped trousers, and shorts
Vivienne Westwood
Vivienne Westwood's collection this season, was thought to have a 'sex' feeling to it, with some revealing piece however Westwood also featured stripes with tight fitted tops, denim two pieces and oversized casual blazers.
Colour: Orange
This summer's sunny colour is orange and is perfect to brighten up neutral outfits…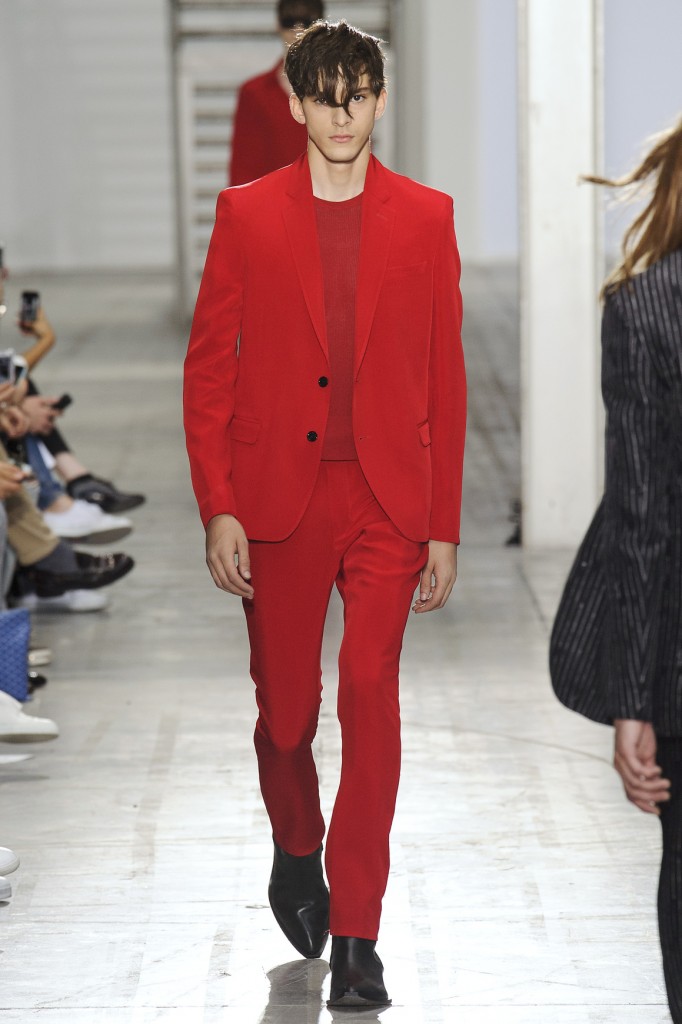 Costume National
Suited for the summer, Costume National features block colours for the contemporary business man, with shades of orange.
Dior Homme

White jeans, the golfers knitted polo or pullover was featured at Dior paired with a statement orange jacket, from leather bombers to oversized rain jackets. The pop of colour was woven into the collection to the smallest of detail.
Dsquared2
Snowboarding and Surf was the focus of Dean and Dan Carton's show this season, however the collection had a traveller's edge to it with an edgy and relaxed style.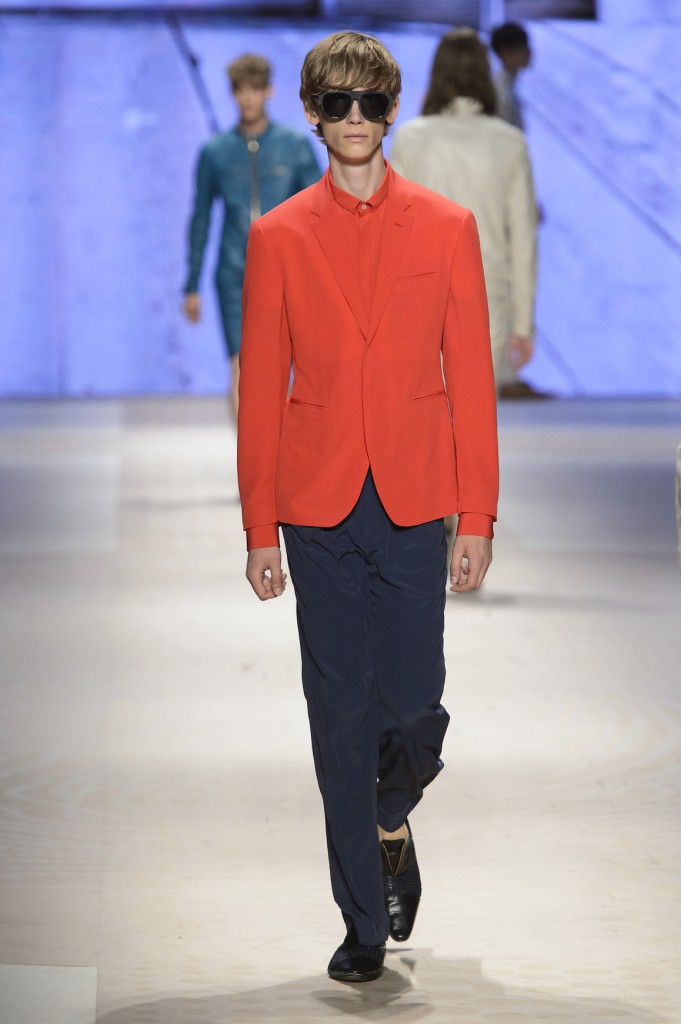 Etro
Sophisticated Business wear, amongst paisley suits featured a bright orange shirt with a matching jacket at Etro.
Fendi
Straight forward and simple style, Fendi featured leather jackets and luxurious golden orange polos in his spring summer collection.
Gucci
Details at Gucci, gave an unusual style of an elderly lady worn by youthful men, with orange trench boats, woollen berets, frilly collars and floral shopping bags.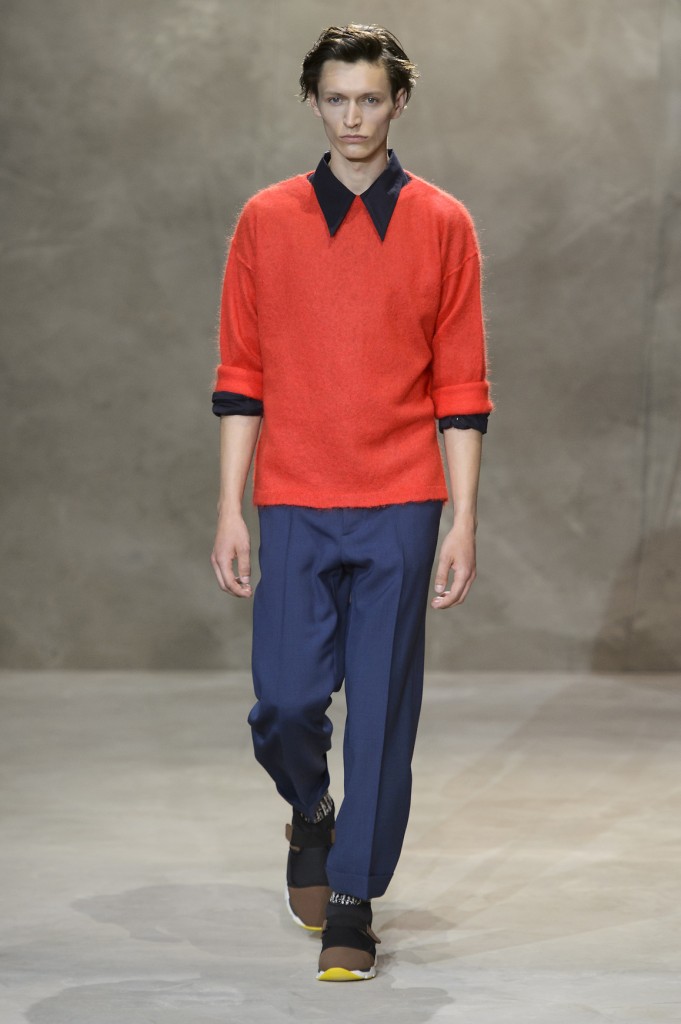 Marni
Marni kept it simple with primary colours and oversized collars, featuring blood orange knits and tailored trousers.
Missoni
India was the destination and inspiration behind Missoni's Spring Summer Collection, with a range of patterns and shades of orange, camel and yellow.
Paul Smith
Wide Leg tailored trousers and jackets in lively shades of orange, meant the colour was incorporated into business wear.
Colour: White
Completely classic, but so versatile too. This colour is so common on the catwalk but however is always made to look so sleek and stylish.
Dior Homme

Dior shows how complementary white is, worn with navy and pops of bright colours. A sense of military also ran through the collection for city life of a professional.
Alexander Mcqueen
It seemed as if a group of sailors featured at Alexander Mcqueen with captain jackets ready for a voyage. The collection featured nautical motifs on the tailored outfits with anchors, compasses and mermaids.
Paul Smith
Paul Smith took incorporated his white tailored pieces with unusual motifs of ants and pictures of rabbits.
Dries Van Noten
High-waisted voluminous trousers featured at Dries Van Noten in white, with imagery of Marilyn Monroe paired with the statement leopard print coat.
Vivienne Westwood
White pinstriped tailored pieces took a different approach at Vivienne Westwood, with cropped drawstring trousers and large unbuttoned cuffs and collars.
Man Trends Spring-Summer 2016
---