Who Daman? The stylish talent behind 'Gossip Girl'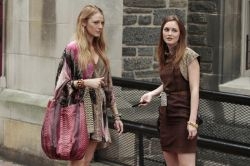 The final episode of Gossip Girl's latest (and last) season is set to go out on Monday, December 17th, and the hit show is set to end with a bang. One of TV's greatest successes over the past five years, the CW show has picked up 18 Teen Choice Awards as well as hit ratings around the world.
Gossip Girl is also well known for its fashion influences, with stars Blake Lively and Leighton Meester now style icons in their own rights, having cut major deals with some of fashion's biggest names. Blake is the face of Chanel's Mademoiselle bags, while Leighton has appeared in ads for Italian brand Missoni. 
Despite the beauty of the show's stars, it's the talent of the show's stylist, 42-year-old Eric Daman, which has helped drive Gossip Girl to the top of the teen style stakes. 
Daman started at the top, dressing Carrie Bradshaw, of all people. Hired by flame-haired costume expert Patricia Field, Daman worked for three seasons on the hit show Sex and the City, which was credited with redefining the relationship between fashion and television. Field and Daman won an Emmy Award in 2002, and the show made household names of shoe designer Manolo Blahnik and the famous gowns of Vera Wang.
"Patricia was about pushing the boundaries and expanding the character through clothing," says Daman. "She and Sarah Jessica Parker were two great mentors. It was like Costumes 101 with the best teachers in the world." Daman told the NY Post. 
Born in Michigan, USA, Daman escaped to Paris where he studied French literature at the Sorbonne and modelled for artists Pierre et Gilles. Famous fashion photographer Steven Meisel cast him in a Calvin Klein advert alongside Kate Moss. Returning to New York City, it was in the Big Apple that Daman started work as a stylist assisting big names, including the notorious Field.
Gossip Girl, which began in 2007, allowed Daman to spread his wings, curating a tight selection of Upper East Side princess looks (luxury design with a teen twist), and even designing some of the dresses worn by the characters in the show. When Lively's character Serena appears in a fashion show in season two, it's one of Daman's own creations that she sports. 
As a creative consultant for Charlotte Russe, Daman has designed prom dresses for the retailer, as well as a line of tights for Donna Karan called Eric Daman for DKNY. This year Daman also collaborated on a project with famous crystal company Swarovski, producing the Eric Daman x Atelier Swarovski line for the Austrian brand. 
Something of a renaissance man in style circles, Daman has also turned his hand to writing, and authored You Know You Want It, published in 2009 by Crown, a style guide featuring a forward by Leighton Meester. 
The workaholic style maven is currently creating the look for the 16-year-old version of Carrie Bradshaw (played by actress AnnaSophia Robb) for CW's The Carrie Diaries.
Watch Eric Daman disucss Paris Fashion in Gossip Girl Season 4: http://www.youtube.com/watch?v=inecq3STOZY&feature=share&list=PLE9E6340FFA9F96CA
---